<--2015-06-25 11:45:00 | -->
Twitchell Island: 2015-07-01 12:00:00
Author: Joe Verfaillie
Others: Sara, Miguel
Summary: Clip plots, spectral, data collection, DO installed, TC repair, TC profile removed for repair
Twitchell Rice
2015-07-01

I arrived about 12:00 with Sara and Miguel. It was hot and humid with little to no breeze and high thin clouds that dampened the sun a little. The field was sprayed with an herbicide (super WHAM) so we did not service the site last week.

Sara took clip plots, and did spectral measurements.

The 7700 read: 2.159ppm CH4, 33.9RSSI – 71.3 after cleaning
The 7500 read: 403ppm CO2, 858mmol/m3 H2O, 101.5SS, 34.5C, 101.6kPa

We installed the DO sensor sn DO-8 near the well to the south of the tower.

We re-soldered water temperature 3 that was giving unreasonable readings. We tried to fix 2cm TC in set 2 as well, but had trouble so we pulled that entire profile including the water TC for repair in the lab.

The camera window had residue from the spray last week. The window was loose when I tried it to clean it. We need to re-glue the window next time.

0 photos found
Graphs display: 7 days | 14 days | 28 days
6 graphs found
11 TW_met graphs found
5 TW_flux graphs found
Can't check TWSI_mixed
1 TWSI_mixed graphs found
Can't check MBTAEEWPTW_cam
1 MBTAEEWPTW_cam graphs found
Can't check SITWEE_met
1 SITWEE_met graphs found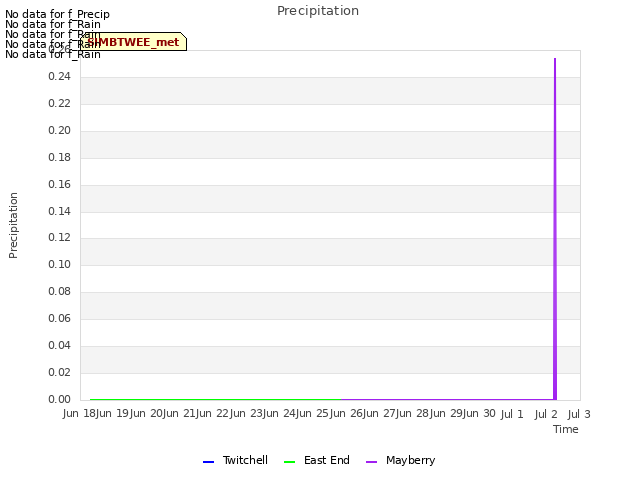 1 TW_cam graphs found