<--2014-04-10 13:30:00 | -->
Twitchell Alfalfa: 2014-04-17 15:00:00
Author: Joe Verfaillie
Others: Patty
Summary: Ants in data logger box - left open, Maybe fixed phantom 7700 logging problem on 7550 box, replace HMP60 fan
Alfalfa
2014-04-17

I arrived about 3:00PDT with Patty. It was clear, sunny and hot with a nice breeze. The alfalfa looks thick and tall with almost no flowers yet.

The 7500 read: 384ppm CO2, 700mmol/m3, 100.87kPa, 93 SS
The CO2 was almost 20ppm lower here than at the other sites and the H2O was similar to the open water at East End. I'm not sure, but I also thought I heard a sucking sound.

The soil heat flux plates looked fine.

I think I might have fixed the data logging problem on the 7550. It was still listing a serial number for a 7700. After pushing a disconnect button in the site setup panel, the 7700 serial number was listed as none.

The door to the 7550 was open when we arrived.

The data logger box was full of ants with definite infestations in the solar charge controller and CR1000. I tied the box door open hoping the exposure will drive the ants out.

Patty did spectral measurements, plant height and LAI.

The ventilation fan on the HMP60 was dead – replaced.

Field Photos
0 photos found
Graphs display: 7 days | 14 days | 28 days
6 TA_met graphs found
3 TA_rad graphs found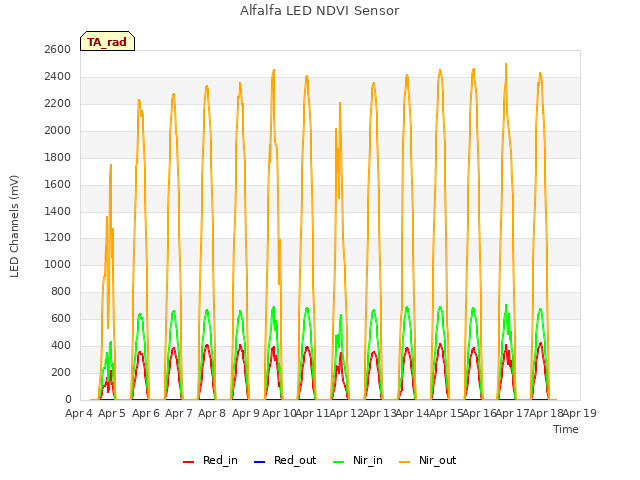 5 TA_flux graphs found