May 31, 2007 11:23 PM
para sa kasambayan ko, ang asawa ko si Jane. (my CrAzY! roommate)
Just a warning: this post will probably be all over the place and
When Choosing a roommate, do you choose someone you know or go with the random roommate?
When I was a senior high school I had the daunting task of choosing a roommate that would live with me for a whole year at UC Berkeley. I mean it is one thing go to class or even be friends with someone, living with someone is a different story. By some strange twist of fate I asked a girl who went to my high school who just so happened to be valedictorian and a neighbor! We actually did not know each other very well and a mutual friend rationalized that we would help balance each other out, i mean we had the same ideals and she would keep me on track. We ended up taking a trip to Hawaii together the summer after we graduated, it was a little awkward at first. We tried to keep the conversation simple- didn't probe too deeply into each other's lives, past, personalities, etc, I guess we were still feeling each other out, still both regretting/questioning the decision of living with someone who was basically a stranger.
Actually, we admitted to each other later that we were both intimidated of each other and always asked our mutual friends to reassure us that we made the right decision.
Having a roommate you get along with is important. and that is an understatement. They are the person you come home to at night and they are your support system throughout all that Berkeley throws at you.
Hawaii was the first step, we bonded over a lot of things, even our quirky hotel roommate. When it came to the dorms, we definitely grew closer and experienced a lot together. Berkeley's a place you have to get used to - and it is even better when you have someone who goes through all the crazy experiences you go through.We have experienced a lot together. We lived on the 8th floor of Cunningham in Unit 2, survived a year of Co-ed bathrooms/showers, walked through People's park at night clutching on to each other's arms, brushed our teeth together, stayed up chatting about anything and everything, threw up together in adjacent bathroom stalls after eating some bad food, discovered shows like sex and the city and desperate housewives together, going to parties, going through the bunkbed "experience" - bruises and all, studied for finals together, mastered the internet realm everything from calmail to facebook, myspace to ImDb, perfecting our ghettofabulous slang, piercing our ears, flew home together carrying gigantic suitcases weighing more than both of us combined, crazy caffeine/coffee rampage nights of fun, discovering a shared love for hummus, pita bread, and smoothies, and oh so much more.
I think we are truly blessed. There are many people who do not get along with their roommates and it makes home an uncomfortable place to go home to. Here's some advice (you probably already know):
1.)Have an open mind and if you are going to go with the random roommate, be specific in your form
2.) Try a roommate agreement, some people have found it helpful
3.) Listen to your gut, if you have an itching doubt or a sinking feeling about a potential roommate, then save your friendship
4.) Communication is extremely important
5.) Sometimes the closest of friends will room with each other and end the year hating each other.Friends as roommates are not guaranteed success..but they are not always doomed to failure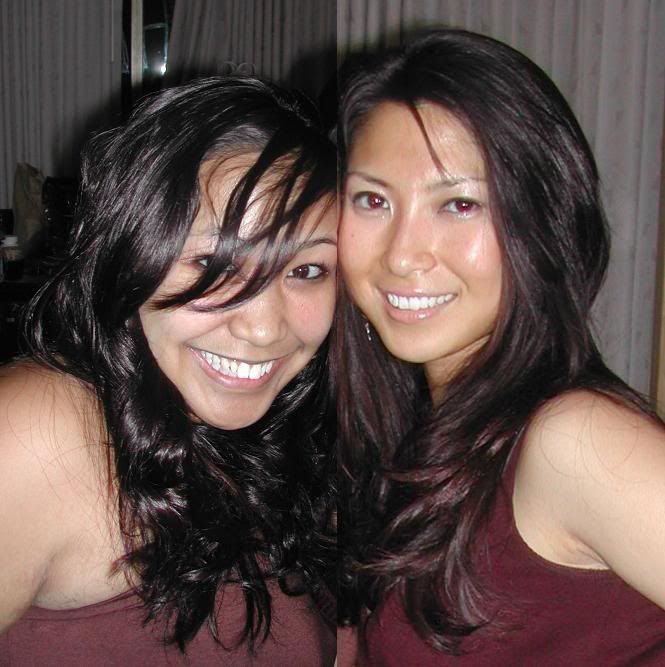 Now, over three years later, Jane and I are still roommates. People still tell us that the weirdest things happen to only us and that we have the craziest adventures and stories. I guess it is true. We have a million and a half crazy Berkeley stories involving everything from a runaway criminal and a police gun pointed straight into our window to melons and hard hats. Yes, we've definitely experienced what Berkeley has had to offer us so far, together. I think it is kind of funny when you think in terms of birthdays, Jane was there when i turned 18 and I was there when she turned 21. She is truly my support system at Cal and has held my chin up through some really tough times. She has made Berkeley feel like "home" and she always knows just the right things to say to make everything better. She is my blue plate special girl. I love the girl like mad crazy!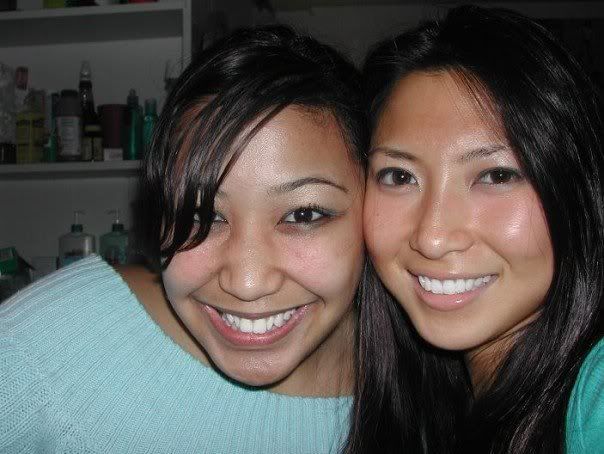 Thanks Bullets for everything!!!
(she's going to kill me for posting the pictures and writing this entry!)
---
Nikki Fernandez | Permalink | Comment on this article | Comments (1)
Comments (1)
Jaleesy Mack <----- mutual friend!!! woot.. pimp shit.
---
Posted by Jalees | 2007-06-01
Post a Comment