June 5, 2007 10:10 PM
Reagan Presidential Library
My parents and I went to the Reagan Presidential Library today. Both of my parents were off work, so we decided to have some quality time together. My brother unfortunately was still at school.
The library is perched on a hill that overlooks a gorgeous vista of shrub covered hills and suburban homes. The grounds are well-kept, clean, ordered. The library itself was built with elegance and simplicity in mind. It was a nice place.
I had a good time, surprisingly. One hears "presidential library," and the mind gears for tedium and vapidness. But the presentation of Reagan's life was rather interesting. After all, this is a man who was for a time responsible for one of the most influential nations on this planet. He grew from humble origins to movie actor to President of the United States. He was one of the key figures in the Cold War. Certainly a very interesting figure.
I especially enjoyed the Air Force One pavilion, which housed one of these immediately recognizable aircraft (it's obviously no longer in use, probably because it's half the size of the current Air Force One).
Also, here's a drink that I found at the "Ronald Reagan Pub"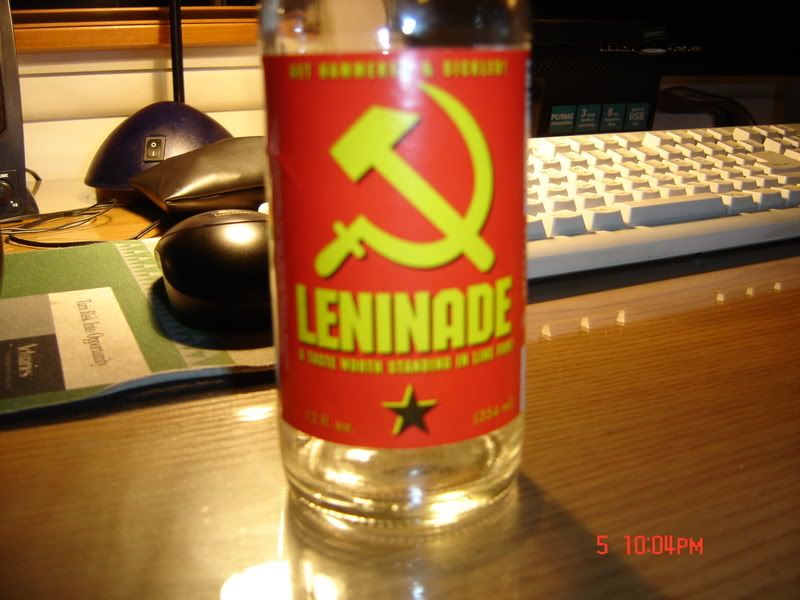 "Get hammered & sickled." Indeed.
---
Joel Kim | Permalink | Comment on this article | Comments (2)
Comments (2)
There's nothing like a good pun to go with your good times.
---
Posted by Eva | 2007-06-07
In Russia soda drinks you.
---
Posted by Eric T | 2007-06-07
Post a Comment