30 August 2007
Whew, lines!
I stopped by the STA travel office on campus today to pick up my international student ID card. There's place where I didn't need to stand in line. I also picked up my bus pass for the semester, so I can ride up to the Botanical garden for volunteering on the off chance that I have a day off from class in the few weeks before I leave. That was a line. Then I picked up the textbook that I needed and returned another textbook that I didn't need. Different lines. Different bookstores. So many lines at the beginning of the semester. Hopefully I won't need to stand in one for a while. Wait. Tomorrow I'm getting my French Visa in San Francisco. That's probably another line.
Continue reading "Whew, lines!" »
---
Posted by Christina at 3:37 | Permalink
27 August 2007
pictures part1
Barcelona: Gothic Quarter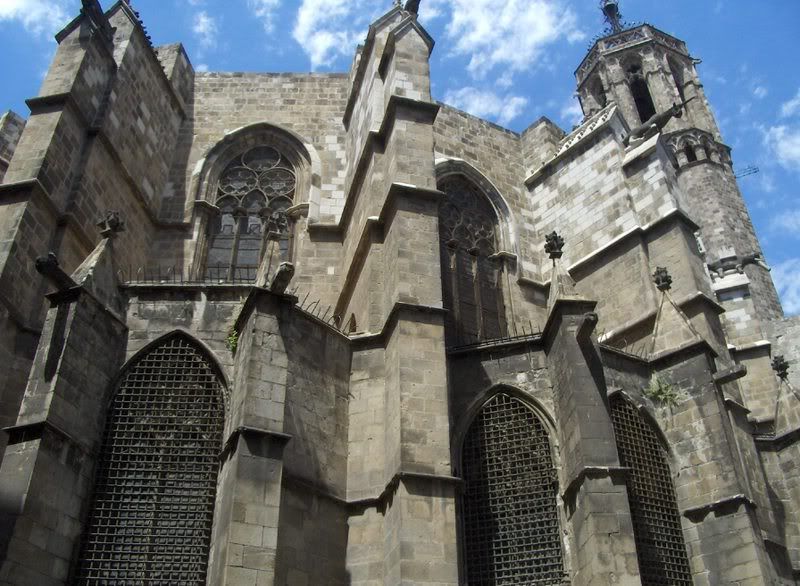 Aqueduct in Tarragona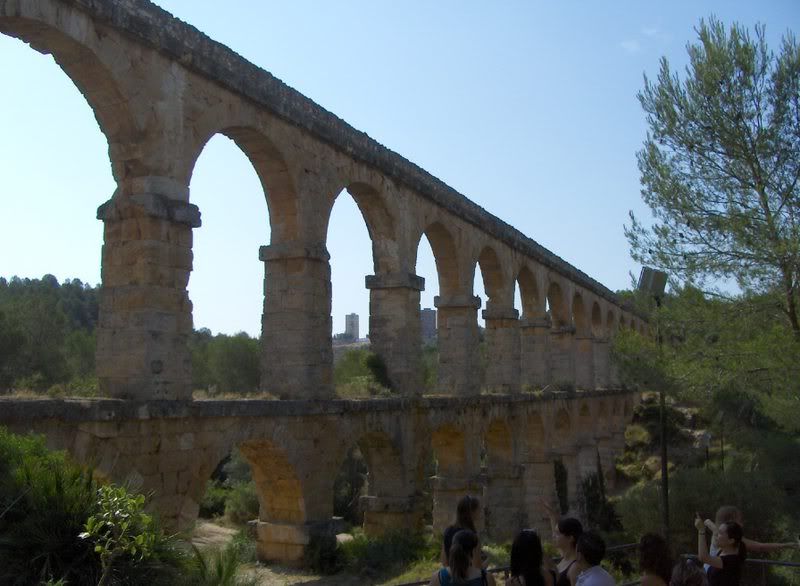 Sardana Dancers - statue in Barcelona, Citizens of Tarragona danced to the music of a live band on the walkway in the middle of La Rambla every Friday night; (the dance is a series of complicated to-the-beat steps which people dance while holding hands in the circle, as the song and dance continues, more and more people join in)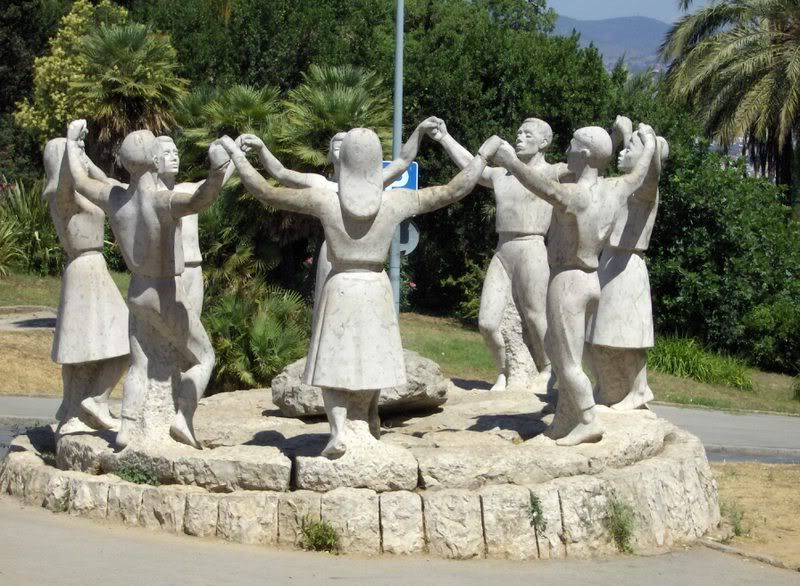 Pictures from Park Guell, a garden city/park built by Antoni Gaudi, it is also a UNESCO World Heritage Site. The park is rich with beautiful architecture and mosaic figures such as the dragon/lizard and has one of the longest park benches in the world (which is decorated with gorgeous mosaic designs)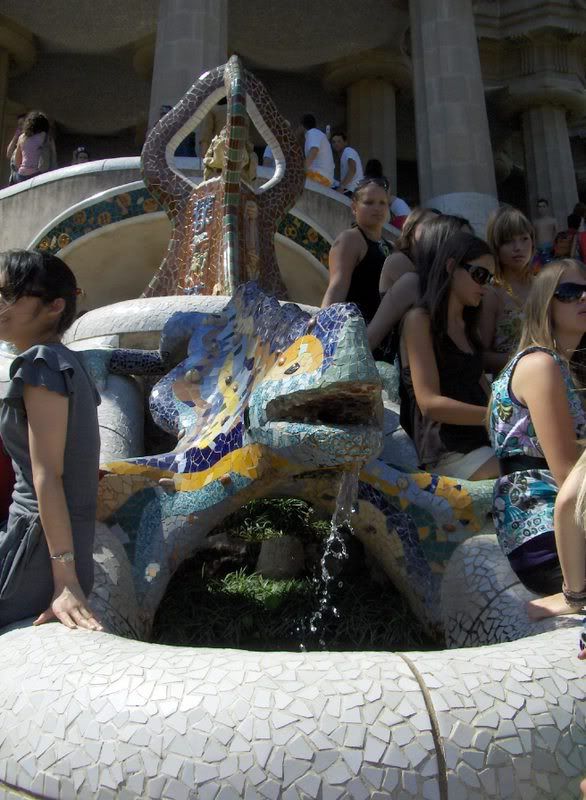 Continue reading "pictures part1" »
---
Posted by Nikki Fernandez at 0:53 | Permalink
26 August 2007
End of Summer Sessions Program
The end of my Summer Sessions Program in Tarragona, Spain ended of course with more adventures! We arrived at the airport at 4:00am and our flight back to San Francisco was scheduled for 12:10pm. The check-in and gate information on the boards/screens lagged and the information that we finally found was wrong and we ended up missing our flight and were forced to stay an extra day in the airport. So let me backtrack a little. After our program ended we traveled a little bit. I wanted to go to the Basque Region to visit the Guggenheim in Bilbao which I think has one of the most interesting and beautiful buildings with titanium panels but there were seemed to be a lot of buzz about ETA and terrorist activity and some of the locals warned against the trip. Instead, we first went to Geneva and attended the Geneva Festival. The people were friendly, the air was crisp and the weather was nice and warm; it was all so beautiful. We visited the United Nations buildings, where we met an Arabic translator and were able to examine such details as the doorknobs, which were originally from the League of Nations.We were also able to watch performers such as the French rap artist Doc Gynéco. We also met the CEOs of Christian Aid and Muslim Aid. After our trip to Geneva we went to Paris, France watched the Eiffel Tower sparkle in the summer night sky, visited the Louvre, and took a tour of the city. And finally I am home, adjusting to the time and getting ready for school. Already!
Continue reading "End of Summer Sessions Program" »
---
Posted by Nikki Fernandez at 3:55 | Permalink
This is my first post ever as a CNR Fresh Faces Blogger. Whoa. Well, i guess i'll start off by saying hi. Hi!! I'm assuming that those of you reading this have never heard of me or seen me around before, so I guess i'll do a quick intro about myself. My name is Angela and I am an incoming freshman, class of 2011. I am undeclared in CNR, but i am really interested in nutritional sciences and am going to take nutrition 10 this week (eek! the first day of school starts tomorrow!) So what have i been doing during my first week as a college student? This past week was welcome week and I got to meet people from all over the country, but mostly from somewhere in california. A few of the events i have been to already were Caltopia, Calapalooza, hall meetings, convocation, UHS opening, and the CNR meeting this past wednesday.
---
Posted by Angela Hsu at 6:21 | Permalink
So, after a week at Berkeley, I'm not sore anymore from all the walking now! The following paragraph will be about what I learned from my week on campus. Trying to buy books for my classes were quite hectic though. Found out that Ned's bookstore was slightly cheaper so went there instead of the cal student store. Cus, my total for all my textbooks came to $400!!! Wow... that would have taken me 3 paychecks just to buy textboooks....alone.Then realized that I don't need to bring a whole bunch of quarters when Cal 1 Debit card works quite nicely for laundry. Crossroads, I admit, is better than most dorm food DC's, but I also heard that the one in Clark Kerr was pretty fantastic as well. Still gotta try out the Bear transit though.. maybe I will be able to get to class on time from the South to the North side of campus!! Caltopia was indeed fun and my friends and I got free drinks, stuff(shirts, hats, pens,) and was bombarded with different companies trying to lure us in to contracts, trips, etc. I do enjoy Berkeley and look forward to the first week of classes!!
---
Posted by Casey Wang at 3:14 | Permalink
24 August 2007
Medieval Help Desk
My friend Lori-Ann showed me this one. It got me laughing. Hope it does the same for you!
Continue reading "Medieval Help Desk" »
---
Posted by Christina at 6:14 | Permalink
Today I went to Caltopia. It's happening Saturday, too. You should go, too! Seems like everyone was making friends with the random people they were in line with at the various booths. What is Caltopia? It's some sort of crazy welcome fair at the sports gym. They had games with prizes like stuffed animals and t-shirts, and vendors for every local company, handing out free stuff. People were walking away with bags crammed full with pointless junk, or priceless treasures. Some of it was actually useful! I was sure to grab only the stuff I'd use: I picked up: - Wooden 12" ruler - Brown Cow blueberry-flavored yogurt - 2 Cliff bars - 1 slice of pizza and small drink (you actually have to go to a pizza place on Telegraph for this one.) - post-its - whistle and keychain - Organic India brand Tulsi Ginger tea. - Nicely-weighted clicky pen - Pad of paper with magnet on the back for a grocery list - 1 Whole Foods Market "Support Your Local Planet" button - Bang trim from the Paul Mitchell School. They actually trimmed my hair there on the spot. Pretty fun. I liked my stylist. Now I have cute, long-ish bangs and a side part. Check out what Caltopia has to offer you!
http://www.caltopialive.com/details.php
---
Posted by Christina at 6:00 | Permalink
24 August 2007
Poetry Open Mic in the Mission
I spent last night a poetry open mic in the city. My friend Josh was featuring. It was a little bit different from his usual slam performance. Check out the madness:
Joshua Walters Myspace
Continue reading "Poetry Open Mic in the Mission" »
---
Posted by Eric Thurston at 1:39 | Permalink
23 August 2007
Graduate School Thoughts
Don't let this entry stress you out! If you're not a senior, you probably don't need to worry about this yet. If you're a junior, you may want to take a little look at this entry, so you can figure out how to make your life a little easier in your senior year. This entry is helpful to juniors and seniors at any institution, not just UC Berkeley. Read on, if you dare...
Continue reading "Graduate School Thoughts" »
---
Posted by Christina at 1:21 | Permalink
23 August 2007
2 really cool events!
Tuesday, August 28; 4pm - 5pm in 2063 VLSB
Transfer Lab Research Workshop
If you're a transfer student, (or you can sneak in if you're just a regular junior or senior), here's the event for you. It's a workshop to show you how to get involved with research. The event is for all students in Biology-Related programs throughout the campus. There's SO MANY research opportunities for CNR students! Moreso than the L&S biology majors have available. Here's where you'll learn how to snatch your own coveted spot in a research lab, so you can make those MCB and IB friends drool with envy. Tuesday, September 4; 9am - 12pm in 260 Mulford
CNR Student Resource Center Welcome Reception!
Ok, here's the perfect opportunity to explore the Student Resource Center (SRC), if you haven't already.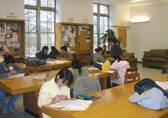 My favorite stuff about the SRC:
- New, soft Couches. It's a great place to take a break on those long days when you're stuck on campus. - Computer lab. You have to sign in at the beginning of the semester so you have a login account, but after that, you're home free. There aren't too many computers, and usually they're in high demand, but dang they're handy. It's the closest computer lab to all of the CNR classes. Also, these computers have all the stuff you need, from word-processing to excel and internet. You can print stuff out there, too. Oh, and CNR students get to print 15 pages/day for free. - Tables with a little tilt. While a odd at first, you soon realize that their tilted wooden tables are excellent for long reading assignments. - Great place to meet people. It's a reliable, quiet place to study, where you see the same folks every day. By the end of the semester, you've made a new friend or two. - Snacks during finals! At the end of last semester, they stocked up a little table with cookies, chips, fruit, coffee, and tea to entice us to spend hours on end studying in the resource center. It worked.
Continue reading "2 really cool events!" »
---
Posted by Christina at 0:44 | Permalink
23 August 2007
Perfecting that Resume & Cover Letter
What's a Resume? Well, it's something that American high school and college students write a lot of! You'll need one to apply to that part-time campus dream job. What's a Cover Letter? A letter no longer than one page that entices folks to read your resume. Here's an example of a resume, from this helpful website:
http://www.improveyourresume.com
Key elements to a resume: - Education. What high school did you attend? What university are you now attending? What is your major field of study? What is your GPA? - Work Experience. - Volunteer Experience. - Hobbies. This is where you get to mention gardening, painting, or whatever you love to do. Hobbies don't have to be directly related to the job you're looking for, they can just be a conversation-starter for your interviewer. - Keep it short. Since they're reviewing sometimes hundreds of resumes, 1 page is all they have time to read. So, write one up! When you've finished, have people look at it. Lots of people! Before you use your resume, it is very important that you catch all the little glitches. It's also important that you know if it's appropriate for the position you're applying for. People to proofread your resume: The folks at the UC Berkeley Career Center! Here's a link:
http://career.berkeley.edu
Their Peer Advisors
are great. Also, don't hesitate to ask the kind ladies at the CNR Student Resource Center front desk. While they don't have the intense training in resume-making like the advisors at the Career Center, they can still help you catch basic typos. If you print your resume out in the Resource Center computer lab, you can ask them to give it a look-over right there before heading over to your appointment with a peer advisor at the Career Center.
Continue reading "Perfecting that Resume & Cover Letter" »
---
Posted by Christina at 9:31 | Permalink
23 August 2007
Find the right On-Campus job!
Check out the Work Study job listings website to find the perfect on-campus job.
http://workstudy.berkeley.edu/JobSearch.aspx
Here are some jobs currently available on campus for students who love plants! Job Title:
Lab Asst III
Employer: LANDSCAPE ARCHITECTURE & ENVIRONMENTAL PLANNING Hourly Rate: $ 14.01 Positions: 3 Start Date: When filled Description: Horticultural tasks general garden maintenance. Qualifications: past experience My comment: For this job, looks like they need someone who is comfortable pulling weeds, mowing lawn, and all sorts of other tasks. The pay is good, too! $14.01/hour for 16 hours/week. Job Title:
Clerk
Employer: AGRICULTURAL & RESOURCE ECONOMICS Hourly Rate: $ 12.50 Positions: 1 Start Date: When filled Description: Working in the Giannini Foundation Library of Agricultural Economics: 1. assist in card catalog revision--pulling cards 2. searching library database and routing current journals to faculty and staff 3. delivering and retrieving materials from departmental offices 4. searching Melvyl for books 5. revising reserve files--pulling printed journal files off the shelf, comparing them to a printed list 6. other library projects as needed Qualifications: 1. meticulous attention to detail 2. typing/basic computer skills 3. knowledge of the Melvyl database a plus 4. Library experience a plus My comment: If you like libraries
and
plants, this is the place for you. The pay is pretty good for this one, too! $12.50/hour for 10-15 hours/week. Job Title:
Science, Nutrition and GardeningTeacher
Employer: Oakland Based Urban Garden (OBUGS) Hourly Rate: $ 13.40 Positions: 2 Start Date: 9/17/2007 ending possibly before, but no later than 5/22/2008 Description: Teach Kids Gardening, Science, and Cooking! OBUGS is looking for students to teach K-5th grade garden-based classes. What is OBUGS? OBUGS, Oakland Based Urban Gardens, is a West Oakland-based nonprofit organization founded in 1998. Our mission to build healthy communities through programs offered to children, youth and families in a network of neighborhood gardens, green spaces and farmers' markets. What We Do: OBUGS built and maintains four food-producing gardens in West Oakland. The gardens are used primarily for hands-on educational activities for children. We are looking for teacher assistants for the following programs: 1. In-School: Children in our in-school program learn about science, ecology, and nutrition. They do hands-on activities in the garden to support each day's lesson. 2. After-School: Participants help plant, harvest, and maintain the gardens. They also practice healthy cooking, do art projects, and play aerobic games. The job: The job is 8 - 16 hrs./week. A one-semester commitment is mandatory.Students will work with a lead teacher to prepare for and teach the in-school and after-school classes. Students will have regular meetings with the supervisor to ensure they benefit from their time with OBUGS. This job offers student employees: • $13.40/hr • Real teaching experience • Organic agriculture experience • A stand-out resume builder • Help build your community • Free organic veggies • Time spent with some very cool kids Qualifications: • Experience leading children • Gardening, science, and nutrition knowledge • Enthusiastic and fun-loving • Highly dedicated, punctual, and responsible • Ability to stay on task, highly organized My comment: If you like to teach kids, and you like gardening, here's a great opportunity to combine all of your passions and do something worthwhile with your spare time. $13.40/hour 5-10 hours/week.
Continue reading "Find the right On-Campus job!" »
---
Posted by Christina at 9:09 | Permalink
23 August 2007
Delicious Eggplant.
My friend Gabbie gave me this delicious eggplant recipe, and shared a great tip for a website where you can find recipes for anything! Yum! "INGREDIENTS: * 1 eggplant, cubed in spall pieces * 2 tablespoons vegetable oil * 1 medium onion, finely minces * 1 teaspoon chopped fresh ginger, or powdered * 1 large tomato - minced * 1 clove garlic, minced * 1/2 teaspoon ground turmeric * 1/2 teaspoon ground cumin * 1/2 teaspoon ground coriander * 1/4 teaspoon cayenne or chili pepper * 1/2 teaspoon salt, or to taste * ground black pepper to taste * 1 cube or 1 tblsp of Veggie Boullion dilluted in 1/4 cup water "First I sauteed my onion, garlic, ginger and spices on medium heat. Then I added my eggplant and tomato after a few minutes. I cooked it for a few minutes and then added the broth. Then I simmered it all until the rice was done cooking, I think for 20 minutes. At the end I used my potato masher to mash it all up. It was really good and actually tasted very authentic!!! I served it over the rice. I am definitly going to make this more. Enjoy! Gabbie "PS. Do you ever go to the webpage
www.allrecipes.com
? It is pretty extensive and you can search by ingredient so try to make a meal out of what's left in your fridge."
Continue reading "Delicious Eggplant." »
---
Posted by Christina at 8:43 | Permalink
22 August 2007
Gump Station Photos!
The Gump Research Station has a new photo album on their website! Thought It'd be fun to share the link:
http://moorea.berkeley.edu/gallery/
Continue reading "Gump Station Photos!" »
---
Posted by Christina at 9:20 | Permalink
21 August 2007
Welcome Week
Weelll, moving in wasn't as stressful as I thought it would be. Since I'm on the first floor, I didn't have to move heavy luggage up long flights of stairs. Also, since I'm living in a triple and the only one from California, I was very excited to meet new faces and too busy anticipating their arrival than stressing out about moving in. My roommates finally arrived- one is from Belgium and the other from Wisconsin, so it was different getting to know people from out of state/country, since I barely step out of sunny California. Two days into welcome week, and I'm sooo sore.
Continue reading "Welcome Week" »
---
Posted by Casey Wang at 0:07 | Permalink
20 August 2007
Things to do during Welcome Week
AC Transit Class Pass:
Go get your Class Pass, a sticker for your Cal 1 Card that gives you free, unlimited rides on AC Transit, and on BearTransit campus shuttles.
Bike License:
Register your bike if you have one. It's the law in Berkeley!
Cal 1 Card (Cal Photo ID):
If you have not gotten your Cal 1 Card from CalSO, go get it from Cal 1 Card Office located in 110 Cesar Chavez Center, M-F, 9am until 5pm.
Calapalooza:
This is a resource fair where you you'll meet representatives from over 300 student organizations and campus services, as well as view performances by student groups on the Doe Library Steps. Thursday, August 23, 11am-2pm, Memorial Glade.
Caltopia 2007:
This is a festival of fun, music and Cal Spirit. Friday-Saturday, August 24-25, 10am-5pm (closes at 4pm on Saturday), Recreational Sports Facility, 2301 Bancroft Way.
Chancellor's Receptions for New Undergraduates:
This event is a daytime outdoor party at the home of the Chancellor. Tuesday, August 21 – Thursday, August 23, 4pm-5:30pm, Chancellor's Garden, University House, attire is business casual. • Tuesday, August 21: Clark Kerr and Unit 2 residents • Wednesday, August 22: Unit 4 (Bowles, Foothill, Stern), Channing/Bowdich apartments, International House, and off-campus residents • Thursday, August 23: Unit 1 and Unit 3 residents
College and Major Orientations:
Wednesday, August 22, Various Times. For more info, please visit
http://welcomeweek.berkeley.edu/orient.html
Confirmed Class Schedule:
If you need a copy of your class schedule, you can view and print a copy via Bear Facts at
http://bearfacts.berkeley.edu.
Financial Aid Checks/CARS Refunds:
Refunds are issued via Electronic Funds Transfer (EFT). With EFT, funds are deposited directly into your checking or savings account. Otherwise, a check will be printed and held for you to pick up at the Billing and Payment Services Office, 140 University Hall. To activate or update your EFT authorization, go to
http://eftstudent.berkeley.edu.
Continue reading "Things to do during Welcome Week" »
---
Posted by Yang Cao at 0:08 | Permalink
19 August 2007
Moved in...yay!
I'm so excited to be finally be moved in. I'm way excited for welcome week to start. I'm nervous about my schedule because I am on a waitlist for one class. I don't think being 11 on the list is too bad. I have friends who are 99 for some of their psych classes...so glad I changed majors. Oh so I had breakfast with some friends from Vally Rock gym today and my friend is going to grad school for sustainable international development, which I thought was very interesting. I tried to spend my summer talking with teachers, friends, and whoever else I meet who is in the field of environmental jobs/school. There is such a wide range of fields to pursue with CRS as a major, at least according to my professional expertise.
Continue reading "Moved in...yay!" »
---
Posted by Marissa Ponder at 3:09 | Permalink
17 August 2007
More Plants in Space!
That last article on Space Basil reminded me of the research that John Z. Kiss is doing at Miami University of Ohio.
Here are John Kiss' research interests, first in Common English, then in PlantSpeak. (Common):
http://www.cas.muohio.edu/botany/bot/iss.html
The goal of the current research is to better understand how plants integrate sensory input from multiple light and gravity perception systems. The long-range goals are related to developing better crop plants on earth and to determining plants' potential use as a food source during prolonged human time in space. They will again use Arabidopsis, a small plant in the mustard family, that is currently the focus of an international gene sequencing project analogous to the human genome project.
(PlantSpeak):
http://www.cas.muohio.edu/botany/people/profiles/Kiss.html
In my laboratory, we are interested in the cellular and molecular mechanisms of gravitropism and phototropism. In the gravitropism project, we have been studying how statoliths interact with the cytoskeleton in gravitropic signal transduction. In terms of phototropism, we have been examining the role of the photosensitive pigment phytochrome in the regulation of this process in both roots and stem-like organs. Our experiments on gravitropism have been part of a spaceflight project on the Space Shuttle, and we have additional experiments in development for the International Space Station. Some of our research also involves the use of the Electron Microscopy Facility at Miami University. Most recently, we have been using microarray technology to analyze gene expression profiles during various tropisms. Our long-term goals include understanding of how plants integrate sensory input from multiple light and gravity perception systems.
Here are a few links to articles on Dr. Kiss' work:
http://newsinfo.muohio.edu/news_display.cfm?mu_un_id=429
http://newsinfo.muohio.edu/news_display.cfm?mu_un_id=411
Continue reading "More Plants in Space!" »
---
Posted by Christina at 8:19 | Permalink
17 August 2007
Space Basil!
Going where no seeds have gone before - On the space station! My friend Tori sent me this great article from NASA's website:
http://science.nasa.gov/headlines/y2007/16aug_basil.htm?list728615
Basil Orbits Earth Authors: Lori Meggs, Tony Phillips | Editor: Dr. Tony Phillips
August 16, 2007: You'll never guess what was in Barbara Morgan's pocket when she blasted off from Kennedy Space Center last week onboard space shuttle Endeavour. The teacher-turned-astronaut carried millions of basil seeds into orbit and onto the International Space Station. Basil ... in space? Well, you never know when the ISS might run into some bland spaghetti sauce. Seriously, basil in space is cutting-edge research. Astronauts on future missions to the Moon and beyond are going to want to take plants along for the ride--for food, oxygen and even companionship. It's important for NASA to learn how seeds endure space conditions and germinate in low gravity.
Continue reading "Space Basil!" »
---
Posted by Christina at 8:06 | Permalink
15 August 2007
Lara's Theme
This really brightened my day. Dr. Zhivago is one of my all-time favorite films. That's where this song comes from. This guy does such a spirited rendition of it on the accordion, I can't help but to smile.
Continue reading "Lara's Theme" »
---
Posted by Christina at 1:18 | Permalink
14 August 2007
Response to interest in CRS
So before I drove 8 hours into the less fortunate half of California someone left a comment about CRS as a major. Well now that I'm in civilization I will make my official response. So I'm a transfer student at Berkeley and this fall will be my first year there, so I hope what little knowledge I have helps. I did however take a class through a concurrent enrollment program and loved it. I was so nervous that students would treat me different because I wasn't a "real" Cal student, and I was sooo wrong. Everyone was nice to me. I loved my teacher (Sally Fairfax), and my GSI, and all of the students. I still keep in touch with some of them. It really allowed me to get a feel for the college. The really nice thing about our college, CNR, in general no matter what your major is, is that it defiantly has a small feel to it. Now in regards to the major itself and why I choose it.
Continue reading "Response to interest in CRS" »
---
Posted by Marissa Ponder at 1:54 | Permalink
12 August 2007
No Need for Spinach. I got Enough Irony in my Veins.
Firstly, Christina's friend. Nobody should have to lose a friend at this part of life. I offer my deepest, most sincere sentiments. I know what you are feeling. In the same way I began my two weeks at Berkeley summer session, so thus I end my Berkeley summer session - with nobody living in the dorms. Everyone seemed to be Session D or something like that and they all filed out on Friday. This means that I can now walk around the place in a bathrobe with alot less apprehension, but unfortunately I still cannot find the light switch for the fixtures in the halls. They make for terrible shocks in early morning "draining the lizard" runs. I have a week left before I take my Chinese final and then move out of the dorms right into the apartment that I have been slowly moving things into for the past three weeks. I won't be home for Welcome Week - as Lilo from Lilo and Stich always says, "Ohana means family." So I will be Ohaning for a well deserved week. I pray to everyone and everything necessary to get through this course with an A. This coming semester is going to be a beauty. I have no class on Monday or Friday. Whatsoever. Isn't that amazing? I have 17 units (pending URAP) and yet no class on Monday/Friday and not on a single wait list. Life is good.
Continue reading "No Need for Spinach. I got Enough Irony in my Veins. " »
---
Posted by Jonathan Yu at 1:35 | Permalink
12 August 2007
Hakone - Japan
I went on my first trip outside of Tokyo today. It was quite fun, but tiring. Two Japanese students led six overseas students. We went to Hakone, which is known for its hot springs. Our youth hostel had its own hot spring water, so we bathed at night and in the morning there. We also went to this classes onsen (hot spring) place. They had six pools and a sauna on the girls' side. It was weird in the beginning bathing with all the other women...but I got used to it after a while. (Swimming suits not allowed.) I stink like sulfur now though. Then we went up on a Rope Way (cable car ride) to the top of the Hakone Mountains. There, we got to see the steaming sulfur pools and eat the black sulfur eggs. Quite interesting. The legend is that if you eat one egg, you gain 7 years, and if you eat 2 eggs, you gain 14 years to your lifespan. Eat more than that...and there are no guarantees. I've attached a youtube video link for you to see our mountain hiking trip. Enjoy. It's very simple.
Continue reading "Hakone - Japan" »
---
Posted by K. Lee at 3:13 | Permalink
10 August 2007
Watermelon and Grades
So here in Japan, they have fun with watermelons. They blindfold a person, spin them around, and verbally guide them to a watermelon that they have to crack with a stick. The point is not to smash the watermelon, because you waste watermelon that way. It's just to crack it so that you have a cutting point for your knife. Yummy Watermelon. Funny people. mwahahah. Sticky hands. On the other hand, we learned yesterday in UC Orientation that... you should never do what your Japanese classmates do. In Japan, grades for your Japanese classmates don't matter. There's no GPA, so they don't care if they get a C. On the other hand, that would be painful for us UC students. There was this story of a cocky UCB student who decided that he didn't need to go to classes. The entire grade was based on a final paper. Yet... when the final day came and he was to turn in his paper, his professor would not accept it. Evidently, there was this 4 letter word in Kanji that means assumed attendance. You have to attend classes. He'd missed 10/13 classes. He got an F. Professors here don't mind giving out Ds and Es (what we would say are Fs). It doesn't hurt the student here... but since everything transfers back... one would say that all you can do is cry if you're in that situation.
Continue reading "Watermelon and Grades" »
---
Posted by K. Lee at 0:02 | Permalink
09 August 2007
Loss of a friend
Found out yesterday that I won't see a dear friend again. She lived with us in the Co-op, she was always such a helpful hand in the garden. She was going to school at Mills College.
Here is the news report from her school regarding her death.
http://www.mills.edu/news/2007/newsarticle08072007boitumelo_president_statement.php
Continue reading "Loss of a friend" »
---
Posted by Christina at 8:23 | Permalink
08 August 2007
Good News!!!
Good News!!! I just found out that I am no longer waitlisted for Chem 3A, even though I was still No. 104 on the waitlist yesterday. The department increases the enrollment limit from 480 to 625. Here is some advice from Christina (another blogger for Fresh Faces) and Irene (GPB Peer Advisor) about signing up for classes. Oh, big thanks to both you for your comments to my previous entry. Here are the classes that you should not try to wait until Phase II to sign up for: Chem 3A & Chem 3AL Chem 3B & Chem 3BL Bio 1A & Bio 1AL Bio 1B R1A & R1B: They are filled up very quickly since the English/R&C requirement is one of the university general requirements. Plus the small class size, you probably won't have a chance unless you are within the top 5 on the wait list. If you want to take those lower-division science classes, but absolutely have to devote some of your precious 10.5 units to other classes in Phase I, at least sign up for the lab if it has separate lab components. Lecture is almost always guaranteed when you sign up in Phase II, even though you might be waitlisted. Oh, Bio 1A & Bio 1AL maybe an exception. From what I read from the note at schedule.berkeley.edu, it says that students must enroll in both 1A and 1AL at the same time. If you enroll in only 1A or 1AL during Tele-BEARS Phase I, you will be dropped at the start of Phase II (unless exempt). Enrollment only in 1A or 1AL does not guarantee enrollment in the other part of the course.
Continue reading "Good News!!!" »
---
Posted by Yang Cao at 3:06 | Permalink
The often over-looked, cheap, and incredibly delicious Lentil: I had my first lentil soup while living here at the CO-OP in Berkeley, and now it's my favorite. So today I decided to do a little research into the lentil.
What are lentils?
They're a legume! Like peas, or beans.
Its Latin name is
Lens culinaris
Where are they really from?
Their origins are believed to be in northern Syria and South-West Asia. Lentils were found in Egyptian tombs, dating back to 2,400 BC, but there's archaeological evidence of their cultivation as early as 6,000 BC.
Where do they grow best?
Sandy, nutrient-poor soils in warm climates.
Why do I feel so good after eating them?
Lentils are filled with good-for-you stuff, like anti-oxidants, iron, fiber, and tannins. They have no cholesterol, fat, sodium, or sugars. Here's a rundown of their nutrition facts:
---
Posted by Christina at 5:49 | Permalink
07 August 2007
Sproul Plaza
Sproul Plaza is where the majority of crazy stuff happens on campus. You'll come across street performers, people trying to get you to join their club, and all sorts of other stuff at lunchtime. Here's a random ninja battle that I wish I could have seen in person!
Continue reading "Sproul Plaza" »
---
Posted by Christina at 9:15 | Permalink
07 August 2007
Bike Registration in Japan
So bike registration was relatively easy. The housing assistants brought us down to the police station and we turned in our paperwork. Since we're "bimbo"s, or "poor," the nice police civil worker waived the fee for us. so ta da. I'm done. Now I don't need to be worried about being stopped by police. Interesting Fact: It's illegal to drink and bike.
Continue reading "Bike Registration in Japan" »
---
Posted by K. Lee at 6:20 | Permalink
06 August 2007
Schedule, Schedule and Schedule
I just had my Tele-BEARS Appointment for Phase II Appointment this morning. And I was at no surprised to find out that I am No. 104 on the waitlist for Chemistry 3A (the lecture part). Plus, the waitlist of ESPM 50AC, a class I really want/have to take, is full so that I cannot even add myself to the waitlist. I do not intend to complain since 1). I know my Phase II appointment is late 2). People will drop classes during the first few weeks 3). I was able to enroll in Biology 1B, English R1A and Chemistry 3AL(the lab part) during Phase I 3). Maybe I should just have a 3-course workload for Fall 2007 But I am still a bit annoyed and frustrated…
Continue reading "Schedule, Schedule and Schedule" »
---
Posted by Yang Cao at 4:38 | Permalink
06 August 2007
August in Berkeley
Ever wonder what the weather is like in Berkeley in August? It's cold. When I returned to campus the other week, I laughed as Tom and I drove by someone who was putting on a fuzzy winter coat. When I stepped out of the car, I no longer laughed. We've had a couple of days where we've seen the sun. Usually that's at about 2pm, after the world has had ample time to heat up. Today it's 61 degrees with 73% humidity. There's a mist that covers everything in the mornings and evenings, plus a constant drizzle of rain throughout the day.
Continue reading "August in Berkeley" »
---
Posted by Christina at 0:50 | Permalink
04 August 2007
So long summer days!
Yeah I really can't believe it but one week from today I will be back in Berkeley. One week from today...it's ON! Sucky thing is I just finished summer school and now I have to go back to Cal a good 3 weeks before the semester even starts. The first week I am back (the 11-16th) I have healthworker training, then the week following I have polish week (what my sorority calls the hectic week we use to prepare for fall rush), then I have welcome week and actual sorority rush before the semester begins. And of course I haven't forgotten about my new tough classes: chem 3b, calc, upper div arabic, and philisophical arabic text...talk about work. On the bright side, I managed to get fridays off so no classes, labs or section Fridays..wohoooo for three day weekends! I guess I learned some tactics from my freshman year mistakes...wait...omgosh...I am a sophmore...ahhh!!!!
Continue reading "So long summer days!" »
---
Posted by Rola Abduljabar Rabah at 1:17 | Permalink
02 August 2007
Relay For Life
Hey again. Relay for Life was on July 27-28 this year in my hometown. I've participated in Relay for Life for two years now and have joined American Cancer Society for three years now. Every year it's exciting. Every year brings wonderful feelings. Especially the luminaria ceremony. When all the participants gathered on the track for the luminaria ceremony, the glow sticks shone brightly and everyone walked the track while music played in the background. Then, we all discurssed how we, the participants are the "HOPE".Hope for cancer patients and cancer prevention. For now, I just want to share more info about recent cancer news. This was taken from
http://www.cancer.org/docroot/NWS/content/NWS_1_1x_How_Much_Do_You_Know_About_What_Causes_Cancer.asp
Continue reading "Relay For Life" »
---
Posted by Casey Wang at 6:24 | Permalink
01 August 2007
Yeah..I am already taking out my first aid kit!
I am really excited for fall 2007 because that will be the start of my official term as Healthworker for my sorority. If you haven't already lived in the dorms and met with many healthworkers or at leats heard about the healthworker program during CalSo then I'll fill you in quickly. Basically the Healthworker program is a division of the Tang center and is an efficient and student-run way to ensure safety and health awarness among the Berkeley students. There is a healthworker assigned to every sorority and fraternity house, every other floor in dorms, every co-op and in the Berkeley community. Healthworkers are chosen through an extensive application and interview process and then undergo a week training in the fall and spring semester plus they enroll in a Berkeley weekly class. Healthworkers are CPR and first aid certified and continuously learn about health related issues, health solutions, and the safety of college students. In additon to assisting anyone with basic medical needs, the healthworker is responcible for spreading awarness about health. As a sorority healthworker I have to always be on the look out for new health issues among my sisters including issues like stress, drinking, drugs, and safe sex. If a new problem arises or increases I am responcible for making presentations about prevention methods to my house. The healthworker job is full time 24/7 and is non-paid for a full year. A healthworker carries a lot of responcibilities but comes out in the end with a lot of knowledge and experience. You don't necessarly have to be a science major or pre-med to be a healthworker you just have to be dedicated, deciplined, committed, hardworking, responcible, approchable, and professional. The healthworker program has been extremely successful and popular in Berkeley since its establishment in 1971. Only a handfull of schools have a program similar to the Healthworker program and Berkeley's program is often praised by other schools for its great impact and sucess! I am really excited to start my fall training August 11th-16th before welcome week. If you are interested in the healthworker program for next year visit the
UHS website
or shoot me any questions and I'll be happy to answer them or direct you as best as I could.
Continue reading "Yeah..I am already taking out my first aid kit!" »
---
Posted by Rola Abduljabar Rabah at 1:36 | Permalink