August 23, 2007 10:44 AM
2 really cool events!
Tuesday, August 28; 4pm - 5pm in 2063 VLSB
Transfer Lab Research Workshop
If you're a transfer student, (or you can sneak in if you're just a regular junior or senior), here's the event for you. It's a workshop to show you how to get involved with research. The event is for all students in Biology-Related programs throughout the campus. There's SO MANY research opportunities for CNR students! Moreso than the L&S biology majors have available. Here's where you'll learn how to snatch your own coveted spot in a research lab, so you can make those MCB and IB friends drool with envy.
Tuesday, September 4; 9am - 12pm in 260 Mulford
CNR Student Resource Center Welcome Reception!
Ok, here's the perfect opportunity to explore the Student Resource Center (SRC), if you haven't already.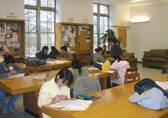 My favorite stuff about the SRC:
- New, soft Couches. It's a great place to take a break on those long days when you're stuck on campus.
- Computer lab. You have to sign in at the beginning of the semester so you have a login account, but after that, you're home free. There aren't too many computers, and usually they're in high demand, but dang they're handy. It's the closest computer lab to all of the CNR classes. Also, these computers have all the stuff you need, from word-processing to excel and internet. You can print stuff out there, too. Oh, and CNR students get to print 15 pages/day for free.
- Tables with a little tilt. While a odd at first, you soon realize that their tilted wooden tables are excellent for long reading assignments.
- Great place to meet people. It's a reliable, quiet place to study, where you see the same folks every day. By the end of the semester, you've made a new friend or two.
- Snacks during finals! At the end of last semester, they stocked up a little table with cookies, chips, fruit, coffee, and tea to entice us to spend hours on end studying in the resource center. It worked.

---
Christina | Permalink | Comment on this article | Comments (2)
Comments (2)
Hey Christina, thanks for the kind words about the SRC! I have to say that the CNR students are really what makes it a special place and a nice little community! Also wanted to note that the transfer lab workshop is in 2063 VLSB. It's sponsored by the Bio Majors Consortium, which CNR is involved in.
---
Posted by Kati | 2007-08-23
Thanks, Kati, for those clarifications!
---
Posted by Tina | 2007-08-23
Post a Comment