31 December 2007
Family Dinner
My parents recently told me the secret (well, one of them) for a good family: Eat together. Now, this may not seem like a great revelation (at least it didn't seem so at the time), but time away from home has made me understand the truth of this simply claim. The best way to keep a family healthy and strong is to eat together. As long as a I can remember, my family has almost always eaten together. Oh sure, there have been times when this pattern was broken (usually initiated by the insistence on the part of my brother and myself on sharing our meals with the television). When we eat together, we get to talk about our days, share stories, tell jokes, and give advice (which is not always one way, mind). There are times in our lives when we are busy, and we don't really get to talk very much; at these times, the dinner table is our solace, our bastion of family order and conversation. I understand that in some families, everyone eats at different times, and so nobody eats dinner together. This undoubtedly makes it hard for the family to stay a family, to stay nurturing, loving, and respectful. I'm not saying it's impossible; I'm sure that there are families out there that don't get to eat together but still love and support each other. I'm just saying that it seems like it would be harder. I mean, family life can be difficult enough as it is; every little bit of help is necessary.
Continue reading "Family Dinner" »
---
Posted by Joel Kim at 2:11 | Permalink
I love books. There really is no other way to put it. I love them. I love the feel of them, the sturdy heft of a hardbound, the informal easiness of a paperback, the solemn smoothness of a leatherbound. I love the smell, whether it's the musty smell of an old library book or the fresh crispness of a new purchase. Most of all, though, I just like to read. I read magazines, newspapers, cereal boxes, wikipedia articles, DVD inserts...but most of all books. One of the reasons I like coming home is that I have the time to actually read books. In college (or at least at Berkeley), I don't really have much time to read. Part of that is because readings for school take up a good portion of the time I would ordinarily dedicate to literary pleasures. Furthermore, with so many friends around and so much to do, simply sitting down to read a book seems a bit...dry in comparison.
---
Posted by Joel Kim at 1:39 | Permalink
31 December 2007
Reflections on Finals
So it's been a week or so since I finished my last final, but I do think that some thoughts on the whole madness that is finals season is worthwhile. After all, they are sure to come again next semester, except for those few that graduated this past semester. Finals season is an agonizingly long week and a half between the end of instruction and the commencement of winter vacation. It is the time, of course, when final exams are administered. Depending on one's luck, the alignment of the stars, and the university administration's arbitration, one's final exam schedule can either be frustratingly packed or amazingly chill. One of my friends had three finals on one day; imagine, a nerve-wracking, emotionally exhausting test morning, noon, and night. Another friend was finished by the last day of instruction, and spent his finals season playing video games.
Continue reading "Reflections on Finals" »
---
Posted by Joel Kim at 9:30 | Permalink
31 December 2007
Campus Job (Water!)
A month or so ago my mother advised me to get a part-time job. She did so not because we were in dire financial straits; I am fortunate enough to say that my attendance at Berkeley is well paid for by the generosity of my parents (a fact that they see fit to remind me of on a consistent basis). No, money was not the issue. My mother simply wanted me to be build up some discipline and have some experience working a job. To put it in her words, "If you have a job, it will look like at least you're trying." So I returned to my old job at Memorial Stadium. That's right, I am an integral part of the Sports Medicine team, charged with taking good care of our beloved Cal athletes. I am privileged to work with the football team, and play a pivotal role in ensuring that the Golden Bears are healthy and strong during practice. I am a Hydration Technician. In other words, I am a water boy.
Continue reading "Campus Job (Water!)" »
---
Posted by Joel Kim at 9:12 | Permalink
31 December 2007
New Year's Eve!
Happy New Year's Eve, everyone! To think that a whole year has already gone by...2007 is fast drawing to a close. The celebration of the new year is rather low-key in my household. No big parties, no fancy dinners (in fact, our food is rather pedestrian in comparison to some of the feasts I've heard other people entertain), no drunken revelry. Usually we have a few families from our church gather together, chat, and eat before the New Year's Eve service. In fact, we're having one of those dinners right now. This year, the gathering is at our house. The adults are talking in the sitting room, while we kids (yes, kids) are scattered in different parts of the house. My brother is working on AP Bio homework with some friends, and a couple other friends are here. Soon we will join the adults at the dinner table for some Dduk Guk (a Korean dish traditionally served to welcome the new year, the name means "Rice Cake Soup"). Again, it's not a very fancy or fanciful celebration, but it is what it is. I don't think I'd be able to handle a loud, raucous party, anyways.
Continue reading "New Year's Eve!" »
---
Posted by Joel Kim at 8:58 | Permalink
31 December 2007
hard to say goodbye
It is now about 3:35am January 1st 2008 in the Philippines. A new year and a time to celebrate for most, but for my family, it is a time to rest before daylight breaks and the reality sets in. My cousin Joff is 19 years old, a healthy 195 pounds, a second year college student and an athlete.Last night, my aunts and uncles took Joff to a clinic, and his platelet count was at a low 10,000. He got sick after Christmas and has had a nagging cough and high fever. I know that the normal blood platelet count is about 150,000-400,000. Even though the family pleaded for a blood transfusion or that he be rushed to the hospital the doctor (at the clinic) insisted that it would be best to wait. My cousin passed away shortly after midnight from Dengue Fever. One of the worries of going to the Philippines is getting sick, especially with the devastating Dengue Fever. Dengue Fever or West Nile Fever is a vector-borne infectious disease carried by mosquitoes that can cause rashes, joint pains, fever, nausea and vomiting, pain behind the eyes, high fever, and hemorrhagic fever: damage to blood and lymph vessels, low blood pressure, and shock. (http://www3.niaid.nih.gov/healthscience/healthtopics/dengue/default.htm and http://neeladri.wordpress.com/2006/10/12/dengue-fever-and-its-managemet/) So as this new year comes upon us, we will not be grieving but celebrating the life of an individual whose life was taken far before his time and being thankful for all the blessings we
do
have in our lives.
Continue reading "hard to say goodbye" »
---
Posted by Nikki Fernandez at 1:58 | Permalink
31 December 2007
random thoughts on my semester
This semester has been...short and bittersweet. My classes were wonderful: ESPM 118, EDU 114AC, PP101, PP190 (Negotiations), and ESPM 163AC. I would actually recommend all of them to others. policy memos, the impact of garden programs on school children and hot to build and foster a successful garden within one, slow foods, the multi-dimensional, multi-modal meaning of literacy, the right to fair treatment and conditions to everyone regardless of race, class, ethnicity, gender, or preferences, how to negotiate, and adaorable and intelligent fourth and fifth grade students like Marky are just a few of the things i've learned, experienced, and worked on/with this semester I managed a class of interns and an Asian American Field Studies course - which I was still writing evaluations and reading reflections for and from even after my finals were over. I completed a whole (gut-wrenching) semester as PASS' assistant director of internal affairs. ha! I sound like i'm reading from my resume. It all sounds great now...but man was this semester stressful! I don't think i've had another year go as quickly as this one did. Besides school and the incessant group projects that plagued me this semester, there's also family back at home. So many things happened at home: my mom tripped and was in crutches for a while, my brother sick, and my sister was once again a basketball star-starter/team captain. You miss a lot when you're away from home...even if you're still in the same state. But you know? I think for me it was sometimes a good growing and learning tool. I had to learn to balance it all and try not to let things influence your school life. It sure is good to be home though!
Continue reading "random thoughts on my semester" »
---
Posted by Nikki Fernandez at 0:26 | Permalink
30 December 2007
Transfering to Cal?
12/16/07 Assist.org will be your best friend!! Memorize, bookmark do whatever you have to do to remember this website. This website pairs up the community college you are at with any UC or state school and gives you what the equivalent of those courses are at Cal. I do highly recommend taking as many bio classes as you can to fufill the Bio 1A and 1B requirements for anyone who is transferring to a science major. DVC only required me to do 1A and its harder to find upper division classes that don't have both as a prerequisite. I also recommend going to see your counselor at least once every semester. Even if it's to say here's my schedule of classes, am I on the right track? They are usually more than willing to help guarantee you an appointment with a university representative when they visit if they know who you are. I also feel like my ecology class has given me a great base background for the classes I took this last semester.
Continue reading "Transfering to Cal?" »
---
Posted by Marissa Ponder at 1:57 | Permalink
30 December 2007
Please say "Hi"
12/10/07 Yes I was standing in line at FSM and I was recognized by one of my many blog fans. Okay so maybe it wasn't exactly like that. But she did recognize me and tell me she was switching from L&S to CNR, hahaha L&S 0 CNR 2 (that's right my blogs of wisdom have converted two people). We chatted about classes and how I liked my major, btw I love it, and which biology classes to take. This is where I'm not a lot of help is lower division requirements for people at Berkeley, however I did recommend that she go in and talk to one of the pals about it. If anyone ever spots me around campus please say Hi, I'd love to answer whatever questions you have. I do have some reccomendations for upper division courses.
Continue reading "Please say "Hi"" »
---
Posted by Marissa Ponder at 1:54 | Permalink
My internet has been down so I haven't been able to post them but here they are: 12/14/07 Finals are basically done for me!!! Yes all of teachers decided to deprive me of sleep one week earlier than everyone else. Last week was my crazy stressed week filled with two finals, two presentations, and three papers. So everyone (my roomies) who were playing Wii and dancing around NOT studying, well I'll be doing what you were doing last week!!! I apparently was quite well composed despite the amount of stress I was under. I took everything one task at a time and took study breaks. Okay my real secret was energy drinks. I don't stay up crazy late though only until 1 am. See I get tired early, like 10 and I can't study, so my liquid caffine is what gives me an extra three hours of studying!
---
Posted by Marissa Ponder at 1:46 | Permalink
29 December 2007
National Park - North Bay
Reading a fellow blogger's post about national parks in California inspired to me write about my experience visiting one of the parks on her list--Point Reyes National Seashore/Tomales Bay (
nps.gov
). It's a very cool place. It's right on the coast and the drive is just as fun as the scenery once you get there. My girlfriend and I took the 580 across the bay and went up the 1. If you want to check out our route
click here
. We made a couple of stops on the way. It took us about 3 hours to get to McClures Beach, though, from Berkeley, google estimates about 1 hour and 54 minutes. Our first stop was along Fairfax Bolinas Road along
Alpine Lake
(Click for map): A couple of shots from Alpine Lake: Click to view

That last picture is of Fairfax Bolinas Rd. Although it looks nice in that picture, parts of it were less than adequate...in other words, you'd spill your tofu (Initial D "joke"). The lake is dammed and you "get to" drive across it. Past that, you drive through more forest (very cool). After driving up the 1, we took Sir Francis Drake Blvd up past Inverness (which is, coincidentally, the name of a really cool city in Scotland) to Pierce Point Road. Here's a shot of what Pierce Point leads to:
Once you finally get to McClures Beach this is what you'll see: Click to view







Continue reading "National Park - North Bay" »
---
Posted by Juan at 2:01 | Permalink
29 December 2007
New Year's Transportation
If you're planning on staying in the Bay Area through the New Year (and don't just want to stay indoors), here is something you might want to consider.
BART is offering a "Flash Pass" (providing you unlimited rides on BART) that is good from 6 p.m. New Year's Eve (Dec. 31) through 3 a.m. (Jan. 1) for only $6. Read more at:
Ring in the new year with a BART Flash Pass
Happy New Year!
Continue reading "New Year's Transportation" »
---
Posted by Juan at 2:56 | Permalink
29 December 2007
12/04/07 - A paper, lateness, and a ticket
Once again, the week before finals turned out to be pretty eventful. It was a Tuesday; Tuesdays were usually pretty good days, since they were short (lol). I had a class from 10-11 and then 11-12:30. I had a paper due for my first class but didn't start writing it 'till the morning of (lol). It was just a short assignment--a 2 pager. (This was a pass/no pass class btw). Making the decision to procrastinate was quite easy. I had had more important assignments to take care of and pushing this one back was a "no-brainer." I figured that I'd just write "crap" and get a C or something just to get it done since this
was
a pass/no pass. So as I was writing the paper, as always, I
couldn't
just write crap. I'm not sure if that's a good characteristic or not...but I've never been able to be satisfied with that type of effort (especially in my writing), though some might use this blog as an argument against that statement (lol). Anyway. Class started at 10 and I didn't leave my house 'till around 10 (I live up the 24 and it takes me about 30 minutes to get to class). I ended up being late but I didn't care about that. I finished the paper and was satisfied with it. Since I drove that day I needed to find a parking spot. I usually try to park along Hearst when I can. I found a 24 minute spot, and since I was late (and class would be over in about 25 min) I took it. So class was fine. I turned in the paper and everything (it was the last meeting of the semester). In my hurry (I guess), I forgot about my car, and when this class was over, without thinking, I headed over to my next class. It wasn't until later (around 12:00) that I realized my car was still parking in a 24 minute spot!! I hustled, ran, and breathed heavy...but when I got to my car, the officer was just printing me out a hot copy of: Click below. Picture opens in new window/tab.
Continue reading "12/04/07 - A paper, lateness, and a ticket" »
---
Posted by Juan at 1:59 | Permalink
29 December 2007
"Assassination rocks Pakistan."
That's the headline I saw today when I hopped out of bed and picked up the Los Angeles Times. http://www.pressdisplay.com/pressdisplay/viewer.aspx The tagline read "Bhutto's death triggers violence and heightens instability." Benazir Bhutto, as many of us now know, was killed in Rawalpindi, Pakistan just over a day ago. The pictures, the stories, the survivors, the blood, the faded hope. All of the events continue to escalate tensions in an already unstable, tension-ridden country. Funny thing, to follow the line of leaders the United States has backed in the past and the way that history seems to repeat itself. As I read on and continued to hear more and more about the events that unfolded, I really thought about U.S. politics, influence, and power. In the Philippines, Benigno "Ninoy" Aquino, an opponent of U.S. backed Ferdinand Marcos was assassinated while coming off of a plane (1983). History tells us a lot about foreign relations, intent, personal gain, and "democracy for the people". Perhaps oppression, terror, and dictatorship ("sweeping power" or Martial Law) come wrapped in a disguise of democracy? What I thought a lot about as well were the people...the citizens of Pakistan. Then I thought about my best friend, who is in Pakistan visiting family and friends for his winter break. He called me today and left me a message "I don't know if you've been following the news, but it's pretty crazy here...we had to drive cross-country early this morning...everything's on lockdown..." (home safe - 1/1/08) :)
Continue reading ""Assassination rocks Pakistan."" »
---
Posted by Nikki Fernandez at 1:18 | Permalink
28 December 2007
holy moly
so i don't know if you've heard the news from a few days ago, but being so close to san francisco it wouldn't surprise me if you have... the tiger from SF zoo escaped!! it was a 300 lb tiger named tatiana (my roomate's name...hmm...) who may have climbed/leapt over an 18 foot wall to escape o.O!! There were two injured people, and one was a 17 year old boy from San Jose (right by my hometown, by the way) bleecchh, check out the details: "The second victim was about 300 yards away, in front of a cafe. The man was sitting on the ground, blood running from gashes in his head and the tiger was sitting next to him, police said." (http://www.local6.com/news/14922583/detail.html)
Continue reading "holy moly" »
---
Posted by Angela Hsu at 9:18 | Permalink
28 December 2007
Sand, Steel, and Swings: Christmas at the park with my brother
On Christmas day, my brother and I were alone in the house. My mother was still at work at the hospital, and my father had gone to the meditation center for his afternoon session. Dale was working on AP Bio homework, and I was just lounging around the house, looking for something to do. Bored and a little edgy from spending so much time indoors, I decided to go for a walk. After a moment's thought, I took my brother with me. No sense in keeping him locked up indoors, you see, and I figured he would enjoy some fresh air. We bundled up as best we could and soldiered into the night air. The Santa Ana winds were blowing something fierce, and the shrieking winds brought a strange eeriness to our friendly evening street. We headed for the park, my brother on rollerblades, myself on foot. After a brief excursion onto the tennis courts, where we played tag and whacked each other with sticks, we arrived at our destination. The playground. A modest ensemble of plastic, metal, and sand, it had served us well in our youth in amusement and sport. Seeing it now, after such long years at college, brought some comfort. There was no one else around; no one else was foolish enough to come out at this time of night to a playground beset by such winds.
Continue reading "Sand, Steel, and Swings: Christmas at the park with my brother" »
---
Posted by Joel Kim at 2:35 | Permalink
27 December 2007
Farewell Donald Kaplan
A Berkeley legend passed away this month. Dr. Kaplan's clearly-written readers got me through Dr. Specht's Plant Morphology course. I never was able to meet him, but I've wandered by his office many times, cracking up at his memorable bumper sticker: "With fronds like these, who needs anemones."
Here's a link to the article from the CNR newsfeed:
http://www.berkeley.edu/news/media/releases/2007/12/21_kaplanobit.shtml
Continue reading "Farewell Donald Kaplan" »
---
Posted by Christina at 3:14 | Permalink
27 December 2007
San Diego!
So I took my first trip to San Diego about three weeks ago. I'm originally from Miami and had never been down there even though I'd been living in California since 2003. It was a great trip! The flight only takes about an hour or hour and a half. Being used to flights back to Miami, this short trip was a very welcomed change. We actually went to meet my mom who I hadn't seen in almost a year. The only "bad" part was that the trip was the last week before finals began lol. Anyway, I wanted to share some pictures. Most of these are my girlfriend's pictures since my camera broke the first day we were out there. Click to view larger


Flickr
Continue reading "San Diego!" »
---
Posted by Juan at 2:16 | Permalink
This happens every semester, the hold-my breath, knots in my stomach feeling that I get NOT when taking finals, because those are over, but when I go to "current term grades" on Bearfacts. One of the longest parts of the semester can sometimes be waiting until your grades get posted onto Bearfacts. This is especially true if you have those type of teachers that don't give you too much feedback on your other works, isn't too good at updating the bSpace gradebook, or if your professor missed the technology train and is stuck in the era of manually issuing and posting your grades. So now that Christmas is over and I have less and less distractions, I will be waiting by my computer for my grades and in a few of my classes, it's a tossup...I guess I'll just have to wait and see how it goes!
---
Posted by Nikki Fernandez at 8:59 | Permalink
26 December 2007
Two Poems
Here are a couple of poems written by my fiance Tom Sullivan.
(untitled) One tiny drop, teeters on the lip, threatening intoxication. Notes of fruit and chocolate pervade, drawing on the depths of the old and mixing with new. Men, aged 'n oaken with the raw and undeveloped, talk of the way things could have been— glass after glass. We weep and rage over ifs and loves. Husbands of the grape and lovers of yeast, we touch glasses with friends and enemies. Rose Marble The marble feels so strong, bathed in heavy sunlight, scorching to the touch. I wonder how those lines cut their way through the silica-- pink and flashes of blue. I've tried to make my own way in, too slow to realize that my bone and blood are too weak, and feel the heat more--brutally. The master craftsman chipped it away, intentionally leaving flaws for character, and shading in sunlight, or moonlight. Many attempt to imitate the craftsman, adding their own curves and notches, all beautiful, but not the same. Creations of motionless marble, with more character, and feeling, than we-- Rose marble, smooth, strong, and hot.
Continue reading "Two Poems" »
---
Posted by Christina at 4:18 | Permalink
25 December 2007
Winter Break (In-N-Out)
Last Saturday my friend drove me down from Berkeley to LA. There were four of us in the car; Ezra (the driver), Milton, Danny, and myself. We had to leave early, because Milton had to be at a wedding at 5. Half an hour out from Berkeley, he realized he had forgot his suit, so we had to turn around and get it. So we left Berkeley around 10. For those of you traveling by car from the Bay Area to Los Angeles, prepare for a long ride. Luckily we didn't have too much traffic, but I have heard some horror stories. One friend was driving up right after the Thanksgiving break. He left his home at 1 PM. By the time he had picked up everyone else and gotten to Berkeley, it was 1 AM. He resolved to never make the mistake of leaving so late again. The car ride was uneventful. We talked, laughed, and joked around. These three guys are from my fellowship, which is the closest circle of friends I have at Berkeley, so we had a lot of in-jokes and fun memories to share. We stopped at an In-N-Out for lunch. For those of you not familiar with it, In-N-Out is a popular fast food chain in California. They are known for their quality burgers and great customer service. In-N-Out is noteworthy in that it pays its employees $10.50/hour, as opposed to the California minimum wage of $8.00/hour (which is higher than the federal mandated rate of $5.85/hour). I really do enjoy their burgers, their fresh ingredients and their tasty fries.
Continue reading "Winter Break (In-N-Out)" »
---
Posted by Joel Kim at 7:48 | Permalink
25 December 2007
Winter Break (White Elephants)
Alright, merry Christmas everyone! I hope you all enjoy this season of cold weather, holiday cheer, and indulgence of food. Try to take a step back from all the busyness to count your blessings for this year. I was able to come back in time this year to make it to the Christmas party for my church. Every year for the past nine years my church's young adult group has had a party at the pastor's home. The last few years I came back to LA too late to attend, but this past Sunday I was able to make it. Honestly, it was a bit weird at first, because I only see these people three times a year or so, and I felt rather awkward. However, I managed to catch up with some old friends (I congratulated a couple on their upcoming wedding in April), and played with the pastor's two kids. We also engaged in a White Elephant gift exchange. For those of you who don't know what it is, I suggest you research it on Wikipedia. Basically, it's a fun way for people to come together and give random gifts. It is not meant to be an exercise in unabashed consumerism, but rather a humorous game. I gave away a Thermos; I received (or stole, rather) a Word Origin Calendar for 2008, with each day revealing a new word.
Continue reading "Winter Break (White Elephants)" »
---
Posted by Joel Kim at 7:07 | Permalink
25 December 2007
Ah...taking a breath or two..
Finally now that finals are over (and I must say I feel so relieved to actually survive seven finals and come out in one peice!) I am going tp kick back and enjoy my time off. Yes, thats one of the best things about Berkeley, winter break is truly a BREAK no more classes to worry about, no more tests to worry about and you get to move out of the cold rain for a while (if you're fortunate enough to go on vacation with your family in San Diego...yes yes its 69 degrees here and the sun is beautiful)...If you go to school here you take this break for granted and think "oh this is only normal", indeed it's normal for most schools but for other less privilaged students like Harvard break means a two week period to fuss about the finals you're going to still have to take when you return to school. Sad? Yes it is...so for those of you going to Harvard and other such school, good luck (and ha-ha) and to Cal...hip hip horray! Happy holidays everyone!
Continue reading "Ah...taking a breath or two.." »
---
Posted by Rola Abduljabar Rabah at 2:48 | Permalink
23 December 2007
Grizzly Peak Blvd
So those sunset pictures were taken from a turnout off of Grizzly Peak Blvd. Want to know how to get there? The route I took was just off the 24. I took the 24-WB and exited at Fish Ranch Road (this is in Orinda). I made the first right to stay on FRR and then at the next intersection made another right, getting on Grizzly Peak Blvd. There are many turnouts along the way--just choose the one you like. I'm not sure if most of you have cars (I'm assuming no if you live on campus), but that's probably the best way to get up there. People do ride bikes (both motorcycles and bicycles), but I wouldn't do it :-x lol. Here's a shot of the side of the hill from the turnout:
See the Bigger Version, Click the Picture Grizzly Peak can also be accessed via Centennial Drive or Campus Drive (Shasta Road). Here's a great article from the Berkeley Daily Planet:
East Bay's Most Scenic Road Turns 75
Continue reading "Grizzly Peak Blvd" »
---
Posted by Juan at 0:50 | Permalink
23 December 2007
From the Hills
Hi again (it's been a long time). So I have some pics to share that I hope you like! About a month ago, my girlfriend and I went up into the Hills in between Claremont Canyon Regional Preserve and Charles Lee Tilden Regional Park. It'd been a cloudy day all day--at least where we live (up the 24)--'till around sunset! We'd been wanting to get some pictures of a sunset over the bay. And here they are: Click to view Larger


These were pictures I took. Here's a much better one my girlfriend took:

Flickr
Continue reading "From the Hills" »
---
Posted by Juan at 0:07 | Permalink
23 December 2007
The UC Botanical Garden!
For those of you who have been following my blog from the start, you're already well aware of all the time I love spending at the UC Botanical garden. But after speaking with a group of garden volunteers last week, I realized just how unique it is to even FIND the botanical garden as an undergraduate student, much less visit it regularly. A link to their website:
http://botanicalgarden.berkeley.edu/index.shtml
So, here I'll highlight some of this year's great events given by the UC Botanical Garden, and mention the bus schedule to get there - to encourage more students to make their way to this beautiful oasis!
Look for the
Hill line
bus at the Hearst Mining Circle. You can use your student Class Pass to ride for free, otherwise it's $1. The bus comes every half-hour at 10-past-the-hour, and 40 -past-the-hour. Be sure to be on time! Have a sick plant? Don't know what to do? Bring it up to the Sick Plant Clinic, every 1st Saturday of the month! Here you'll have experts tell you what's wrong and how to bring your favorite plant back to health. FREE tours! Led by knowledgeable, trained docents every Thursday, Saturday and Sunday at 1:30pm.
Garden Gems of Asia
- In early July, an opportunity to walk with horticulturist Elaine Sedlack through her masterpiece Asian garden (pictured above), to learn about hassle-free beauty that you can add to your garden.
Glass Houses at Twilight
- In early August, here's a special opportunity to see the closed-to-public rare orchid house!
Summer Bird Walk
- Check out the garden's beautiful birds with an expert birder! Fall Plant Sale - at the end of September every year, you'll find a bustling scene of exotic plants for sale. Honestly, they have many of the same great plants for sale EVERY DAY at the gift shop, and you don't even have to wait in line.
Food of the Americas
- an event that runs nearly every day in October, where kids can learn about all the different varieties of colorful corn, peppers, chocolate, and more, in the education marketplace!
Children's Carniverous Plants Workshop
- Kids get a tour of the greenhouse, then learn how to pot, plant, and care for their very own carniverous plant!
Continue reading "The UC Botanical Garden!" »
---
Posted by Christina at 5:11 | Permalink
23 December 2007
National Parks of California
While daydreaming of summer vacation (and all that hiking I'd like to do) I thought it'd be nice to look up all of the national parks found in California. I didn't believe it, but there are some on the list that I've never heard of, even in the bay area! So here I share...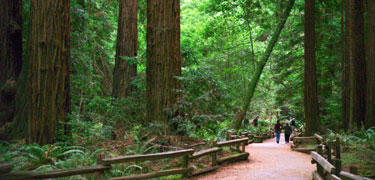 http://www.nps.gov/
Bay area National Parks
( * next to those that are new to me) Point Reyes Muir Woods San Francisco Maritime National Historic Park* Eugene O'Neill National Historic Site* Rosie the Riveter WWII Home Front National Historical Park* John Muir National Historic Site - John Muir's home* Port Chicago Naval Magazine National Memorial* And... Golden Gate National Recreation Area Which includes: Alcatraz Island Fort Point National Historic Site* Presidio of San Francisco
Continue reading "National Parks of California" »
---
Posted by Christina at 4:44 | Permalink
23 December 2007
Resource for Pacific Islands
When I was in Moorea, I found this resource especially enlightening:
http://www.hear.org/pier/
With multiple photos of each plant, traditional Polynesian names, and links to resources and herbarium records, it's a pretty handy guide when deciphering the plants of the Pacific.
Continue reading "Resource for Pacific Islands" »
---
Posted by Christina at 4:41 | Permalink
23 December 2007
Another useful plant resource
Ever wonder where to find an online flora of wherever you're traveling? Chile, Ecuador, Nepal, Madagascar? Well, wonder no longer. Here you go!
http://www.efloras.org/index.aspx
Their Flora of North America is super handy when on road trips around the US.
Continue reading "Another useful plant resource" »
---
Posted by Christina at 4:20 | Permalink
23 December 2007
Moon Rocks
For those of you who are crazy about geology, here's a great article from the National Geographic. It focuses on the formation of the moon, through analysis of moon rocks.
http://news.nationalgeographic.com/news/2007/12/071219-moon-collision.html
Earth-Asteroid Collision Formed Moon Later Than Thought Richard A. Lovett for National Geographic News December 19, 2007 The moon was formed from fragments of Earth after a collision with a giant asteroid relatively late in our planet's formation, new tests of moon rocks show. The finding upends many of the prior theories for how the moon came to be, researchers say. Scientists have long believed that the moon was formed by a collision between our planet and a Mars-size object. Computer models have shown that in this scenario 80 percent of the moon's material should have come from the asteroid, with only 20 percent from Earth. But the new study of moon rocks collected three decades ago by Apollo astronauts, however, found that Earth and the rocks were too similar for that to be the case.
Continue reading "Moon Rocks" »
---
Posted by Christina at 4:03 | Permalink
23 December 2007
Why choose the College of Natural Resources?
Finding a smaller campus environment within the monolithic, intimidating UC Berkeley is crucial to success as an undergraduate. It's easy to get lost in the shuffle. Even within the smaller, more intimate College of Natural Resources (CNR), where class sizes are smaller on average and academic advisors are not over-worked - sometimes, students get lost. It's just harder to fall through the cracks when you have people looking out for you. Looking out for you, giving you the best experience possible out of Cal - that's what everyone working for CNR strives for. Just a few of the exciting majors offered by CNR:
Genetics & Plant Biology (GPB)
- Of course I'll start with this one, it's mine! Here you're able to get through similar coursework to the School of Letters & Science Molecular Cell Biology program, but with a plant twist. Also, the required upper-division courses have 60 or fewer students - no more of those nightmarish 500-student courses.
Forestry
- Here's where I've found most of my friends. This major is challenging and prepares you for a career in land management. It's biology with a twist, if you will. But doesn't require the same Organic Chemistry requirements as the GPB program. If you love plants, but hate Chemistry, this might just be the program for you.
Conservation & Resource Studies (CRS)
- Here's the one where you get to design your own program of study! Want to go into environmental law? This program will prepare you well.
Environmental Science (ES)
- our blogging friend Wendy Chen is an ES major. Here's a great program that's joint with Letters & Sciences. With courses in hard-core sciences and policy alike, this is a great option for someone who's interested in getting in on both sides of the environmental debate.
Nutritional Science
- Want to become a pharmacist? How about a nutritionalist, or maybe a dietician? Perhaps you're looking into med school, but you want to be enabled with a background that will allow you to help people more than a background in molecular cell biology would. Well, here we are: Nutritional science.
Continue reading "Why choose the College of Natural Resources?" »
---
Posted by Christina at 3:40 | Permalink
21 December 2007
What can I do without Internet?
I guess the title of this post has already revealed what I want to share with you guys. And here it goes… Even though I finished my last final last Friday, I didn't get to go home till yesterday since I still had to work. Everything before Tuesday was good, because I did not have any finals left and grades were not out yet. However, when I got back Tuesday night, I found out that the wireless network at my place was not working. I tried and tried, but I still could not get my laptop connect to the network. I was not that willing to go to sleep early. So I decided to go to a place where there is Internet. But then I was too lazy to go out in such a chilly night and I stayed in my room. So what could I do? I first organized my room and recycled all the scratch papers I had used when I was reviewing for my ochem final. After I clean my room, it was barely 9:00 pm and that was still early for me to go to sleep. So I borrowed magazines from my roommate so that I could have something to read. Even though those magazines were not the ones I would read, I still sat there and read them word-by-word, line-by-line, paragraph –by-paragraph and page-by-page. I thought Wednesday would be better but I was wrong. The wireless network was still not working. So I spent that night reading the papers I have written for my English class this semester and went to bed really early.
Continue reading "What can I do without Internet?" »
---
Posted by Yang Cao at 3:29 | Permalink
21 December 2007
Get your Resume Ready and Apply for a Summer Internship
As a subscriber of the CareerMail, I have received several emails the past few days that are designated to encourage students to apply for an internship/job for next summer. I also agree with their suggestions. First of all, most of us are busy with school and work during the semester. And we barely have the time to sit down, search for an internship/enrichment program/job and actually apply for it. Now we are in winter break, and it would be great if you can spare some time to do some research and then actually develop a resume and a cover letter for future use. So think about it! Secondly, most of those opportunities have deadlines in late January and early February. But most of us don't even think about applying for one till late March. So act early! Lastly, most internships/enrichment programs/jobs are very competitive and you want to submit an excellent application, not a crappy one that you would write in a hurry two hours before the deadline. So start early! Here are a few of those opportunities: 1. 2008-09 Koch Associate Program in Washington, D.D 2. East Bay Outreach, Policy Analyst, and Media Internship with Greenbelt Alliance 3. QB3 Undergraduate Biotech Internship Program 4. Travel Department Internship @ The Commonwealth Club If you are interested in any of the above listings or other opportunities, just visit http://career.berkeley.edu
Continue reading "Get your Resume Ready and Apply for a Summer Internship " »
---
Posted by Yang Cao at 1:39 | Permalink
20 December 2007
home sweet home
Mmmh, there's nothing like a good 15 weeks at berkeley to appreciate the home-ness of home. Without a doubt, it's one of the most relaxing feelings to be able to go to sleep as late as you want without the worry of waking up for an 8am the next day (which was well...monday,tuesday,wednesday,thursday,and friday for me). There is nothing in sight to do for the next few weeeks but hang out with friends, eat with family, and shop shop shop and get ready for the holidays. Although at the moment, this seems like such an appealing idea I know that there is one rule that should be followed during winter break, and that is: don't just sit around. It is all too typical to succumb to the stereotypical actions (or lack therof) of being being a college student on vacation. This would entail sleeping when you see the sun come up and waking up when it goes away, eating junk food, watching tv, playing video games, computer games, watching tv, eating more junk food, etc. etc. Personally, I've had some pretty pathetic vacations which entitled way too many hours of tetris, sees candies, and the sad times I promised myself I would get out and run. Hopefully this break will be different! We'll wait and see =] But I guess i'll have to start tomorrow since today I already went over to a friend's house in newark and played super smash brothers for a good two hours after watching "I am legend" and grabbing a burger at In-n-out. But i'll try real hard to make this the last day of lazy before i get out and do things this break
Continue reading "home sweet home" »
---
Posted by Angela Hsu at 3:12 | Permalink
19 December 2007
Sophomore 15?
The No. 1 thing people would warn you when you are about to enter college is: "Oh, be careful about 'freshman 15'!" For me, I was really careful last year keeping a healthy lifestyle and consequently, I did not get my 'freshman 15'. But this year, it has been difficult. First of all, I moved out of the dorms so I am basically on my own for meals. As a result, I eat out much more frequently than I did last year. Secondly, I have developed bad study habits as I start to stay up late much more frequently than I did last year to finish my papers and cram in for exams. Consequently, I have to eat snacks (unhealthy ones) to fight away the hunger! Thirdly, since my vigilance toward 'freshman 15' has diminished, I do not go to do exercise as frequently as I should. Here are a few tips I am going to give a try: 1). Go for vegetables and fruits whenever you can 2). Try not to develop the habit to drink sodas because once you get used to them, you would have one almost every meal. 3). It is hard to push yourself to go the gym on a regular basis. So you may want to find things to do with friends that are "hidden exercises" 4). Don't put too much pressure on yourself to "diet" because this may make you feel left out when you are hanging out with friends who not are not dieting. Have some unplanned days when you can eat whatever… 5). Try to maintain regular eating and sleeping times! 6). Never skip a meal, especially breakfast! That's what I have so far. Any suggestions?
Continue reading "Sophomore 15? " »
---
Posted by Yang Cao at 1:00 | Permalink
18 December 2007
I am Done
I finished my econ final yesterday afternoon and now I am done with everything. I have about two or three days before I go back home. To be honest with you people, once you get your own room and your own apartment, it is virtually impossible to go back home for long extended periods of time. There is only so much family you can take before it starts driving you more nuts than a Berkeley squirrel stash in the oak trees. So how am I going to spend the last few days of absolute freedom? No clue. I feel like going out and traveling somewhere but that costs money and if you know me, I try to keep my overhead costs low. My room is literally nothing more than a box, a mattress on the ground, and a computer. Like I said, low marginal costs of living. I don't even like to keep the lights on for very long. Suggestions for the continued procrastination of my life: Go get a girlfriend (yeah right). Go out to Walnut Creek and enjoy just walking around for a while (It's great until you have to use the restroom and you realize that you're in a suburb where all the restrooms are in the homes - unaccessible to you). Eat (As if I need to get any fatter). YouTube (There are so many kitty videos you can watch before you start feeling fuzzy). I guess all that is left right now is to go and play video games until my brains start to turn to mush ... or maybe even read a bit (Pfft and angels will start flying out of my nose).
Continue reading "I am Done" »
---
Posted by Jonathan Yu at 3:53 | Permalink
17 December 2007
some yummy places to eat
Being at berkeley, it's inevitable that you're probably surrounded by places to eat. whenever I walk to school, work, a friend's dorm, I more restaurants than I can count. But what makes the food here at berkeley so great is that not only do we have a lot of restaurants, but we have an incredible variety of cultural foods that reflect the fusion of cultures that is prominent here at berkeley. Just walking down telegraph, I can spot out a mediterranian restaurant next to a chinese take out place which is right across the street from a sushi bar with an italian restaurant just across the street.
Continue reading "some yummy places to eat" »
---
Posted by Angela Hsu at 1:00 | Permalink
16 December 2007
A few things you may consider to do before you go:
For those of you who are already done with finals, congratulations! You have survived another (or your first one if you are a Freshman) rigorous semester at the nation's #1 public university! For those of you who still have papers/presentations/exams next week, keep the good work and you are almost there! Here are a few things you may consider to do before you go: 1). Sell your textbooks You can go to Cal Student Store or Neds to sell back your books. However, if you feel that the price at which they are buying back your stuff is not satisfying, just visit comegetused.com to register and list your item there! (Disclaimer: comegetused.com is a textbook classifieds network owned and operated by a Berkeley alumnus and an UCLA student. Though there is no charge for the service, there is no guarantee that someone will buy your book) 2). Do some laundry Personally, I have piled up some laundry the past two weeks because I just don't have the leisure to do them! But hey, you don't want your dirty clothing to sit there (in a basket at the corner in your closet) until you come back in January. Technically, you could pack your laundry into a suitcase and bring them home. But you are a college student who has the ability to take care of yourself. So let's finish them before you leave. 3). Finish spending your meal points if you have a meal plan Wasting meal points = wasting your money! 4). Have fun!!!
Continue reading "A few things you may consider to do before you go:" »
---
Posted by Yang Cao at 0:25 | Permalink
14 December 2007
Live From Office Hours, It's Friday Morning
Good morning. I am writing this from my Econ 100A office hours. He is right now telling the most hilarious scene when he and his parents watch a graphic sex scene in a movie. Did I tell you that my GSI's father is a pastor? Goodness that is hilarious. I am currently procrastinating from actually doing econ work but since I am in Office Hours, I am actually doing econ work. Did you get that? I hope you did. It's some weird contradiction but my hope right now is that I am gaining econ knowledge simply through osmosis. As my econ final edges closer and closer I am getting more and more polarized into two parts of Jonathan. There is procrastinating Jonathan who does a crap load of procrastination and then there's studying cramming Jonathan who crams for hours at a time. It is almost like I am bipolar. These two parts of me would clash whenever I am working on Econ. Oh great. I just asked my GSI a question and he just told me that he had no idea. This is how hard economics is. I want to cry ... Continuing from Econ office hours, Jonathan Yu.
Continue reading "Live From Office Hours, It's Friday Morning" »
---
Posted by Jonathan Yu at 1:52 | Permalink
12 December 2007
Christmas in our apt!
So, last week was a terrible week. I had presentations on Tuesday, Wednesday, and Thursday and had papers due at least every other day. By Friday, I was completely burned out and I decided what better way to celebrate finals than by stopping by Mulford and supporting Cal Forestry through the purchase of a Christmas Tree! Every year, since I've been a freshman, I've looked forward to a forestry tradition that heralds in the coming of the holiday season: the sale of Christmas trees! Every day this week, I have walked through the Eucalyptus tree grove up to Mulford and breathed in a the lovely smell of pine and orange-like smell of the Douglas Firs. It reminds me of home, reminds me of the holiday season, reminds me of my family! Finals are coming up and this tree reminds my roommate and I every night that they are only a temporary nuisance that will soon give way to good times with family and friends at home.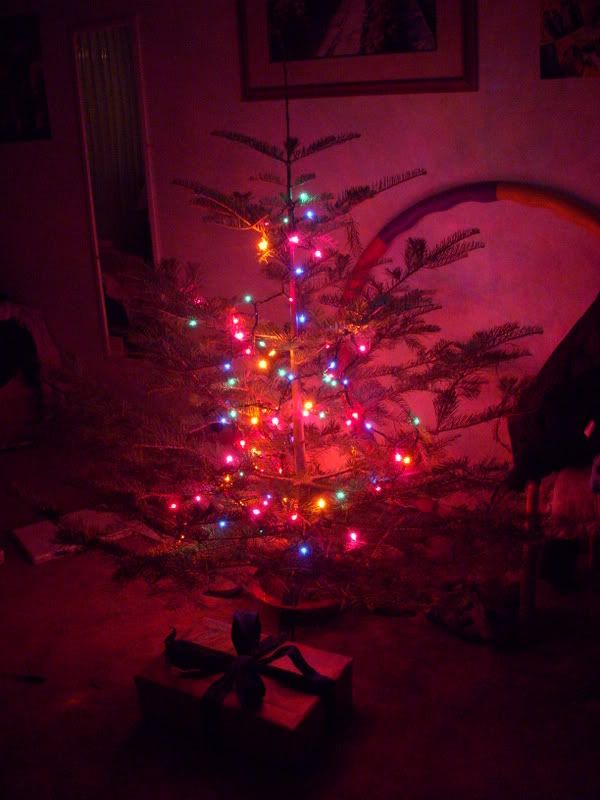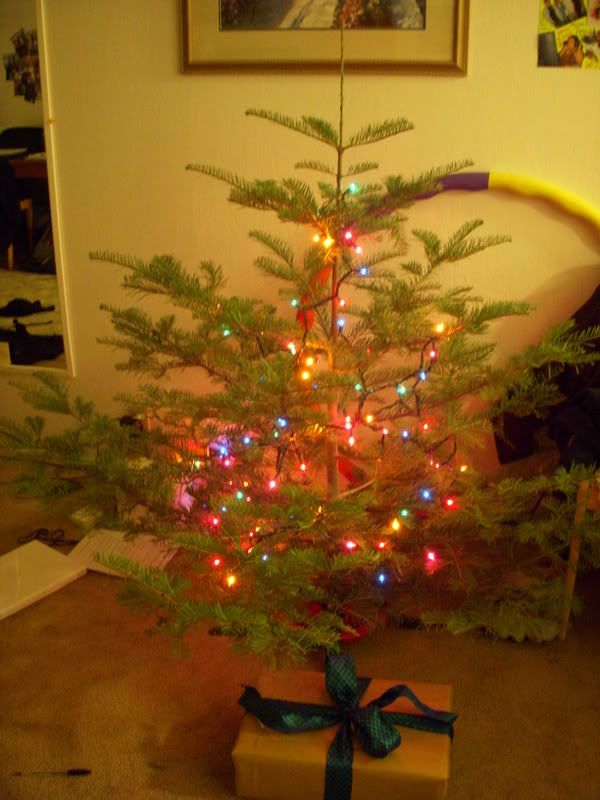 Continue reading "Christmas in our apt!" »
---
Posted by Nikki Fernandez at 3:54 | Permalink
11 December 2007
Are YOU going to run around naked in Doe?
So here's a little tradition you got to know about during finals week...people (often seniors) will run around naked in the library during finals week so they can...well there really isn't a reason why other than lighten up death week...oh wait I meant finals week...since the school does such a good job at doing so by playing funeral music in the campanile (this is a true story people)...I guess Cal students had to find their own way to make this never ending week a little more enjoyable...so watch out sometime around midnight because you might embark on a few interesting sights..to say the least...
Continue reading "Are YOU going to run around naked in Doe?" »
---
Posted by Rola Abduljabar Rabah at 2:19 | Permalink
10 December 2007
Death week...
So not only have I already taken 4 finals (arabic 100, 108, ph104, chem 3BL) but I am now studying non-stop for my chem 3B, math, and arabic 108 final which ALL happen to be on the SAME day (monday 8-11, 11:30-1:30, 5-8)...hmm what a surprise...there goes my luck once again, 3 finals on the same day...what is a cal student suppose to do here? Drink 4 cups of coffee, 3 large energy drinks (Go Girls i my favorite), and constantly suck on sugar free coffee flavored candies to avoid cases of insanity...Happy finals everyone!!!!
Continue reading "Death week..." »
---
Posted by Rola Abduljabar Rabah at 8:54 | Permalink
10 December 2007
A Place to study
As the semester winds down, I remember why the last few weeks after Thanksgiving come and go so quickly. Aside from course wrap-ups and professor and gsi evaluations, there are also end of the year/semester events all over campus. I remember when I was a freshman we got booted out of the dorms the last day of finals and couldn't get back in until welcome week. That wasn't actually a problem for me because I was packed and ready to go back home well before finals even started- and I brought home about 3 check-in luggages as well as my 2 carry-ons. As I sit here, I'm thinking, when will I really have time to pack, what I really need to pack anyways besides maybe a few essentials to last me a few weeks...and how did I do it back then? All this random thinking comes of course only because it's time for finals, time to "buckle down" and study. I think this is true for every college student but I feel like we all need a
study place
, where we are motivated to work. For some it's the library (but God knows I
DO NOT
want to fight for then fend my spot in the library from all the troopers who call it "home" for the duration of finals. I think i'm getting old, I need my sleep. That's why I stay close to home. My favorite places to study? It's a tie between Royal Grounds on Shattuck and Starbucks on Oxford, the places where I tell myself I have to work.
Continue reading "A Place to study" »
---
Posted by Nikki Fernandez at 6:48 | Permalink
10 December 2007
The Procrastination Continues
My friend is taking BA10 which is essentially a class designed to sadistically toy with you before removing your soul and processing it for sale as your grade. She has a big test today and came over to study last night. I had other plans. I introduced her to a game I played called Typing of the Dead, which is essentially a game that allows you to procrastinate as much time as possible by killing zombies by typing the words they represent underneath. I am better at this game than most average people. My friend is a typing God. There is a particular drill that has you typing words and you have to do it without a single error for as long as possible. Eventually it gets you and I can't get any further than like 39. No wait, 39 in a row is my record. I have yet to get any further. I am stuck more than a turkey on Thanksgiving. But my friend starts and keeps going ... for a while. Soon enough she's hitting 100+ and she's thinking to herself and laughing cause she wonders if she's going to be up all night typing. She eventually gets to 136. Remember, my previous high score is 39. She smashed the record like Bob Beamon smashes the long jump record by 2 meters (Something that took the rest of the world 23 years to catch up to). I suspect that it will take 23 years for me to catch up with her. I can blab for hours my travails with typing of the dead (because my typing has improvedf so much frmo typing ... it raelly wurks!) but I have econ to study. My procrastination ten minutes is over. Time to go back to supply and demands. You know, I suspect that this knowledge will be useful someday because you never know what girl gets turned on by indifference curves, general equilibrium and utility functions.
Continue reading "The Procrastination Continues" »
---
Posted by Jonathan Yu at 1:23 | Permalink
09 December 2007
A Wonderful Weekend
So, my weekend was a blast. Basically, after finishing the GRE on Saturday, I've been happier than a clam -- that is, before the oceans started to acidify. Today, I participated in a fund raising event with my Martial Arts school in Danville. I used to practically live there, but I've only been there a few times this semester. I miss it! A group of 14 of us performed 1,000 kicks for charity. We each sought people to sponsor us by pledging donations to the Bay Area Covenant House, a shelter for homeless youth in Oakland. Everyone who sponsored me pledged a flat rate donation, except a good friend of mine. Shout outs to Lucy, Brian, Dina, Dmitriy, Paulo, Donna, Kimberly, and John. Thanks guys! Collectively, we raised more than a few thousand dollars, all of which will be paired with matching donations when the money makes it to the Covenant House in a few weeks. I'll add some pictures to this post later. Now, all I have to focus on are job interviews, finishing up final term papers, and studying for finals. It's going to much more fun than practicing for a standardized test, that's for sure!
Continue reading "A Wonderful Weekend" »
---
Posted by Tay Feder at 1:24 | Permalink
08 December 2007
graduation...thank god it's not fine...
So my BFF and sorority sister Neda graduated today...it was the saddest thing. We went to the campanile and she said "I never thought the campanile was ever going to make me cry, like you walk by it and you don't pay attention because you know its going to be there tomorrow and then now I know it won't because I won't be here anymore!" I saw the tears in her eyes and I thought, wow, why is she so sad to graduate? I would do ANYTHING to be finished right now...but would I really? Maybe not...maybe it only seems that way now but maybe it's true when they say these are the best years of your life. There is not one person I know who wouldn't go back to the "good old college days" if they could. So what's the lesson learned here? Yeah wear waterproof mascara when your best gal is graduating but more importantly...stop, think and enjoy your time at Cal because I am already a second year and to be honest it only feels like its been two weeks...
Continue reading "graduation...thank god it's not fine..." »
---
Posted by Rola Abduljabar Rabah at 1:14 | Permalink
08 December 2007
San Francisco
I have roommates who tell me that if I were to go buy Guitar Hero and play it in front of them, then they will disown me as a cool person. I think that Guitar Hero will an okay investment over the summer at least. I mean, how cool will it be to play a fake guitar? But as my roomie says, "With the time you waste on that game, you can actually go learn the actual guitar." Totally unrelated but my mom is a gamer. She plays Counterstrike and there was no moment more classic than when I was playing CS in a public room, got killed and heard my mom downstairs cheering while I was shouting in anger. God that was terrible. Final studying: Progression: 13% completed. I calculated this by taking the number of slides I still need to review, divided them by 400 and then added the number of tears I sobbed when I looked at my last midterm grade. To me, this is more accurate than a lot of presidential opinion polls out there. My procrastination continues. Ideal ways to procrastinate your day away: Wikipedia, YouTube, hanging out with friends, calling a girl to flirt with her, finding a frog to try to kiss, kicking rocks, cutting your nails, rewriting your resume, cleaning out your computer desktop, watching anime and then trying to expand your eyes as big as the characters, thinking about Guitar Hero, eating buttered crackers upside down to see if it tastes better, and lastly: 35 push ups.
Continue reading "San Francisco" »
---
Posted by Jonathan Yu at 8:34 | Permalink
07 December 2007
10 Reasons Why I hate the GRE
#1) No calculator. #2) $140x2 test fees = $280+TX #3) $141.67 in used books #4) Opportunity cost of countless hours of studying. #5) A Yale study shows the explanatory power of GRE scores is only 1% for graduate psychology students' academic performance (grades, faculty evaluations on students). The correlation for women was NEGATIVE. [1] University of Texas and Blowing Green State University studies indicated that GRE scores were poor indication of graduate performance. [2,3] #6) Did I mention you can't use a calculator? Why the hell is my ability to multiply and divide large numbers a fair estimation of my preparedness for graduate school? #7) It's a test of endurance (hint: when you finish a section, don't hit continue and you'll get an extra break). #8) ETS has added two questions types, but don't incorporate them into the practice tests. #9) ETS no longer tells you if you're taking an experimental section or if it's real. Sure, it's great for their testing, but last time I got two quantitative tests. If the second one was the last test (which it was), and if it was real, then I was at a further disadvantage after 3.15hrs of prior testing. #10) I'll still need to take the GMAT later. A great example of how a one-product monopoly can provide greater customer surplus than an uber-lame oligopoly. However, even if GMAC and ETS merged, I bet the tests would be kept separate :( #11) You are videotaped, and your fingerprints are taken.
Continue reading "10 Reasons Why I hate the GRE" »
---
Posted by Tay Feder at 3:46 | Permalink
07 December 2007
Provision of Gratitude
Over the Thanksgiving break, I went home to Granada Hills and relaxed with my family. I drove down with a few friends on Wednesday and got home around midnight. Some things had changed; my brother had put in a big mat in the middle of the living room to practice his break-dancing. My family greeted me with a hug and sent me off to bed. However, even though I was really tired, I stayed up until 3 AM playing Lumines on my brother's PSP. I guess some things don't change as much.
Continue reading "Provision of Gratitude" »
---
Posted by Joel Kim at 4:13 | Permalink
07 December 2007
Logs, Blogs, and Journals
So I've been MIA for pretty much this entire semester. I'll try to make up for my absence in these next coming days. Luckily my final exam schedule is relatively free, so I have more time to write. Thinking back over this semester, I wish I had spent more time on this blog. I've recently rediscovered the joy in keeping a journal or diary. I get to take time to relax and unwind after each day, writing down my thoughts on the events of the day. Sometimes I would remember a joke someone told me, and laugh a second time. Perhaps I will think on what I learned that day, or things that I wanted to do, but didn't. Keeping a journal gives me space to relive the day, and to get a little perspective. I wish I did it more often. This semester went by so quickly. There is so much I wanted to do, so much I wanted to be a part of. Dinners to attend, happy birthdays to wish, books to read, thoughts to think...Well, there's no time for regret. That's why I like having a journal of sorts, so I can look back and remember. Thanks for reading this, and hopefully it gets you thinking too. Take a second to remember today.
Continue reading "Logs, Blogs, and Journals" »
---
Posted by Joel Kim at 3:46 | Permalink
07 December 2007
The Art of Studying for Finals
Of course I do not claim to know how to do this studying and do it "the right way." There is no such way. There are friends of mine who just cram on the last second, bomb the final and then do participation extra credit like crazy until they get an B+ and go home happy. And then there are other friends of mine who start studying about a month before the finals and then bomb the final anyway because they choke up when the actual test shows up in front of them. I prefer to study in a double pronged way. The first way is to cram like there is no tomorrow and then worry so much that you end up learning ten times more than you need to know ... with the exception of one problem that by way of God knows what, somehow shoes up on the final and then beats your butt like guacamole. I despise that part of the final. But hopefully it will not matter as much because everyone knows that GPA's are made to go down. I've been on a wild streak for the last couple semesters and I'm due for a B SOMETIME. Though in my case it's kind of like income taxes, I just hope to delay for a little while longer. I shall continue to update on how my final studying is going a long. Whenever I am posting, I am really procrastinating but in the end, the social benefit is the same ... unless Marginal Benefit is not equal to Marginal Cost. Econ is the death of me.
Continue reading "The Art of Studying for Finals" »
---
Posted by Jonathan Yu at 9:00 | Permalink
06 December 2007
Two suggestions...
Check Bear Facts for test location!
Please do not rely on the final schedule / location printout that is posted almost everywhere! Though more than 95% of that information is correct, you don't want to be one of those unlucky people who are misled by the incorrect 5%. For example, the final for Chem 3A was originally scheduled to be in 100 Haas Pavilion, but the location is just changed to somewhere in RSF because the basketball people want to play basketball there, according to my professor.
Have enough sleep!
People tend to pull an all-nighter when something needs to be done tomorrow and you can't finish it by tonight. This happens a lot during finals' time. However, pulling an all-nighter is NOT a way to get more time since you will eventually give those hours back by sleeping more the next few days, not even to mention the decreased level of work that you would accomplish during these half sleepy and half awake hours. However, I am not saying there is no place for pulling an all-nighter, since sometimes, one hour tonight could be worth much more than two hours tomorrow. For example, if you have a final exam in a few hours and you really need the extra couple of hours to study. In this case, you should probably go ahead and do so because doing poorly on the exam may cost you many more hours later, as you may end up retaking the class or speaking with the instructor. Here are some tips where I think are very helpful if you decide to pull an all-nighter 1). Stay focused, which means no online chatting, no Facebooking, etc. 2). Don't take a nap since you may not be able to wake up ontime 3). Take a shower to refresh yourself. 4). Eat some sugary stuff to provide your body that extra bit of energy. 5). Go easy on the caffeine. Good luck on your finals!!!
Continue reading "Two suggestions..." »
---
Posted by Yang Cao at 2:59 | Permalink
06 December 2007
Environmental Justice Final Project
So, for our semester long team project in ESPM 163AC, and Environmental Justice class, we were assigned to update the calej.org website. The website is linked to Wikipedia and is basically a resource for people around the Bay Area about issues that effect them including food justice, pollution, brownfield sites, conservation efforts, community and job opportunities, and upcoming events.I just wanted to share a part of the video that I put on the website from a few of the interviews I collected this semester about how different people define environmental justice. I hope you enjoy it! Maybe you can comment here or on calej.org about what Environmental Justice means to
YOU
!
Continue reading "Environmental Justice Final Project" »
---
Posted by Nikki Fernandez at 8:05 | Permalink
Weather today: mist clearing to drizzle fragrant moist evergreens soil crushing under the toes sense the peaceful calm looking from a distance forced behind concrete and glass.
---
Posted by Christina at 9:18 | Permalink
It's 2:05AM and my stomach is growling. I have class at 9:30AM and if I'm late, my last problem set -- worth 6% of my grade -- will be marked down one letter grade. No, I didn't just leave Moffitt doing last minute work. I did the problem set last week. I have a term paper due tomorrow – but I've already turned it in. I'm on top of it. The work is complete. So why can't I sleep? I'm NERVOUS!!!
---
Posted by Tay Feder at 2:16 | Permalink
05 December 2007
time to crack down for finals
Finals are approaching faster than I would like to admit, and like most of my floormates and classmates, it would be an understatement to say that studying takes some major willpower. But how should I study? When? Where? How? Here's my plan for the next two weeks. Week of December 2-8: -Check out study groups at Chavez learning center (located in lower sproul) -Cross campus to Doe Library for some hardcore brain-frying in the depths of main stacks
Continue reading "time to crack down for finals" »
---
Posted by Angela Hsu at 6:23 | Permalink
02 December 2007
So You Want Pictures ... Too Bad!
My life continues to live. Am I thankful for that? Check back when I am done with living it. Anyway, today is cram day as Jonathan's new task is to 1) finish essay for history 2) finish URAP Work 3) go do economics problem set 4) cry. I use the BART alot if you haven't noticed. Yesterday I was coming back from San Francisco when the guy announcer somewhere tells me that somehow the rails were all messed up somewhere in Pittsburg and therefore we can expect no trains for the next hour. I was not pleased but thank the Lord that I bought french fries at McDonalds before heading out there (Why does my word processor think French is a misspelled word?). So I wait for a long time. A long time passed with nothing happened ... which continued for a little while longer. On the other side of the platform suddenly a train shows and stops and the doors open. It waits too with me. I was like, this is how all the horror movies start. Nothing is happening but the air is rife with anticipation. But of what?! Suddenly, I see it. The train comes in THE WRONG WAY!!! What ... the ... It was the first time I had ever seen something like it! It was going backwards! The doors open and I go inside and ... the entire thing is empty. Has I ever seen anything like this? Nuh uh. It was like I boarded the weird train on the first stop to Creepsville. (As you can see, my life is bleak and empty of REAL things to talk about). The train eventually reversed itself and I went back home ... 40 minutes late. Then I went to Target today and the same thing happened again. Apparently someone had caused an accident on the train tracks and now every train is late for like the rest of all the time in the Universe. I was not happy. BUT! Here's a cat to distract you from how lame this entry is:
Continue reading "So You Want Pictures ... Too Bad!" »
---
Posted by Jonathan Yu at 4:03 | Permalink
01 December 2007
Crashing Down...
Hey! I hope everyone isn't drowning in studying for finals and finishing papers! As for me...I still need to revise...more like, rewrite...my research paper for english. I always get so stressed writing papers. LOL. Ever wonder why I'm a science major? I'm only taking english to fulfill pre-med requirements...but after this semester, I'm going to take a break before taking another english couse. The professor was really good, but writing papers just stresses me out too much. Anyways, still wondering about the title? Well, I live right across from Tolman Hall, so I can get the Airbears wireless internet connection...until now...On Monday, my internet just died and I haven't been able to use the internet at my studio ever since. I know I sound like such a modern college student, ever so dependent on internet...

Continue reading "Crashing Down..." »
---
Posted by Victoria Eng at 4:58 | Permalink
01 December 2007
almost done!
with only a few weeks left of school until the dreaded finals, there are a few things I have figured out about collegiate life here at berkeley that may be useful to freshman who may read this sometime next year... 1) If you live in a dorm, get to know your floormates: Chances are that for most freshman, dorm life will be last unique experience of living together in somewhat of a community living environment. Most of my closest friends here are the ones that live only a few doors away, and getting to know them has been the best way for me to feel at home here at cal. 2) Don't be afraid to challenge yourself. Although this may seem a bit clique, i really wish I took this piece of advice for myself a little more intently both from academic and non-academic perspective. For example, I originally was signed up to take chemistry 1a but was scared that I wouldn't remember my chemistry from high school. So instead I took the P chem class with Richard Gibson. And don't get me wrong, Richard is an amazing teacher and the class is helpful for those who didn't have too good of a chemistry background, but I really wished I went ahead and took the more challenging chemistry 1a class. Especially since many of my floormates are taking that same class right now, I realize that if i were to take that class then I would be surrounded by peers who could help me out. Also, since I've looked at the material that my floormates are studying, i've realized that the concepts were not as difficult as I thought. In the end, it's one of my regrets of this semester that I didn't challenge myself. 3) join things! clubs, sports, volunteering, jobs....whatever you choose, it will round out your experience here at cal.

Continue reading "almost done!" »
---
Posted by Angela Hsu at 3:56 | Permalink