29 February 2008
Cal Webfiles
Want to share a file with your classmates, but it's too large to send reasonably via e-mail? When I run into this problem, I always turn to Cal Web Files:
https://webfiles.berkeley.edu
What is it? Online file storage and file sharing! It's hosted on campus, is super secure, and available to students, faculty, and staff. A few tips: - It takes a little time to become familiar with the interface. - Since their servers are based on campus, files upload faster when you're on campus than when you log on from a distance. - You can choose to store things in a private folder, a shared folder, and a public folder. With the public folder, you can share files with anyone, not just Cal students. Shared is only accessible to people with Cal WebFiles accounts, and the private folder is viewable only to you. Stuff I've passed along via Cal WebFiles: - Class notes - GIS maps - Digital audio recordings of class lectures - Photographs from study abroad
Continue reading "Cal Webfiles" »
---
Posted by Christina at 3:27 | Permalink
25 February 2008
Job Search
For though who don't know, on-campus recruiting happens in Fall for most full-time (for seniors) and Spring for most summer internships (2nd, 3rd years, and junior transfers). Although the majority of the OCR deadlines have passed, there are still some great job fairs. Here's one that I've been waiting for. I'll be at the Carbon Forum America Conference in San Francisco until 4pm, so hopefully BART will get me back in time!!! Hope to see you there! ECO (Environmental Companies and Organizations) Career Fair Wednesday, March 12, 2008, 5 - 7 pm MLK Student Union, West Pauley Ballroom Employers who will be at the fair listed online at: http://career.berkeley.edu/FairDir/fairDirDisplay.asp?fair_id=21
Continue reading "Job Search" »
---
Posted by Tay Feder at 3:57 | Permalink
24 February 2008
Growing Apart
One of the hard things about "going off to school" is growing apart from people that you used to be close to. It's something that I've had to adjust to this year. It's sad because it makes you realize people you were close to were only your friend out of convenience. The effort it takes to call someone once every week or two really isn't that hard. I've done my best to keep up with friends that have moved and gone to other schools. But when someone doesn't reciprocate those actions it can be hurtful. However the silver lining in the cloud is that there are so many amazing people at Cal. I met a girl this semester and became friends based on the fact we had a class together last semester even though we never talked before. ESPM classes are great because even though it's my 2nd semester I recognize 5-15 people in each of my classes.
Continue reading "Growing Apart" »
---
Posted by Marissa Ponder at 3:18 | Permalink
24 February 2008
Rain Rain Go Away...
...come again another day....and it sure has... It rained for about two weeks straight after Winter Break. Then, we had about a week of wonderful sunshine. I was so surprised! I've been asking some NorCal people and they all say that it gets warm around here in April. So I was extremely happy about the warm weather. I'm from SoCal, so I absolutely love the sun and warmth. I was actually in shorts that week. Alas...it was not to last... The rain came back and it's as gloomy as ever in Berkeley. Doesn't rain just make you want to crawl back into bed with a cup of hot chocolate and watch tv or read all day? That's what I want to do instead of sloshing through puddles to get to class everyday.
Continue reading "Rain Rain Go Away..." »
---
Posted by Victoria Eng at 0:21 | Permalink
24 February 2008
Have lunch with CNR Dean Candidates!
Did you know that CNR is selecting a new dean? There are four candidates this time and you can eat lunch with them! Three of the luncheons have already passed, but there's still one more! This Wednesday is the last luncheon with the last CNR dean candidate. Not only will you get free pizza and soda, but you get to voice your questions and concerns to the candidate. What are his or her goals for CNR as Dean? How will he or she increase student enrollment in CNR? Can he or she make sure classes stop getting canceled at the last minute? Ask the candidate anything that concerns you about CNR!
Continue reading "Have lunch with CNR Dean Candidates!" »
---
Posted by Victoria Eng at 0:12 | Permalink
22 February 2008
Can't wait for spring...
I just booked my ticket to Michigan and Virginia for spring break. I haven't left California in over a year (basically since Berkeley held me hostage) so I am enthused about doing a little bit of traveling in the US. In Michigan I'll be visiting the medical school (which ranks really high) and some close friends, and of course I'll be paying Dearborn a visit because I here it's mini Middle East in America filled with Arabic stores, restaurants, and just Arabs so that should be fun. Then mid week, I'll be going to Virginia to meet my mother where we'll be staying with my aunt. We also are going to be driving to UPenn and the to New York (yay for some quality shopping!). I can't wait to get on the airplane, only drawback...well it's not going to exactly be a "bathing suit vacation"!!! I'll be sure to post some fun pictures!
Continue reading "Can't wait for spring..." »
---
Posted by Rola Abduljabar Rabah at 1:11 | Permalink
20 February 2008
Speaker - Martin Hammer
Thursday, February 21, 2008 Time: 7pm - 9pm. Location: Ecology Center, 2530 San Pablo Ave, near Dwight Way, Berkeley. Cost: Free. Info: 510-548-2220 x233, erc@ecologycenter.org, www.paksbab.org.
Rebuilding with Straw Bale in Earthquake Affected Pakistan
Berkeley architect Martin Hammer recently returned from Pakistan where he has been working to bring straw bale and other sustainable building practices to the mountainous region devastated by the 2005 earthquake, which was responsible for over 80,000 deaths, and left millions without permanent shelter. He'll give us an update on the work he presented last year, as well as provide details about straw bale construction. Straw bale construction is earthquake resistant, energy and resource efficient, and an affordable solution to northern Pakistan's enormous reconstruction needs. Martin Hammer has been involved with the design, engineering, and construction of straw bale buildings since 1995, and is the lead author of the proposed straw bale building code for the State of California. In 2006 he co-founded Pakistan Straw Bale and Appropriate Building (http://www.paksbab.org ). Come join us for this informative talk and slideshow.
Continue reading "Speaker - Martin Hammer" »
---
Posted by Christina at 9:50 | Permalink
20 February 2008
Hay, a house!
Would you believe this beautiful earthquake-proof California home is made of hay? You can find more pictures of that beautiful Berkeley home here:
http://www.2339ninth.com/
Straw home construction started in the sand hills of Nebraska, when the European settlers couldn't find building materials, and made do with straw. Now desired for its incredible ability to insulate, and its safety against strong winds and earthquakes, straw is starting to move up in the world, beyond hobbyists and into the mainstream as a sustainable building method. Even this conference and retreat center, the Presentation Center in the Santa Cruz mountains, has chosen straw for construction.
Straw construction is reinforced with steel and framed by wood. Compressed hay bales make up the bulk of construction, which is later covered with several layers of plaster. Not only are these homes earthquake safe, they are esentially sound-proof with their two-foot-thick walls.
(photo from
http://www.redfeather.org
) An organization called
Builders Without Borders
is making a difference with straw home technology in earthquake prone countries like Pakistan. Straw has become one of the most practical and economical methods for common folk to rebuild their communities after earthquakes. Since hay is grown locally, costs are reduced in all areas of construction, especially with transportation. Here is a link to an organization that promotes and educates the people of Pakistan with hay building:
http://www.paksbab.org/
Here's a story from CNN about a straw house in Santa Cruz:
http://edition.cnn.com/2007/TECH/08/10/straw.bales/
Website for the Presentation Center in Santa Cruz:
http://www.presentationcenter.org/
Websites of interest:
http://www.strawbale.com/
http://www.strawbalebuilding.ca/strawbales.shtml
http://builderswithoutborders.org/
http://www.redfeather.org/programsStrawBaleConst.html
Continue reading "Hay, a house!" »
---
Posted by Christina at 8:29 | Permalink
19 February 2008
1 Month Check In
Spring semester is about 4 weeks in and midterms are looming in the next few weeks...so how is Marissa Ponder-Bowen doing? Well I'm doing just fine. I feel much more adjusted to Cal in my second semester. It's nice to have a rough idea of what to expect. I've added an extra 7-12 hours a week of work to my schedule and made climbing more regular. Last semester I barely made time to go to Ironworks and have made it a priority in my week now. Instead of thinking if I have time I'll go, I've put into my schedule and worked other things around it. Yes I am busy however setting time aside to do something I really want to do forces me to focus and finish my reading/essays in a timely manner instead of procrastinating.
Continue reading "1 Month Check In" »
---
Posted by Marissa Ponder at 1:56 | Permalink
18 February 2008
Monopoly, Voting, and the Net
Monopoly is coming out with a new world edition. You can help vote to put cities on the map.. Go nominate Taipei, Taiwan at
http://www.monopolyworldvote.com/en_GB/world
! You'll have to register for an account, but... just do it! If you look at the countries, they don't even list Taiwan. So go out there and nominate Taipei, Taiwan...then starting on the 29th of Feb, vote for it! and.. yay! Kosovo has independence!
Continue reading "Monopoly, Voting, and the Net" »
---
Posted by K. Lee at 6:30 | Permalink
15 February 2008
Declaring at Berkeley!!
I decided that since I know exactly what I want to do, might as well declare early. In addition, rumor has it that if you declare your major you can have some sort of priority during tele-bears and get other perks over undeclared students. The process would have been a lot easier except I had to declare a simultaneous degree in Microbial Biology in CNR and Arabic in L&S. First I met with my CNR advisor and filled a form with my complete plan for the rest of my semesters at Berkeley. After my advisor signed off on my paper and double checked my schedule I made an appointment with my L&S Arabic advisor so she can sign off on my separate packet that had my plan for the rest of my years at Berkeley. Both advisors had to sign BOTH packets from BOTH colleges. I then made copies of both packets and turned in the CNR packet at Mulford and the L&S packet at Campbell. A week later I got my final approval from CNR and then two weeks later I got my full approval from L&S and now I am officially a declared Microbial Biology and Arabic Major at Berkeley...something feels really satisfying about that.
Continue reading "Declaring at Berkeley!!" »
---
Posted by Rola Abduljabar Rabah at 0:44 | Permalink
13 February 2008
Dr. John Francis
Today Dr. John Francis came to speak to my American Cultures & Natural Resource Managment course. Experience of a lifetime.
He's the one who spent 17 years not speaking while he crossed the United States by foot. He currently spends 6 months every year walking around the world to raise awareness of environmental issues. He's a UN delegate, and writes environmental policy. Check out his website (his photo came from here):
http://www.planetwalk.org/
Continue reading "Dr. John Francis" »
---
Posted by Christina at 5:55 | Permalink
The Berkeley campus is a "dynamic center of scholarship and of cultural and political activity," according to the Campus page of the UC Berkeley Graduate School of Journalism's website. I read pamphlets extolling Berkeley's virtues as an ever-changing, constantly shifting forum for ideas and activity. Berkeley has a very dynamic campus, and in more ways than one. I'm referring, of course, to the construction projects all over campus. With changes in the school's structure come changes in the physical campus. Increases in student enrollment lead to an increased need for student housing and dining facilities; in other words, more dorms and dining commons. The Bioengineering building (Stanley Hall) was just finished, and the new Chang-Lin Tien Center for East Asian Studies should be finishing up soon. All these new buildings are integral to Berkeley's progress as a premier educational and research institute.
---
Posted by Joel Kim at 3:53 | Permalink
12 February 2008
Warm Days...
Today is such a warm, relaxed day. The sun is shining so bright on the green Berkeley campus. A soft breeze blows. Students are walking around in T-shirts and shorts. Yes, it is a perfect summer day...in February. One of the many things about Berkeley that shock people who come from outside the Bay Area (or indeed, outside of California) is the weather. It is just so warm and so beautiful here. As my friend from Massachusetts put it "You guys don't have seasons out here! Everything is the same!" She said that caroling during Christmas was frustrating, especially during songs like "Winter Wonderland."
Continue reading "Warm Days..." »
---
Posted by Joel Kim at 3:36 | Permalink
12 February 2008
Neuroscience & Athletics
Yesterday in my Adventures in Neuroscience DeCal course, I learned just how aerobic exercise is linked to increased memory capacity. Quickly explained, without the nifty chemical signaling processes and complicated biology, thirty minutes of aerobic activity three times a week increases the oxygen flow to your brain considerably, which facilitates the growth of new memory-building cells. With this in mind, I decided to check out the Cal's Recreational Club sports website:
http://rsf-pwf.berkeley.edu/insidepage.aspx?uid=95fadc92-319a-4482-a635-7b3091add462
Look at all the great club sports available! Archery Volleyball Waterpolo Lacrosse Figure Skating Gymnastics Soccer Squash Field Hockey...and more! I found Cal's Fencing Club!
Since I was in the fencing club at my old school, you can imagine that this makes me super excited. They were nowhere to be found in 2006 when I started at Cal, but now they seem to be going strong. I even saw a guy wearing a "Cal Fencing" sweatshirt the other day when I was riding the bus. We'll see if they let me join this late in the semester! Here's their website:
http://fencing.berkeley.edu/
The nifty fencing image comes from the NBC sports image gallery.
Continue reading "Neuroscience & Athletics" »
---
Posted by Christina at 1:31 | Permalink
09 February 2008
what the liger?
What do you call an animal that is a hybrid cross between a lion and a tiger? Well, that depends on who you ask. According to me, it's called a liger- a real living animal... but according to my hallmates and some other skeptics out there, it's a load of bull. Recently, I've been going through a bit of a "liger obsession phase", which was sparked a week ago by my roomate's boyfriend who was watching a liger video on youtube. He seemed pretty impressed and showed it to other people on the floor(including me)...who welcomed it with varying reactions. Half my floormates thought it was cool, and the other half thought it was all made up. "What proof is there?!" they would ask. Now, I know that googling is not the most completely credible way to find scientific articles, but in order to prove their existance I found some pretty legit sites including national geographic, wikipedia (a little more questionable),
Continue reading "what the liger?" »
---
Posted by Angela Hsu at 4:25 | Permalink
05 February 2008
undergraduate research
So, I went to a undergrad research workshop yesterday. It was very informative. Before I went in, I had no idea why and how important doing research was, besides the fact that it looked good on a resume:). Anyway, as I was handed thick packets of info, I learned from others great ways to find a research topic. First off, though, you need to find a mentor. You can either find one first and then brainstorm topics, or have a research proposal in mind then find a mentor. Good hints I heard were that setting a specified number of hours to how much time your mentor would be devoting to you is a good indicator to how well you and the mentor will be able to make the best out of your research. Research is a great opportunity to explore your interests and it's exciting- shows how motivated you are and how interested you are in your major. It shows you took initiative and of course, it's more of a hands-on application type of work, rather than reading dryly out of a textbook and going to lectures. Other tactics/alternatives I found out: 1. senior honor thesis- shows up on transcript 2. join OUR very own CNR undergrad research SPUR 3. URAP-i heard a rumor that they like junior transfers a lot!! 4. to find out what research you even want to do, start taking classes you are interested in. Perhaps, then, you can find a potential research topic! Hope this helps to all the freshman/sophomores interested in undergrad research! I know it helped me!
Continue reading "undergraduate research" »
---
Posted by Casey Wang at 0:02 | Permalink
05 February 2008
Summer Plans?!
I know it's a bit early to worry about my plans for this summer, but I just can't seem to decide what to do this summer. I've created two options for myself: (1) Stay at Berkeley and take a summer course (maybe Chem 3B/L, Physics 8A, Bio 1A/L, or Bio 1B/L...any suggestions?), continue working at Moffitt Library, and maybe find a clinical positon... OR (2) Go home to SoCal, take Spanish somewhere, and find a clinical or volunteer position
Continue reading "Summer Plans?!" »
---
Posted by Victoria Eng at 0:00 | Permalink
04 February 2008
Lecture - Genetics & Faith
Thought maybe a few folks will find this interesting! I'll definitely be there.
Intellectual Reflections of a Christian Geneticist
7:30pm. Wheeler Auditorium, UC Berkeley Francis Collins Author—The Language of God: A Scientist Presents Evidence for Belief. Director—National Human Genome Research Institute, NIH. The talk will be followed by an interview conducted by Professor Jasper Rine (Howard Hughes Professor and Professor of Genetics, Genomics and Development UC Berkeley (MCB)) Francis S. Collins, M.D., Ph.D., is a physician-geneticist and currently serves as the Director of the National Human Genome Research Institute at the National Institutes of Health in Bethesda, Maryland. In this capacity, he oversaw the International Human Genome Sequencing Consortium, and its landmark effort to sequence the entire human DNA code; the Human Genome Project. Building on the foundation laid by the Human Genome Project, Dr. Collins is now leading the NHGRI effort to ensure that this new trove of sequence data is translated into powerful tools and thoughtful strategies to advance biological knowledge and improve human health.
Continue reading "Lecture - Genetics & Faith" »
---
Posted by Christina at 0:02 | Permalink
04 February 2008
Loofah Explained!
I love my little bath sponge. I love it even more now that I know where it comes from. I bought a new loofah sponge Saturday, since mine died a sorry death in French Polynesia months ago. As I pulled it out of its packaging, I noticed a seed. Then I stared at the placentation. I thought, "This is Curcubitaceae." And I wondered why I hadn't noticed that about my last sponge. This image shows the placentation: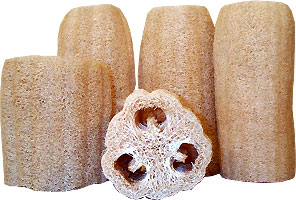 Always a curious sort, I put it on my list of things to look into. Did you know that you're scrubbing yourself with xylem? Here's a great step-by-step how to prepare your own loofah article written by Aaron Newton, who grows his own
Luffa
:
http://www.groovygreen.com/groove/?p=689
In this article, Aaron describes the simple process of "milking" the
Luffa
fruit, to remove the fleshy fruit and seeds, leaving just the fibrous xylem that makes the exfoliating sponge we all love. Here's a Luffa gord dried out on the vine:
Many species in the genus
Luffa
, within the Curcubitaceae, are grown for use as sponges. This is the same family as cucumber, melon, and squash.
Luffa cylindrica
,
Luffa acutangula
and
Luffa aegyptiaca
are a few of the species that are grown for this purpose. Here's a flower with a bumble bee:
Click on "Continue Reading" to see references for further reading, and my sources for all of the photographs of this entry.
Continue reading "Loofah Explained!" »
---
Posted by Christina at 7:42 | Permalink
03 February 2008
Orchids!
Grab your student ID, hop on the Hill Line at the Hearst Mining Circle, and get your bum up to the Botanical garden. Yeah, I realize it's raining. Ok, if you don't go, I won't hold it against you. I might shed a tear or two for you, though, since you'll miss the orchids that are going crazy right now in the Fern and Carniverous Plant House, which is a little, almost invisible greenhouse right by the main gate to the garden.
---
Posted by Christina at 1:25 | Permalink
03 February 2008
Getting the most out of your bus pass
We all get one for free, as long as we're enrolled in classes at Berkeley. It's the AC Tranist bus pass. It goes on the front of our ID cards, next to our picture. Most of the time, students just use it to ride around campus on the Perimeter, Reverse Perimeter, or Hill Line. But there's an awesome resource that few students know about. The online trip planner:
http://tripplanner.transit.511.org/mtc/XSLT_TRIP_REQUEST2?language=en&itdLPxx_homepage=secondStep
Just type in where you're starting, and where you want to end up. It'll tell you the best way to get there. If you scroll to the bottom "4. Transportation Options", you can choose Only Buses. Some enticing places to visit, via AC Transit: - Tilden Park - Tilden Park Botanical Garden - El Cerrito Plaza (Trader Joe's, Barnes & Noble, Lucky's, Ross, PetCo) - Michael's Crafts in Emeryville - Home Depot in Emeryville - Office Depot in Berkeley - Oakland Animal Shelter (to pet bunnies)
Continue reading "Getting the most out of your bus pass" »
---
Posted by Christina at 1:20 | Permalink
03 February 2008
Bunnies at the Oakland Animal Shelter
Do you like bunnies? They're soft and fun to pet. Well, even if you can't have one in your apartment, I know of a great place to go and visit them in the afternoons. The bunnies at the Oakland Animal Shelter will welcome your pets and affection, even if you do have to put them back in their cages and go home without them.
At the Oakland Animal Shelter, they take care of a couple dozen rabbits. With their no-kill policy, excellently trained volunteers, and plentiful healthy hay, they take great care of their rabbits. Unfortunately, they're trapped in little boxes in a back room for most of the day, with tons of hay and good sanitation - but still, not much room to hop or folks to cuddle with. If you find some free time, you should definitely go to keep them company! To get there from campus with your free bus pass, take the 1R line (#1lx/1) from Telegraph Ave. in the direction of the Bayfair BART station. Here's a website that tells you all about the available dogs, cats, and rabbits in Oakland:
http://www.oaklandanimalservices.org/index.php?z=4
If you live anywhere in the United States, here's a great resource to help you find your new companion. With Petfinder, you can search all of the animal rescue centers nationwide, by zip code or city name:
http://www.petfinder.com/
Continue reading "Bunnies at the Oakland Animal Shelter" »
---
Posted by Christina at 0:56 | Permalink
03 February 2008
California is Closing 48 State Parks
Part of the governor's massive state-wide budget cuts includes a significant reduction in aid for our California state parks, forcing the closure of nearly 20% of our parks. Here's a map with the affected parks:
Here's the official stance of the state parks on this issue:
http://www.parks.ca.gov/pages/712/files/budget%20fact%20sheet%20w-graphics%20-%2001-14-08.pdf
*Most* of these parks will be closed to public, and placed in a "caretaker status," which requires fewer full-time employees. Many will be closed with no care. The parks they have chosen have the least amount of traffic, generate the least revenue, and are dependent on volunteers. Previous budget cuts have made it impossible to do trail maintenance anyway, so why not shut them down (ACK!!!! If I had known, I would gladly have chipped in extra for admission!) It is horrible, but it's good to read that the parks tried their best to find the parks that will make the least impact. I'm super sad, though, because Topanga State Park was a favorite for Tom and I to go backpacking. It's on the cutting block, along with several others that I've visited and loved, like San Simeon State Park, Benecia, Railtown, Sutter's Fort, Bolsa Chica, and Tomales Bay. Tomales Bay was one I visited recently with a class. There was some interesting geology there and unbelievably beautiful wetlands. Here's a website where you can write a letter to the governor about your sentiments on the issue:
http://www.environmentcalifornia.org/action/preservation/state-parks?id4=TAFsent
Continue reading "California is Closing 48 State Parks" »
---
Posted by Christina at 0:22 | Permalink
02 February 2008
Campus is Beautiful when there's Sunshine
When the sun peaked out from the clouds the other day, I decided to pull out my camera. Hope you enjoy!
Continue reading "Campus is Beautiful when there's Sunshine" »
---
Posted by Christina at 0:13 | Permalink