February 4, 2008 7:42 AM
Loofah Explained!
I love my little bath sponge. I love it even more now that I know where it comes from.
I bought a new loofah sponge Saturday, since mine died a sorry death in French Polynesia months ago. As I pulled it out of its packaging, I noticed a seed. Then I stared at the placentation. I thought, "This is Curcubitaceae." And I wondered why I hadn't noticed that about my last sponge.
This image shows the placentation: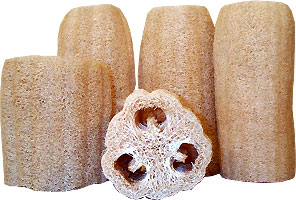 Always a curious sort, I put it on my list of things to look into. Did you know that you're scrubbing yourself with xylem? Here's a great step-by-step how to prepare your own loofah article written by Aaron Newton, who grows his own Luffa :http://www.groovygreen.com/groove/?p=689 In this article, Aaron describes the simple process of "milking" the Luffa fruit, to remove the fleshy fruit and seeds, leaving just the fibrous xylem that makes the exfoliating sponge we all love.
Here's a Luffa gord dried out on the vine:


Many species in the genus Luffa, within the Curcubitaceae, are grown for use as sponges. This is the same family as cucumber, melon, and squash. Luffa cylindrica, Luffa acutangula and Luffa aegyptiaca are a few of the species that are grown for this purpose.
Here's a flower with a bumble bee:

Click on "Continue Reading" to see references for further reading, and my sources for all of the photographs of this entry.
References, read more about this plant here:
http://encyclopedia.farlex.com/Curcubitaceae
http://www.groovygreen.com/groove/?p=689
http://en.wikipedia.org/wiki/Luffa
http://www.luffa.info/
Images come from these websites:
http://www.plantopiagifts.com/images/img_luffa.jpg
http://www.jungleseeds.com/images/GourdsLuffa.jpg
http://www.luffa.info/
---
Christina | Permalink | Comment on this article | Comments (1)
Comments (1)
olá! gostaria de saber se você tem artigos sobre as diversas espécies de luffa sp. e sua relação com insects pragas e inimigos naturais. Thank you ! Verônica
---
Posted by verônica | 2008-02-28
Post a Comment