January 16, 2009 11:20 PM
My Winter Break
And as our winter break comes to a close, here's a recap of what I did.
First things done:
1. watched The Gods Must Be Crazy I & II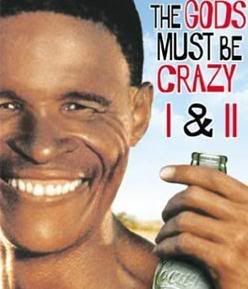 It's an awesome movie if you get the chance to watch it!
2. Hang out with friends & loved ones
This mainly consisted of movie nights, helping friends move, going to celebratory parties, going to TGIF/Applebee's for mudslides (mmm...), and shopping for things I needed.
3. Catch up on sleep
I usually didn't get up until around noon which is pretty late for someone used to waking up at 6am everyday. And it was amazing :)
4. Appreciate nature
a. Big Basin State Park: lots of trees and trails, thick canopy blocks out the harsh sun


b. climbed Mission Peak: took 2 hours! but the view is worth it.

Other than that, I took care of the important things:
1. FAFSA
**www.fafsa.com is a scam! go to fafsa.ed.gov
2. send my late christmas gift to my parents in NY
3. call old friends
*thanks you Magic Jack!
4. inform the public about current environmental legislation being discussed among city council
*potential ban on plastic and styrofoam use in Fremont
5. figure out how to conduct my research on behavior change
*I suggest reading Research Design by John Creswell
6. got my hair done by my uncle in Daly City
7. figure out my spring schedule
*being waitlisted sucks :(
The BIG things that I did:
1. Started my internship at the Richmond Field Station doing restoration work
2. Went to Colorado for my sister's memorial service


It was beautiful, exactly as she planned and then some. Close to 200 people showed up for her! I didn't realize she had touched so many people. She ended up donating her body to science so that hopefully others can benefit.
I also got to play in the snow :)


3. PASS Central Cal Outreach


We basically encourage and mentor high school and community college students on going to a 4-year university. It's really inspiring for both us and our recipients just because a lot of times they either don't consider it or are discouraged from it. Other times, everyone is headed in that direction are discourage from reaching for their dreams because of the money. We try to give them the tools they need to make it to their destination.
Things I planned on doing but never got to:
1. painting!
I love to paint. I mainly do landscape art because I don't like painting minute things like still-lifes and people.
2. write a complaint letter to my City Council against the proposal to build a freeway through my neighborhood
3. catch up on reading
Exposed by Mark Schapiro
Cradle to Cradle by McDonough and Braungart
Collapse by Jared DIamond
The World Without Us by Alan Weissman
4. play hide and seek at Ohlone at night
I tried to set one up but no one came :( lame sauce
I did, however, end up doing things unexpectedly:
1. booked Colored Ink as entertainment during Earth Team's MLK Jr. Day Event
http://www.earthteam.net/index.php?option=com_content&task=blogcategory&id=16&Itemid=34
I heard them speak at a CCCSAA Leadership Conference in Sacramento a year ago and really liked their energy and thought-provoking words. Plus, we will be doing some restoration work that day in cooperation with Save The Bay and East Bay Regional Parks District. Come out on January 19 if you're free.
2. learned how to jump start a car
3. learned how to make baked macaroni
4. compiled all of my 2008 educational expenses
5. completed my traffic school stuff
6. renewed my library card
7. made new friends
8. got plenty of travel time
9. went to parts of California that I've never been to before
10. watched Wall-E


11. bought a DVD from walmart for $1.09
**if you order something online from them, have it sent to your local walmart for free so you don't have to pay for shipping. it's good for you and the environment!
12. learned more about tax returns
And this was my winter break! I've got 3 more days to enjoy what's left of it :)
---
Maria | Permalink | Comment on this article | Comments (0)
Comments (0)
There are currently no comments.
---
Post a Comment