March 18, 2009 9:08 PM
Thinking about Grad school?
If you've been thinking about going to grad school, I highly suggest reading this book.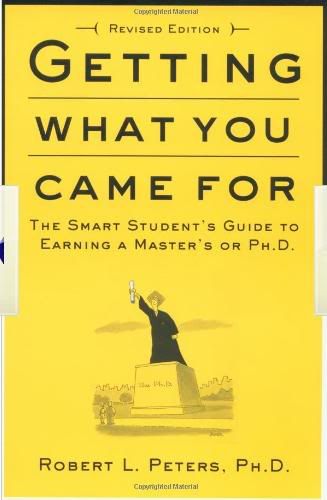 Getting What You Came For by Robert L. Peters for $10.88 on Amazon.
http://www.amazon.com/Getting-What-You-Came-Students/dp/0374524777/ref=sr_1_2?ie=UTF8&qid=1237436284&sr=8-2
It goes through what grad school is like, what it takes to get there, what you should be doing before you get there, what you should do when you're in to get through on time...and all in amazingly insightful yet comedic detail.
Whether grad school is a just a consideration or a definite plan, read this book. It may scare you at first but it's all stuff you should know before going in. It's a big decision and a serious commitment so make sure you know what you're getting yourself into.
---
Maria | Permalink | Comment on this article | Comments (1)
Comments (1)
Thanks for this! I added it to my Amazon wish list, and am eager to read it.
---
Posted by Juan | 2009-03-27
Post a Comment