27 June 2009
Best place for the first date... and it's FREE!
Looking for a spontaneous adventure around Berkeley that does not consist of grabbing boba and chilling at the Asian Ghetto? Are you limited on funds and time? If so, check out the UC Berkeley Botanical Garden!!! With aromatic flowers in full bloom this summer, our botanical garden is the place to explore with a few buddies or that good looking lab partner. The 30 minute hike up the hill to the garden is a fabulous way to bond and warm up before touring our:

"...worldwide collection [that] features plants of documented wild origin from nearly every continent, with an emphasis on plants from Mediterranean climates (California, Mediterranean Basin, Australia, South Africa, and Chile). The arrangement of the outdoor collections is primarily geographic by continent of origin or by region including Asia, Australasia, California, Eastern North America, Mediterranean, Mexico/Central America, New World Desert, South America, and Southern Africa. The Garden holds one of the largest and most diverse collections in the United States."
Admission : $7 for adults, $5 for seniors and $2 for children ages 3 through 12. The Garden is open daily from 9 AM to 5 PM year round, Tropical House closes at 4:00. However, UC Berkeley students, professors, and staffs get in for free :)
For more information, please visit:
http://botanicalgarden.berkeley.edu/mission.shtml
Continue reading "Best place for the first date... and it's FREE!" »
---
Posted by Amelia Nguyen at 7:29 | Permalink
20 March 2009
A Day Without Paper
Ever wonder what would happen if paper was taken away for a day? Well, this 4/5 classroom tried it and found some interesting results.
Check them out!
http://jstaton.wordpress.eusd.net/2009/03/10/a-day-without-paper/
Continue reading "A Day Without Paper" »
---
Posted by Maria at 8:59 | Permalink
05 February 2009
Spring 2009 finally finalized!
So after 3 weeks of battling through long waitlists, conflicting schedules, and trying to save time for eating, sleeping and showering, I think I've finally got my spring 2009 schedule figured out!
Mondays:
10am-11am ESPM 111 Ecosystem Ecology (Discussion)
11am-12pm ESPM 111 Ecosystem Ecology (Lecture)
1-3pm ESPM 178B (Environmental Ed Practicum) field placement at King Middle School
Tuesdays:
9am-11am ED 189 Democracy and Education
11am-12:30pm SOC 150A Self and Society (audit)
*potential independent research time*
Wednesdays:
11am-12pm ESPM 111 Lecture
1pm-3pm volunteer at Jepson Herbarium
5pm-8pm ESPM 178B Lecture
Thursdays:
9am-11am ED 189
11am-12:30pm SOC 150A (audit)
*potential independent research time*
Fridays:
11am-12pm ESPM 111 Lecture
12:30-3:30 Restoration Internship at RFS
Continue reading "Spring 2009 finally finalized!" »
---
Posted by Maria at 9:53 | Permalink
25 April 2008
Being a Transfer Student and Research
Here's my experience with doing research at Cal as a transfer student. I applied to SPUR to find a faculty project. I got the position but I definitely felt at a disadvantage while being interviewed. The first question: What research projects have you worked on at Cal? I'm thinking, well I've only been here for 4 months and they expect me to have a vast list of skills? Yes they do, fortunate for me I had experience doing a research class at DVC (the jc I went to). The next question: Could we get an email address to ask for a letter of recommendation? I'm thinking, in four months I'm expected to be buddy buddy enough with a professor to be asking him/her to take out of their busy schedule to write me a letter or rec? Yes they do. Fortunately for me again, I spent a lot of time in one of my professor's office hours. The bottom line: If you're going to do research when you get to Berkeley you better spend that first semester doing all you can to boost your resume. Some things you can do: volunteer in a professor's research and get to know at least one of your professors so you can ask them for a letter of recommendation.
Continue reading "Being a Transfer Student and Research" »
---
Posted by Marissa Ponder at 1:16 | Permalink
24 April 2008
Ice Cream Day
So today was the ESPM Ice Cream Social. I was planning on making an announcement here sooner, but I totally blanked on it yesterday. Sorry about that. For today, the ESPM department was giving away free cones of Ben & Jerry's ice cream to anyone who stopped by outside of Mulford. Some of the professors were scooping cones for people; it was pretty cool get a cone from Keith Gilless, acting dean of CNR. I wasn't able to stay for too long (I had to go to class), but just getting the chance to enjoy the beautiful weather and talk with some friends was great. The Strawberry Kiwi sorbet was pretty good, too. This event reminds me of why the ESPM department is pretty cool (and CNR as a whole).
Yeah, CNR is a pretty chill place to be.
Continue reading "Ice Cream Day" »
---
Posted by Joel Kim at 5:02 | Permalink
01 April 2008
The GSI myth
When considering where I wanted to go one of the things people told me about Cal, was that professors rarely teach, most classes are taught by grad students. This in my experience is not true. I've had a GSI (grad student instructor), give a lecture once sometimes twice a semester but it usually was planned for a professors absence. I know many high school students are deciding about which college to go to. Don't let silly rumors about different colleges shape your decision, I'm glad I didn't. I highly recommend taking a tour of campus and asking the tour guides about them, they'll have a better idea of what classes are really like instead of your high school counselor. Here is the link for information on free tours of Berkeley so you can come check it out for yourself. http://www.berkeley.edu/visitors/free_tours.html
Continue reading "The GSI myth" »
---
Posted by Marissa Ponder at 5:57 | Permalink
24 March 2008
Spring Break
YAAAAAAAAAAAAAAAAAAAAAAAAAY!!! Wait....except I have a paper due on Monday and two presentations due on Tuesday. That basically sums up what I'll be spending this week on. Well that's not too bad because I've decided to go visit family in Palm Springs because I need a break. Even if I'm doing homework at least I'll be by the pool! This semester has kept me extra busy, I don't recommend 17.5 units and 15-20 hours of work. Yes it's possible to do it, but it's really not that much fun. On a side note...I got my first C+ on something in college. I'm really annoyed because 1/3 of the class got D's and they get to re-write their papers but I don't and my grade is close to being just as bad. I plan on spending every waking hour of break working on my second paper...okay so maybe I'll spend some time in the pool, but I am determined to get an A on my next paper now.
Continue reading "Spring Break" »
---
Posted by Marissa Ponder at 8:53 | Permalink
24 February 2008
Growing Apart
One of the hard things about "going off to school" is growing apart from people that you used to be close to. It's something that I've had to adjust to this year. It's sad because it makes you realize people you were close to were only your friend out of convenience. The effort it takes to call someone once every week or two really isn't that hard. I've done my best to keep up with friends that have moved and gone to other schools. But when someone doesn't reciprocate those actions it can be hurtful. However the silver lining in the cloud is that there are so many amazing people at Cal. I met a girl this semester and became friends based on the fact we had a class together last semester even though we never talked before. ESPM classes are great because even though it's my 2nd semester I recognize 5-15 people in each of my classes.
Continue reading "Growing Apart" »
---
Posted by Marissa Ponder at 3:18 | Permalink
19 February 2008
1 Month Check In
Spring semester is about 4 weeks in and midterms are looming in the next few weeks...so how is Marissa Ponder-Bowen doing? Well I'm doing just fine. I feel much more adjusted to Cal in my second semester. It's nice to have a rough idea of what to expect. I've added an extra 7-12 hours a week of work to my schedule and made climbing more regular. Last semester I barely made time to go to Ironworks and have made it a priority in my week now. Instead of thinking if I have time I'll go, I've put into my schedule and worked other things around it. Yes I am busy however setting time aside to do something I really want to do forces me to focus and finish my reading/essays in a timely manner instead of procrastinating.
Continue reading "1 Month Check In" »
---
Posted by Marissa Ponder at 1:56 | Permalink
04 February 2008
Loofah Explained!
I love my little bath sponge. I love it even more now that I know where it comes from.
I bought a new loofah sponge Saturday, since mine died a sorry death in French Polynesia months ago. As I pulled it out of its packaging, I noticed a seed. Then I stared at the placentation. I thought, "This is Curcubitaceae." And I wondered why I hadn't noticed that about my last sponge.
This image shows the placentation: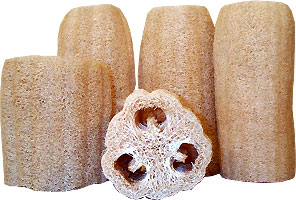 Always a curious sort, I put it on my list of things to look into. Did you know that you're scrubbing yourself with xylem? Here's a great step-by-step how to prepare your own loofah article written by Aaron Newton, who grows his own
Luffa
:
http://www.groovygreen.com/groove/?p=689
In this article, Aaron describes the simple process of "milking" the
Luffa
fruit, to remove the fleshy fruit and seeds, leaving just the fibrous xylem that makes the exfoliating sponge we all love.
Here's a Luffa gord dried out on the vine:
Many species in the genus
Luffa
, within the Curcubitaceae, are grown for use as sponges. This is the same family as cucumber, melon, and squash.
Luffa cylindrica
,
Luffa acutangula
and
Luffa aegyptiaca
are a few of the species that are grown for this purpose.
Here's a flower with a bumble bee:
Click on "Continue Reading" to see references for further reading, and my sources for all of the photographs of this entry.
Continue reading "Loofah Explained!" »
---
Posted by Christina at 7:42 | Permalink
19 September 2007
Declaring an ESPM major?
Are you considering declaring an ESPM major? ESPM stands for Environmental Science Policy and Management, and the department offers four majors: Conservation and Resource Studies (CRS), Forestry and Natural Resources (FNR), Molecular Environmental Biology (MEB), and Society and Environment (SE). Before you declare you need to attend a workshop before or after Tele-bears (I recommend before)...
Continue reading "Declaring an ESPM major?" »
---
Posted by Tay Feder at 2:00 | Permalink
14 August 2007
Response to interest in CRS
So before I drove 8 hours into the less fortunate half of California someone left a comment about CRS as a major. Well now that I'm in civilization I will make my official response. So I'm a transfer student at Berkeley and this fall will be my first year there, so I hope what little knowledge I have helps. I did however take a class through a concurrent enrollment program and loved it. I was so nervous that students would treat me different because I wasn't a "real" Cal student, and I was sooo wrong. Everyone was nice to me. I loved my teacher (Sally Fairfax), and my GSI, and all of the students. I still keep in touch with some of them. It really allowed me to get a feel for the college. The really nice thing about our college, CNR, in general no matter what your major is, is that it defiantly has a small feel to it. Now in regards to the major itself and why I choose it.
Continue reading "Response to interest in CRS" »
---
Posted by Marissa Ponder at 1:54 | Permalink
06 February 2007
Working on Working
This semester is going to be just as full as last semester no matter how hard I try to shed off extracurricular activiites! I was pretty dejected in December when I found out my new college GPA, and I concluded that it was because I went to meetings every night of the week and always had full weekends with volunteering or dancing. All this resulted in homework coming second to activities.. so maybe I got an A in trying all that Berkeley student groups tempted me with, but, well, not an A in academics. As a suggestion to incoming freshmen-- LISTEN to people when planning your schedule.. like how they said take the minimum class units, don't overload yourself, take time to adjust.. etc. Sophomores on my floor predicted my personal failure (I am no longer a 4.# student), but I thought I was a superhero.
This semester I love my classes! Well, they're not always crazy interesting, but I chose them all and got them all and I have fluent GSIs. I'm taking Nutri Sci 10, Chem 3A (organic), Math 54 (linear algebra), Span 25 (literature), and an archeaology seminar. If you haven't noticed, no more environmental economics and policy major. I am hoping to switch to Nutritional Science in CNR, since I've been fascinated by nutrition since sophomore yr of high school and I detest working on making more money. I laugh at myself now, but I was naive. I took EEP thinking I could use it to be a policy-maker or at least understand how the world deals with the environment in the business and political realm. I learned what I wanted- but much more than I asked for.. so many line graphs and economic concepts, not too hard, but just not interesting. I recommend the class, even if it's not my major anymore- if you want to learn why pollution still exists.
As a small note, Cafe 3 opened up this semester! (Unit 3's Dining Commons) And it has a fun ambiance and the best juicy cucumbers. It doesn't match up to Crossroads as far as vegetarian hot food options, but there is a Pho station, tons of fresh fruit, a waffle maker, a sushi bar, good pizza, custom-made omelettes, and daily pastries like at the GBC. They also have great cauliflour- haha..yes I look forward to that more than the pastries. It's fun there meeting more people by chance than at Crossroads since it's smaller and it's right in front of my building, Norton. I can't write up a whole review of all the DCs yet.. I have to visit Foothill and Clark Kerr more.
Continue reading "Working on Working" »
---
Posted by Rola Abduljabar Rabah at 7:42 | Permalink
15 September 2006
Nothing better than a weekend with your professor in her pajamas
For a Conservation and Resources Studies major, one of the most interdisciplinary majors offered at Cal, there are few hoops you must jump through, but ESPM 100: Environmental Problem Solving is one of them. You want to be in CRS, you take ESPM 100. Non-negotiable.
It's funny how required things never seem like they'll be much fun. Before I had even walked into 141 Gianinni for the first time, I had already made up my mind: just because the College of Natural Resources mandated that I learn how to environmental problem solve didn't mean I had to enjoy myself. I secretly prayed I was too far down on the wait-list to get in the course, and not-so-secretly groaned when I discovered that one third of the class was to go on a compulsory field trip – counting for twenty percent of our grade – that weekend. Of course, fate was such that not only did I get into the class (even with a phenomenally large waitlist), but I was also selected for the field trip. I anticipated lots of dry lectures and awkward campfire silence.
Continue reading "Nothing better than a weekend with your professor in her pajamas" »
---
Posted by Rola Abduljabar Rabah at 5:53 | Permalink
30 August 2006
post one: in which we get some background, and start some classes
Alright! Post numero uno for me. I suppose we should start off with some background info, right? Well, I'm a junior transfer student, very excited to be in the Conservation and Resource Studies major. The major itself is awesome - from the ability to take classes that run the gamut of offerings (due to the fact that you write in your own area of interest into the major) to the superb advisors and support staff, my interactions with all aspects of Cal have left me in a state of quasi-euphoria.

Living off campus some might argue that I'll miss some of the "college experience," but I'm extremely satisfied with my situation. In a quaint little apartment in north Berkeley, not only am I a six minute bike ride away from Cal, but much of what Berkeley has to offer is right outside my door. One thing that I'd recommend to any new Cal student -- explore Berkeley! Yes, the school has more than enough to offer, but there's much more outside its doors as well. From the three farmers markets per week that bring in mostly organic farms, to the fabulous restaurants, and a myriad of earth-friendly events that can be found through the ecology center, there is a true wealth of activities to explore.
Continue reading "post one: in which we get some background, and start some classes" »
---
Posted by Rola Abduljabar Rabah at 1:17 | Permalink