30 August 2008
Why Berkeley made me lose my pants
Ever since I have arrived here my eating habits have become out of whack and plain unhealthy. I love living in Unit 3 because it is so close and very social, however, our residential dinning does not offer breakfast. So what do most of us college kids do? Simple, just skip breakfast. I know this is bad but the excitement and nervousness of college kind of overrides your hunger. For lunch, today, I had a strawberry shortcake ice-cream and a V8 juice (100% juice). I love how the Bear Market is really convenient, but seriously …. the prices make you want to cry. I remember that I bought cereal, soy milk, energy bar, chips and a fruit/cheese plate and the grand total came to little less than $20. Good thing they use meal points and not real cash or I would have gone crazy. And on top of that they didn't even bag it, they just gave me the bag and told me bag it myself. This awkward eating cycle has caused me to lose quite a bit of weight so whenever I walk I have to pull up my pants or they will fall, but who knows the freshman 15 could pounce at anytime.
Continue reading "Why Berkeley made me lose my pants" »
---
Posted by Fabian Collazo at 2:07 | Permalink
31 July 2008
Giving a tour of UC Berkeley
Today I invited my family to Cal to give them a private tour and get them out of their work. The parking is pretty bad so I tell my parents to park the car in the "permit only" section. Sure they will risk a ticket, but my dad was anxious to get out of the car and eat. Even though the city of Berkeley has tons of unique and exotic restaurants, I still prefer the old fashion Subway across Sproul Plaza. Afterwards, I start to walk up to the Campanile when there is a sudden urge to go to the bathroom. I enjoy the fact that Cal has a bunch of restrooms, but it is kind of awkward when notes on the stalls read that "40,000 animals are killed each year here at Cal."
Continue reading "Giving a tour of UC Berkeley" »
---
Posted by Fabian Collazo at 0:45 | Permalink
28 April 2008
super smash brothers!
Well, I don't know about all you readers out there, but I can say that ever since my arrival here at UC Berkeley, I've spent more time playing super smash brothers than I have in the rest of my life combined. If you play smash, you might understand these next few paragraphs, but if you don't then you probably wont get a lot of the terminology I'm going to throw at you. Anyway, here's my take on the subject:
It started out last September, when my RA invited me and a few floormates over to his room for a good ol' game of classic smash on his old-school n64. I used to play every once in a while back home, so I figured "oh hey, this sounds like fun. I can try to play Kirby again!" So i grabbed a controller, sat myself down on his couch with a few friends, and played my first collegiate game of smash. Little did I know that within only a few weeks, the game would take over an unprecedented amount of time in my waking hours.
After that first game of smash, I began to play whenever I was bored in the dorms. I was terrible at first, but as I kept playing, I kept improving, and as I improved, I became determined to play more.
Before I knew it, i was playing smash three times a day; it even took priority over my schoolwork at times! And to make matters worse, my roommate decided to bring over her gamecube, and with a game counsel in our hands, all our studious endeavors were lost.
Continue reading "super smash brothers!" »
---
Posted by Angela Hsu at 2:51 | Permalink
24 April 2008
Ice Cream Day
So today was the ESPM Ice Cream Social. I was planning on making an announcement here sooner, but I totally blanked on it yesterday. Sorry about that. For today, the ESPM department was giving away free cones of Ben & Jerry's ice cream to anyone who stopped by outside of Mulford. Some of the professors were scooping cones for people; it was pretty cool get a cone from Keith Gilless, acting dean of CNR. I wasn't able to stay for too long (I had to go to class), but just getting the chance to enjoy the beautiful weather and talk with some friends was great. The Strawberry Kiwi sorbet was pretty good, too. This event reminds me of why the ESPM department is pretty cool (and CNR as a whole).
Yeah, CNR is a pretty chill place to be.
Continue reading "Ice Cream Day" »
---
Posted by Joel Kim at 5:02 | Permalink
23 April 2008
some tips for incoming freshies :)
It's nearing the end of April, which means for me, it's almost time to sign up for classes via telebears -.- It's a pain in the butt for a lot of people, especially those who have no idea what to sign up for when that vital 24 hour period comes around- the one they call "phase 1." I remember people telling me "don't worry about what classes you take your first year. it doesn't really matter as long as you get your prerequisites them done eventually." And to those people, i say BOLOGNA!! Of course there's some breathe room to take some "just for fun" classes, but I recommend by all means to figure out some sort of plan to figure out when to take your prerequisites.
I'm an undeclared student, and for the last 2 telebears appointments I've had (fall 07 and spring 08), I've ripped out a lot of hair when the stressful time comes around to choose what classes to take. After a (almost) a full year here at berkeley, I highly recommend you to check out your college advising center.
Continue reading "some tips for incoming freshies :)" »
---
Posted by Angela Hsu at 8:39 | Permalink
02 April 2008
april fools!
i know it's a day late, but i was reading online some april fools jokes that made me laugh. so, i decided to share them with you :). it's amazing how clever people can be, and wow you'd be surprised of how big-scale some of the pranks are...check out the website: http://www.museumofhoaxes.com/hoax/aprilfool/
Here are a few of my favorites:
#1: The Swiss Spaghetti Harvest
spaghetti harvest In 1957 the respected BBC news show Panorama announced that thanks to a very mild winter and the virtual elimination of the dreaded spaghetti weevil, Swiss farmers were enjoying a bumper spaghetti crop. It accompanied this announcement with footage of Swiss peasants pulling strands of spaghetti down from trees. Huge numbers of viewers were taken in. Many called the BBC wanting to know how they could grow their own spaghetti tree. To this the BBC diplomatically replied that they should "place a sprig of spaghetti in a tin of tomato sauce and hope for the best."
#4: The Taco Liberty Bell
Taco Liberty BellIn 1996 the Taco Bell Corporation announced that it had bought the Liberty Bell and was renaming it the Taco Liberty Bell. Hundreds of outraged citizens called the National Historic Park in Philadelphia where the bell was housed to express their anger. Their nerves were only calmed when Taco Bell revealed, a few hours later, that it was all a practical joke. The best line of the day came when White House press secretary Mike McCurry was asked about the sale. Thinking on his feet, he responded that the Lincoln Memorial had also been sold. It would now be known as the Ford Lincoln Mercury Memorial.
The April 1998 issue of the New Mexicans for Science and Reason newsletter contained an article claiming that the Alabama state legislature had voted to change the value of the mathematical constant pi from 3.14159 to the 'Biblical value' of 3.0. Before long the article had made its way onto the internet, and then it rapidly made its way around the world, forwarded by people in their email. It only became apparent how far the article had spread when the Alabama legislature began receiving hundreds of calls from people protesting the legislation. The original article, which was intended as a parody of legislative attempts to circumscribe the teaching of evolution, was written by a physicist named Mark Boslough.
Continue reading "april fools!" »
---
Posted by Angela Hsu at 0:12 | Permalink
So this past week marks the second time in a month that I've been pretty sick with a cold. Do you remember reading that book "Alexander and the terrible, horrible, No Good Very Bad Day" ? I read it back in elementary school and it was one of my favorites. Anyway, my point was that I felt like I was having one of those the day I got sick. See, on thursday morning at 8:00AM, I had a lab report for Chem 1a to turn in (a FORMAL lab report, might I add). So, I set my alarm for 7:10 because, well, 50 minutes is PLENTY of time to get ready for class right? Yes. But no, not if as soon as your alarm rings, your subconscious decides to pull a sneaky "lets turn off that darn noisy wake up call and go back to sleep"
http://www.kennedy-center.org/programs/family/alexander/
---
Posted by Angela Hsu at 9:18 | Permalink
09 February 2008
what the liger?
What do you call an animal that is a hybrid cross between a lion and a tiger? Well, that depends on who you ask. According to me, it's called a liger- a real living animal... but according to my hallmates and some other skeptics out there, it's a load of bull.
Recently, I've been going through a bit of a "liger obsession phase", which was sparked a week ago by my roomate's boyfriend who was watching a liger video on youtube. He seemed pretty impressed and showed it to other people on the floor(including me)...who welcomed it with varying reactions. Half my floormates thought it was cool, and the other half thought it was all made up. "What proof is there?!" they would ask. Now, I know that googling is not the most completely credible way to find scientific articles, but in order to prove their existance I found some pretty legit sites including national geographic, wikipedia (a little more questionable),
Continue reading "what the liger?" »
---
Posted by Angela Hsu at 4:25 | Permalink
04 February 2008
Loofah Explained!
I love my little bath sponge. I love it even more now that I know where it comes from.
I bought a new loofah sponge Saturday, since mine died a sorry death in French Polynesia months ago. As I pulled it out of its packaging, I noticed a seed. Then I stared at the placentation. I thought, "This is Curcubitaceae." And I wondered why I hadn't noticed that about my last sponge.
This image shows the placentation: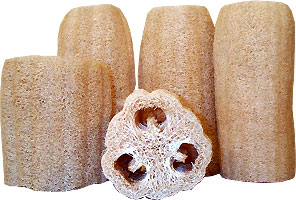 Always a curious sort, I put it on my list of things to look into. Did you know that you're scrubbing yourself with xylem? Here's a great step-by-step how to prepare your own loofah article written by Aaron Newton, who grows his own
Luffa
:
http://www.groovygreen.com/groove/?p=689
In this article, Aaron describes the simple process of "milking" the
Luffa
fruit, to remove the fleshy fruit and seeds, leaving just the fibrous xylem that makes the exfoliating sponge we all love.
Here's a Luffa gord dried out on the vine:
Many species in the genus
Luffa
, within the Curcubitaceae, are grown for use as sponges. This is the same family as cucumber, melon, and squash.
Luffa cylindrica
,
Luffa acutangula
and
Luffa aegyptiaca
are a few of the species that are grown for this purpose.
Here's a flower with a bumble bee:
Click on "Continue Reading" to see references for further reading, and my sources for all of the photographs of this entry.
Continue reading "Loofah Explained!" »
---
Posted by Christina at 7:42 | Permalink
07 January 2008
Letters from Winter Vacation
I try hard to monopolize your attention. This time my new tactic is to write during vacation when I assume that nobody else is writing because their lives do not revolve around school like mine does. Yes. Today I am going out to buy lead for my pencils - this day is rife with excitement and pregnant with pungent anticipation. I am very picky about my pencil lead. I only use 0.7 mm 2B lead because it gives me the darkest line and the strength to hold up under my hard pressed hand.
Being on semester schedule is unusual. All my other UC friends are on the quarter schedule so their classes start today. This essentially leaves me with more reading and eating time. I wonder if this semester thing is a plot from Berkeley to deliberately isolate itself and its students from the rest of the system. The chess club in my high school did this too and it lead to two things: 1) Unparalleled chess genius-ry - I mean seriously. They'll win even if they give you their queen and let you continually beat them over the head with it. and 2) They danced with only themselves during the school dances.
My search for peace, purpose and good TV reception on CBS continues. I HAVE to watch the Patriots game on Saturday even if it means me wrapping myself in aluminum and sticking my arms out of a 2nd story window.
Continue reading "Letters from Winter Vacation" »
---
Posted by Jonathan Yu at 6:18 | Permalink
17 September 2006
Berkeley After a Football Game
Apparently, Cal students like to go to football games. And they are very supportive of their
football team
. Who knew? Yesterday was a game day but I didn't go. There are many reasons for this. I can make up a few right now. Hold on. Umm, well I had to return a blanket yesterday in San Francisco. I also don't want to stand up for so long. Yeah those are good reasons. I think I'll eventually go to a game ... the Stanford game.
Continue reading "Berkeley After a Football Game" »
---
Posted by Jonathan Yu at 0:09 | Permalink
11 September 2006
Greetings
I just figured out how to get this thing to work. Sorry for the lateness. One thing I learned especially well during my senior year in HS is how to procrastinate. I hope I'm not the last kid to post something. I am going to introduce myself now.
My name is Jonathan Stanford Yu. My friends back home call me Jon. The ones here call me Stanford. This never pleases me. No I did not apply to Stanford. I don't want to get a rejected letter from my academic namesake. And no, nobody has beaten me up yet. I don't expect you to find me either so I feel free to divest myself of my middle name. I am currently an undecided major here at Berkeley. My classes are Chem 1A, Math 1B, Integrative Biology, and umm I think it was Plant and Microbiology. All are fun and challenging classes. Yes. Very much so.
Continue reading "Greetings" »
---
Posted by Jonathan Yu at 8:21 | Permalink