17 March 2009
How was I able to take 25 units last semester you ask?
So here are the things you have to do in order to take more units than the permitted maximum:
1. You must be crazy
2. You must have a schedule that fits (with no overlapping classes, that weakens your petition). It is also good if you have a reason to your insanity (for example, I am taking the MCATs this semester and I am a double major who wants to graduate on time therefore, I had to take 25 units in order to take less units this semester to make room for the MCATS).
3. You must talk to your major advisor and get approval (this generally takes place for CNR students either way since you have to get your advisor code before you register for classes regardless).
4. You must turn in a "student petition" found in the 260 Mulford with your attached schedule and Tele-Bears form approval from your advisor.
5. After a few days, you can either: sign up yourself for extra classes OR in some cases CNR itself will have to enroll you in the class you need.
Its not all that complicated, but you really shouldn't do it unless you really really really have to. I was basically LIVING at school last semester, and I think I paid Main Stacks rent due for Finals week. So please, think twice before you do this and make sure you can handle it!
Continue reading "How was I able to take 25 units last semester you ask?" »
---
Posted by Rola Abduljabar Rabah at 2:57 | Permalink
08 March 2009
It's been a while, dear friends...
So I haven't blogged since last semester...can you take a guess why? Well let me start my list of justifications with the fact that I took 25 units last semester and I am taking the MCATs in April...
I really don't know HOW I survived 25 units last semester (I had to take that many because I am a double major with a minor and want to graduate on time and I have to take the MCATs so I can't take as many classes this semester)...and yet, I am currently taking 18 units and an everyday MCAT review course...which I'll fill you in on sometime this week...as for now I have to go read 40 pages of physics for my review class tomorrow...
FEEL BAD FOR ME.
Continue reading "It's been a while, dear friends..." »
---
Posted by Rola Abduljabar Rabah at 2:54 | Permalink
30 April 2008
need assistance?
In order to ensure that a class you want to take this summer at a community college or any school other than Berkeley, checking assist.org is the fastest and safest way to do so. Assist.org will give you the classes in Berkeley and what their equivalence are at other colleges in which Berkeley has made agreements with. So, if you take a certain class (like english R1A for instance) at a community college, all you have to do is transfer your transcript at the end of the summer and the register office will automatically match that class to the Berkeley's r1A and give you the credit for it. This is a great option if you want to go home for the summer or just take an easier load to take care of some general classes. Even if you don't see a class you want to take on assist.org that matches anything in Berkeley, you can take the description of the class and talk to your councilor to get it approved. For instance, the community college in my hometown offers a physics class for science/non-engineering students that was not on assit, I showed the class to my major advisor and he put a note on my transcript approving the class so now I will be taking my physics class in Sacramento as I do medical research at Kaiser.
If you have any questions about the process, let me know and I'll be glad to help.
Continue reading "need assistance? " »
---
Posted by Rola Abduljabar Rabah at 3:22 | Permalink
13 May 2008
Finding a sublet..
By far one of the most hectic/crazy/exhausting/boring/overwhelming/ridiculous/competitive processes of my entire life....FINDING A SUMMER SUBLET. As if it wasn't bad enough trying to find a good/safe apartment for next year (because I am living out of my sorority), finding a sublet is even harder. The reason why I have to find a sublet is because every nice apartment we looked at has a lease that starts in June but my roommates and I won't be there for the summer so we are forced to find subleases which means we also have to furnitue our house with new furniture and have someone else use them before us for the first two months. So how am I doing it? Well, I have been doing the following to track down some decent tenenats:
1. Write a note on facebook and tag EVERYONE I KNOW (even those in Spain, because they must know someone right?)
2. Post an ad on craigslist
3. change my facebook status
4. tell every single person I know on sproul
Result? I found a sublease...yay. Good luck finding yours if you must!
Continue reading "Finding a sublet.. " »
---
Posted by Rola Abduljabar Rabah at 1:15 | Permalink
09 May 2008
Finals week...eeeek.
Behold...it's finals week, better yet...it's hell week. So what's in store for me do you ask? LOTS OF FUN! I have my two biggest finals on the very first day of finals back to back. Why would one of the hardest finals on campus (bio 1 freaking a) be the very first final (8 am) on the very first day (thursday)???? Yeah...well berkeley doesn't vare so what does that mean? I will be camped out at the stacks every night sneaking in my sugar free red bulls from under the table just so I can stay up....
honestly...all nighters should be for comedy clubs and late night parties...not finals!!!
Continue reading "Finals week...eeeek." »
---
Posted by Rola Abduljabar Rabah at 9:11 | Permalink
19 May 2008
interested in medicine?
I just discovered a great class taught by the cutest professor, a French man who loves to talk about sex, public health issues, and the top reasons why EVERYONE should use a condom (while wearing his happy condom tie). After taking this 2 unit course you will be eligible to apply to the Health and Medical Apprentenship Program (HMAP) where after going through an extensive application and interview process, can shadow a doctor of your choice for an entire semester while attending a discussion session to assist every student in the program. What's great is that HMAP is student run and every person involved in the program becomes more than classmates but more like a small family. I just enrolled in PH 116 and I am looking forward to applying to the HMAP program soon after!
If you're interested, check out the website.
Continue reading "interested in medicine? " »
---
Posted by Rola Abduljabar Rabah at 3:01 | Permalink
22 February 2008
Can't wait for spring...
I just booked my ticket to Michigan and Virginia for spring break. I haven't left California in over a year (basically since Berkeley held me hostage) so I am enthused about doing a little bit of traveling in the US. In Michigan I'll be visiting the medical school (which ranks really high) and some close friends, and of course I'll be paying Dearborn a visit because I here it's mini Middle East in America filled with Arabic stores, restaurants, and just Arabs so that should be fun. Then mid week, I'll be going to Virginia to meet my mother where we'll be staying with my aunt. We also are going to be driving to UPenn and the to New York (yay for some quality shopping!). I can't wait to get on the airplane, only drawback...well it's not going to exactly be a "bathing suit vacation"!!! I'll be sure to post some fun pictures!
Continue reading "Can't wait for spring..." »
---
Posted by Rola Abduljabar Rabah at 1:11 | Permalink
11 March 2008
Finally, some quality research!
I am extremely excited because I am going to be starting medical research at Kaiser Hospital! I will be assigned a few patients in a Crohn's Disease Study to which I have to perform various tasks including: calling patients during the study and making sure they are maintaining their medications and not taking new forms that may affect the study, sending their blood for lab work and then analyzing the data, preparing patients for surgery and observing the procedure, maintaining patient medical records and study questionnaire, working with the GI surgeon to investigate trends in the medications/study with the patients, and last but certainly not least writing a final report about the study for a possibility for publication to the study sponsor aka the pharmaceutical company. I am really thrilled about this position because this will be lab work in my area of interest instead of doing lab work in which I am preparing mice or running DNA strips. In addition, this research will help me determine whether I want to go into medical school to become a doctor or to become part of the growing medical research field. (And of course I am really excited because this is going to look fantastic on my resume!)
If you have any questions about the work I'll be doing (i have to read a ton of material about Crohn's Disease, study procedure, etc) feel free to ask!
Continue reading "Finally, some quality research! " »
---
Posted by Rola Abduljabar Rabah at 0:59 | Permalink
15 February 2008
Declaring at Berkeley!!
I decided that since I know exactly what I want to do, might as well declare early. In addition, rumor has it that if you declare your major you can have some sort of priority during tele-bears and get other perks over undeclared students. The process would have been a lot easier except I had to declare a simultaneous degree in Microbial Biology in CNR and Arabic in L&S. First I met with my CNR advisor and filled a form with my complete plan for the rest of my semesters at Berkeley. After my advisor signed off on my paper and double checked my schedule I made an appointment with my L&S Arabic advisor so she can sign off on my separate packet that had my plan for the rest of my years at Berkeley. Both advisors had to sign BOTH packets from BOTH colleges. I then made copies of both packets and turned in the CNR packet at Mulford and the L&S packet at Campbell. A week later I got my final approval from CNR and then two weeks later I got my full approval from L&S and now I am officially a declared Microbial Biology and Arabic Major at Berkeley...something feels really satisfying about that.
Continue reading "Declaring at Berkeley!!" »
---
Posted by Rola Abduljabar Rabah at 0:44 | Permalink
29 January 2008
oh what a jolly semester!
I am happy to report that although I was number 88 on the waitlist for Bio 1A I actually got in! Wohoooo this means that I am on track and won't have to shuffle my pre-med heavily compacted double major schedule around. Speaking of schedule, this semester I am taking the following:
Arabic 100B
Arabic 104
Arabic 111
History 109c
Bio 1A
Bio 1AL
Ph104
Yes, that would be 21 units 16 of which are upper division, and no none of them are seminars or easy classes and of course I'll have no social life this semester!!! Still, I feel like I am more in charge of my semester because I know so much more about the procedures in berkeley and my way around I no longer feel like a visitor on campus but rather a part of campus so hooooorray for me! If you're in any of my 2394820394 classes, say hello!
Continue reading "oh what a jolly semester!" »
---
Posted by Rola Abduljabar Rabah at 0:39 | Permalink
25 December 2007
Ah...taking a breath or two..
Finally now that finals are over (and I must say I feel so relieved to actually survive seven finals and come out in one peice!) I am going tp kick back and enjoy my time off. Yes, thats one of the best things about Berkeley, winter break is truly a BREAK no more classes to worry about, no more tests to worry about and you get to move out of the cold rain for a while (if you're fortunate enough to go on vacation with your family in San Diego...yes yes its 69 degrees here and the sun is beautiful)...If you go to school here you take this break for granted and think "oh this is only normal", indeed it's normal for most schools but for other less privilaged students like Harvard break means a two week period to fuss about the finals you're going to still have to take when you return to school. Sad? Yes it is...so for those of you going to Harvard and other such school, good luck (and ha-ha) and to Cal...hip hip horray!
Happy holidays everyone!
Continue reading "Ah...taking a breath or two.." »
---
Posted by Rola Abduljabar Rabah at 2:48 | Permalink
22 November 2007
Maybe they just need a hug...
I live in Alpha Phi which is a sorority house right on Bancroft Steps on top of the hill to the right of I-House and right before the Stadium which also means that its right next door to the tree huggers. I usually take the back way home because its faster and less "hilly" as I like to call it. However, today I was met but a little suprise while I walked up through the stadium and to my house. A security guard was standing infront of a huge fence that surrounded the entire area..."What's going on?" I asked one of the guards "It's so we make sure no one is communicating with the protesters or giving them food." My friend Neda asked why they can't get food and the guard responded "Because they are the property of the Berkeley Jail System and so if you want to give them food you're going to jail with them!" Talk about a protest...at first I thought oh well aren't these people just passionate and nice...but now we're talking about jail? Why is this situation getting so out of hand? I really don't know what to think...should I feel bad for the protesters who are just trying to save these poor trees or should I tell them to go buy some wood, build a bridge and get over it? Or should I be glad that the Berkeley police decided to post two huge light projectors over the tree huggers and provide 24 hour security so I feel a lot safer walking home? I really feel torn in this debate but I do know that I would hate for it to end violently with many innocent people in jail...
Continue reading "Maybe they just need a hug..." »
---
Posted by Rola Abduljabar Rabah at 3:27 | Permalink
08 December 2007
graduation...thank god it's not fine...
So my BFF and sorority sister Neda graduated today...it was the saddest thing. We went to the campanile and she said "I never thought the campanile was ever going to make me cry, like you walk by it and you don't pay attention because you know its going to be there tomorrow and then now I know it won't because I won't be here anymore!" I saw the tears in her eyes and I thought, wow, why is she so sad to graduate? I would do ANYTHING to be finished right now...but would I really? Maybe not...maybe it only seems that way now but maybe it's true when they say these are the best years of your life. There is not one person I know who wouldn't go back to the "good old college days" if they could. So what's the lesson learned here? Yeah wear waterproof mascara when your best gal is graduating but more importantly...stop, think and enjoy your time at Cal because I am already a second year and to be honest it only feels like its been two weeks...
Continue reading "graduation...thank god it's not fine..." »
---
Posted by Rola Abduljabar Rabah at 1:14 | Permalink
20 November 2007
Declaring your major!
I decided I want to declare my major. Doing this will keep me on track because if I have to fill out one more paper about my acadamics I think I might just blow up. My declaration is a little more complicated however because I want a simultaneous degree. This means that I am declaring two majors from two different colleges resulting in two different degrees. I want to double major in Microbial Biology (in CNR) and Arabic (L&S). Although this sounds exciting because I'll be getting a BS for Micro Bio and a BA for Arabic, it is a tad annoying because that means I still have to fulfill L&S's 7 breadth requirements which is a pain in the butt when you are already doing too many classes for two completely different majors. I still have my heart set on this double major though since I entered Berkeley and I still haven't changed my mind (even after 4 midterms in one week and taking chem 3A and B) so I am going to go threw with it. I need to do a few logistical things to accomplish this:
1. I have to declare my major at CNR
2. I have to declare a major at L&S
3. While declaring at L&S I have to apply for a simultaneous degree where both advisors in CNR and L&S must sign my request.
Not too bad surprisingly so I am thrilled to be doing this and I will officially have to declared major effective Spring 2008. I hope this boosts my telebear appointments somehow and make them earlier!! If you have any questions about declaring a major feel free to ask!
Continue reading "Declaring your major!" »
---
Posted by Rola Abduljabar Rabah at 1:06 | Permalink
03 November 2007
in YOUR face...
Yay my hell week is over...I survived 4 midterms in one week...I am now ready for ANYTHING...(except a caffeine shortage in our food supply because that would really kill me!)...And now everyone is running around stressed about midterms and papers and I have nothing to worry about but little quizes here and there until finals...yay...finally I can sit back and catch up on my 2 missed episodes of Grey's Anatomy, 3 issues of cosmo, 2 issues of W, and 7 issues of TIME.
Continue reading "in YOUR face..." »
---
Posted by Rola Abduljabar Rabah at 1:02 | Permalink
28 October 2007
midterms season...it's not even the middle of the freaking term!
Midterms...oh silly midterms...why must you be such a pain in the @$#???!! I mean out of all the weeks possible is it really necessary to insist on ruining my life by making four of my hardest midterms in the same week? Must there be one on Monday, Two on Wednesday and one on Thursday? And to top it off it's all during halloween...I can't even go out the weekend before or week of...I mean come on give me a break will you cal? So if you don't hear from me ever again...know that I probably gave up and decided to join the hundreds on the corners of telegraph asking for spare change to buy myself a hot dog...
Continue reading "midterms season...it's not even the middle of the freaking term!" »
---
Posted by Rola Abduljabar Rabah at 0:57 | Permalink
10 December 2007
Death week...
So not only have I already taken 4 finals (arabic 100, 108, ph104, chem 3BL) but I am now studying non-stop for my chem 3B, math, and arabic 108 final which ALL happen to be on the SAME day (monday 8-11, 11:30-1:30, 5-8)...hmm what a surprise...there goes my luck once again, 3 finals on the same day...what is a cal student suppose to do here? Drink 4 cups of coffee, 3 large energy drinks (Go Girls i my favorite), and constantly suck on sugar free coffee flavored candies to avoid cases of insanity...Happy finals everyone!!!!
Continue reading "Death week..." »
---
Posted by Rola Abduljabar Rabah at 8:54 | Permalink
11 December 2007
Are YOU going to run around naked in Doe?
So here's a little tradition you got to know about during finals week...people (often seniors) will run around naked in the library during finals week so they can...well there really isn't a reason why other than lighten up death week...oh wait I meant finals week...since the school does such a good job at doing so by playing funeral music in the campanile (this is a true story people)...I guess Cal students had to find their own way to make this never ending week a little more enjoyable...so watch out sometime around midnight because you might embark on a few interesting sights..to say the least...
Continue reading "Are YOU going to run around naked in Doe?" »
---
Posted by Rola Abduljabar Rabah at 2:19 | Permalink
05 October 2007
Bare Escentuals..
So in high school I was president of every organization/student group I can get my hands on, editor of the yearbook, took 10 classes 2 of which were college courses at the community college, was cheer captain AND maintained a valedictorian status...In college I was taking 16 units and was only part of a sorority yet I couldn't maintain any sort of academic status...therefore I safely assumed that filling in my time with more stuff to do will be beneficial for me because clearly I work better under pressure. So I got my self a job, the first job ever. Since I want to go into reconstructive surgery and I knew I was going to be in school for YEARS and I absolutely love make up I decided being a make up artist would be an amazing job to have so that I can do something I love while I can and work on getting where I want to be at the same time. SO I am now a make up artist more specifically "a beauty ambassador" at Bare Escentuals down university on 4 Street across from Pete's coffee and I LOVE IT. I get to do people make up everyday and literally see their faces light up when they look at the product of my make over. This just confirms how much I love reconstruction...even if it is as simple as filling somone's eye brows or putting a sheer lip gloss to make the lips look bigger...
Continue reading "Bare Escentuals.." »
---
Posted by Rola Abduljabar Rabah at 1:38 | Permalink
18 September 2007
Second year, twice as much fun!
I know it has been some time since I have posted a blog but I have a very good reason for that. Oh wait, no I used that excuse last year. Well, it's true...Berkeley is taking over my life and I never have free time to do anything any more...if dinner wasn't scheduled at my sorority house I would probablly never eat! This semester I am taking chem 3B, chem 3BL (no they are not the same class and yes they both have finals and seperate grades), math, public health (for my healthworker position), upper division arabic language, and upper division arabic philisophical texts. AND I started my first job ever at Bare Escentuals on 4th street because 1. I LOVE MAKE UP and doing make up on people 2. Its really hard to get into cosmetics if you haven't had lots of experince and so getting a job offer from them was rediculously amazing 3. I need to put something in the empty space under "work experience" on my resume so that I can apply to internships and medical school and not look like a complete non-responcible spoiled teenager. AND I am also pledging a pre-med sorority (Kappa Gamma Delta) AND I have my existing social sorority (Alpha Phi). Yeah, AND my parents are freaking out because they think they're never ever going to see me again which may be true to some extent. Yet I still have to admit it has been absoloutly FABULOUS not having class on Fridays and starting class at 1 on Mondays...and I also must admit that I work a lot better when I stretch myself really thin so this is going to benifit me rather than kill me. Well, it might kill me but at least I'll have accomplished a lot so it'll be a memorable death =)
So that's the 411 on my semester in a nuttshell. Hope you are having fun!
Continue reading "Second year, twice as much fun!" »
---
Posted by Rola Abduljabar Rabah at 5:35 | Permalink
01 August 2007
Yeah..I am already taking out my first aid kit!
I am really excited for fall 2007 because that will be the start of my official term as Healthworker for my sorority. If you haven't already lived in the dorms and met with many healthworkers or at leats heard about the healthworker program during CalSo then I'll fill you in quickly. Basically the Healthworker program is a division of the Tang center and is an efficient and student-run way to ensure safety and health awarness among the Berkeley students. There is a healthworker assigned to every sorority and fraternity house, every other floor in dorms, every co-op and in the Berkeley community. Healthworkers are chosen through an extensive application and interview process and then undergo a week training in the fall and spring semester plus they enroll in a Berkeley weekly class. Healthworkers are CPR and first aid certified and continuously learn about health related issues, health solutions, and the safety of college students. In additon to assisting anyone with basic medical needs, the healthworker is responcible for spreading awarness about health. As a sorority healthworker I have to always be on the look out for new health issues among my sisters including issues like stress, drinking, drugs, and safe sex. If a new problem arises or increases I am responcible for making presentations about prevention methods to my house. The healthworker job is full time 24/7 and is non-paid for a full year. A healthworker carries a lot of responcibilities but comes out in the end with a lot of knowledge and experience. You don't necessarly have to be a science major or pre-med to be a healthworker you just have to be dedicated, deciplined, committed, hardworking, responcible, approchable, and professional.
The healthworker program has been extremely successful and popular in Berkeley since its establishment in 1971. Only a handfull of schools have a program similar to the Healthworker program and Berkeley's program is often praised by other schools for its great impact and sucess!
I am really excited to start my fall training August 11th-16th before welcome week. If you are interested in the healthworker program for next year visit the
UHS website
or shoot me any questions and I'll be happy to answer them or direct you as best as I could.
Continue reading "Yeah..I am already taking out my first aid kit!" »
---
Posted by Rola Abduljabar Rabah at 1:36 | Permalink
04 August 2007
So long summer days!
Yeah I really can't believe it but one week from today I will be back in Berkeley. One week from today...it's ON! Sucky thing is I just finished summer school and now I have to go back to Cal a good 3 weeks before the semester even starts. The first week I am back (the 11-16th) I have healthworker training, then the week following I have polish week (what my sorority calls the hectic week we use to prepare for fall rush), then I have welcome week and actual sorority rush before the semester begins. And of course I haven't forgotten about my new tough classes: chem 3b, calc, upper div arabic, and philisophical arabic text...talk about work. On the bright side, I managed to get fridays off so no classes, labs or section Fridays..wohoooo for three day weekends! I guess I learned some tactics from my freshman year mistakes...wait...omgosh...I am a sophmore...ahhh!!!!
Continue reading "So long summer days!" »
---
Posted by Rola Abduljabar Rabah at 1:17 | Permalink
22 July 2007
The best golf course in the nation, no joke!
So I told you I was going to Asilomar in Monterey for the weekend and boy was it fabulous. Monterey is absoloutly stunning. The beaches, the trees, the houses...everything is extra beautiful! Out resort was very lovely, it consisted of small cabins with multi bedrooms. The rooms were very comfortable and old fashion. The resort did a very good job keeping the "cabin with no technology" theme we had no TV or internet in any of the bedrooms. If you needed wireless, you had to go to the main lounge to get some.
The whale watching cruise was really nice but I think I would have enjoyed it a little more if people weren't throwing up all around me and if it wasn't 55 degrees. We saw pently of whales but by the time we got to the middle of the ocean people were already sea sick. Before you get on they tell you to take some medication if you know you get sea sick, what they dont tell you is that even if you don't get sea sick like me, you still should take medication because the boat rocks so hard and so much for such a long time you are bound to be sick. Will I ever do it again? NO! But I am glad I did it once!
The best part of the entire retreat was Pebble Beach Golf Course. I had no idea but it turns out that Pebble Beach Golf Course is the nicest most beautiful golf course in the nation. My friend told me that in every golf video game or computer game Pebble Beach is always one of the option resorts. People travel very far distances to play at Pebble Beach. They really were not kidding either, the place was drop dead gorgeous. The further you got the more beautiful the course was. I was literally golfing towards the beach and sometimes I was golfing with dear right behind me. I mean the place was too beautiful to be true! For anyone that likes golf, I would highly recommend Pebble Beach. It is pretty expensive though, so keep in mind that you're dropping a few hundred for 18 holes!
Here are some pictures from the trip:
Our resort beach: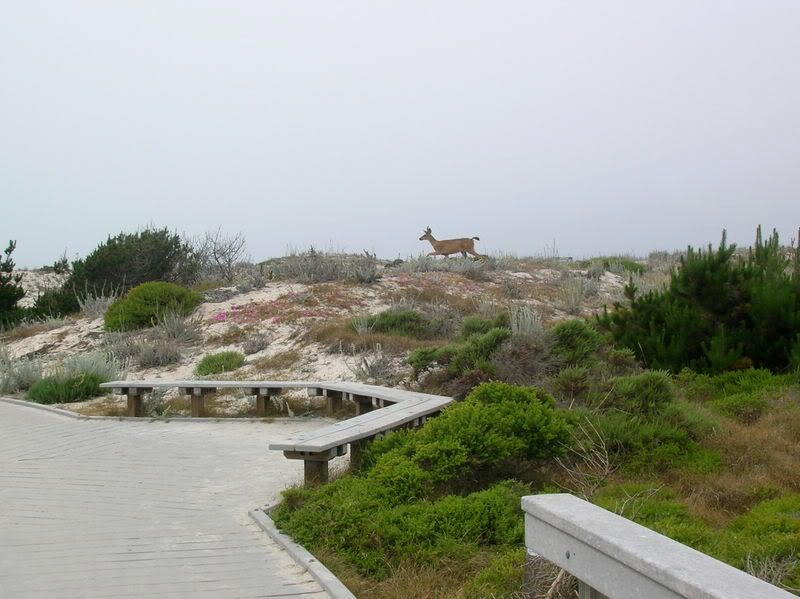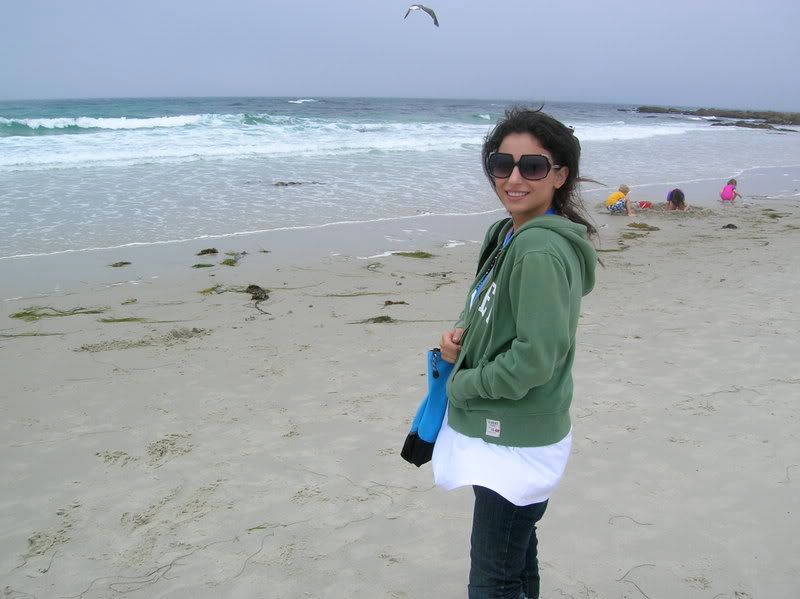 Pebble Beach Golf: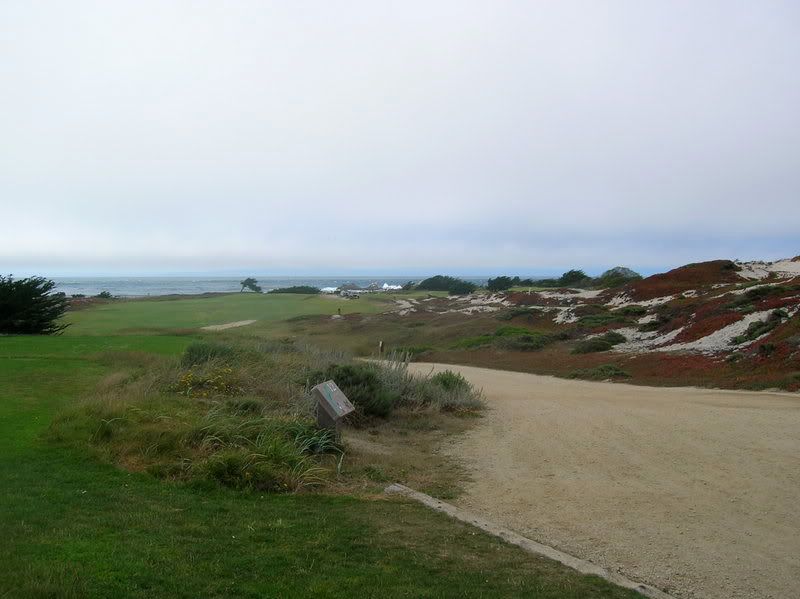 I hope you're enjoying your summer!
Continue reading "The best golf course in the nation, no joke!" »
---
Posted by Rola Abduljabar Rabah at 3:31 | Permalink
27 June 2007
Finally, a vacation!
My scholarship loves doing scholar gatherings so that we do not feel that they are just another source of money for school but a community instead. So, my scholarship decided they want to hold a huge retreat, all expenses paid, 4 days 3 nights, for all scholars in the beautiful Asilomare in the Pacific Grove area 120 miles south of San Francisco. I have never really heard of this resort so I went online to explore and let me tell you, it is absoloutly beautiful. The resort is surrounded with nothing but trees, rivers, lakes, open green areas and just pure natural beauty. In addition, the resort has no TVs, internet, or telephones so that vacationers can truly depart from their everyday busy lives and enjoy their time off. I must say, no TV or internet for 3 days does scare me a tad...I am going to miss my midnight Friends and Sex in the City reruns...ahh! I guess the trees and the birds are going to have to substitute for the weekend. The best part of this retreat is that we get to go horseback riding, whale watching, attend a carmel city festival, and go on a 3 hour hike...I am REALLY excited about this retreat considering this will really be my only vacation this summer. The retreat is from July 13-July 16th...when I get back I'll be sure to post some pictures up!
Continue reading "Finally, a vacation!" »
---
Posted by Rola Abduljabar Rabah at 7:07 | Permalink
22 June 2007
Freaking out about chem...and the class hasn't even started!
So I am number 46 on the waitlist for Advanced Organic Chemistry (chem 3B). There are at least 150 others on the waitlist along with me. What's odd is that there is enough room in the lecture itself but no rooms in the lab. If I don't get into Chem 3B for the fall semester it's going to completely throw off my entire schedule. The only way this will work is if 46 people magically dropped out of the highly demanded chem 3B before August...or on the more realistic side, the chem department opens up a few more lab sections before the fall semester begins. Let's just hope option 2 happens so I can avoid starting my 2nd year completely stressed out! Pray for me...and if you find out anything about chem 3B let me know!
Continue reading "Freaking out about chem...and the class hasn't even started!" »
---
Posted by Rola Abduljabar Rabah at 0:03 | Permalink
14 June 2007
Uh, this is going to be a HOT summer..
Who ever said community college was easy obviously never attended a community college class. Here I am in the midst of the Sacramento summer heat waking up every morning at 8 to get to my "easy" community college macroeconomic class and sit through two hours and ten minutes of ridiculously crammed 3 months worth of economic material! Who ever said community college was easy is WRONG. My easy community college econ professor once taught at Columbia University, Sacramento State, UC Davis, UC Santa Barbara, and MIT, do you think he changed his material to better fit the community college? Absolutely not. So much for an easy summer. Oh well, I guess now I'll better understand how my shopaholic habits affect the economy of my country! Good luck with your classes if you are taking any!
Continue reading "Uh, this is going to be a HOT summer.." »
---
Posted by Rola Abduljabar Rabah at 0:51 | Permalink
09 May 2007
Wow, in a few days I won't be a 1st year anymore!
Instruction was officially over yesturday. I can't believe I'll be a 2nd year in a few days. I mean no longer will I be able to make mistakes and say "oh, it's only my first year!"...Dang it!
I have a final I am studying for Monday and that's my last one. Organic chemistry..not a peice of cake. Of course I've already started studying for it. I want to be prepared for this test...but at least I'll get to go home Monday and just RELAX. Then I am coming back Friday for a few graduations I have to attend for my senior friends. And I am going to pack out of my dorm room then. We have to be completely out with keys turned in Saturday at 10 am and I have A LOT to pack. I am storing stuff I dont need to take back home in Berkeley like books, printer, comforter..etc. If you are still looking for storage call 1-800-586-3020 and they'll even pick up your stuff!
Good luck with finals!
Continue reading "Wow, in a few days I won't be a 1st year anymore!" »
---
Posted by Rola Abduljabar Rabah at 9:42 | Permalink
15 April 2007
Strawberry Creek
My English class focuses on CA nature and my GSI is very much into the watershed of Strawberry creek into the bay and Strawberry Creek in general. As a class, we've walked all the way up and down Strawberry Creek on campus and we've taken many pictures. I was suprised to see how much trash lies on the sides and in Strawberry Creek. I have always thought of Berkeley as a enviromently aware and clean campus. Seems that it is on the surface but if you scratch a little deeper you'll find that there are a lot of things we can do to improve the enviroment on and around our campus. Some people have already started by simply joining a group that cleans up the creek or removes the Ivy which has covered the Creek.
Here's an event they have planned.
on facebook of course.
So don't just sit back to enjoy the creek, step in and help, it'll make you feel good at the end of the day!
Continue reading "Strawberry Creek" »
---
Posted by Rola Abduljabar Rabah at 8:03 | Permalink
06 March 2007
Living next year!
It seems that everytime I ask anyone about their day they reply with a "Horrible. I was walking up and down looking at apartments". I guess march is the month you are suppose to look for apartments for the Summer/Fall. Roomates doesn't seem to be the issue. Everyone is gathering roomates from dorms, classes, and organizations they are involved in. The issue from what I hear is securing a place to live in the Fall but not the summer for a lot of people. Because apartments fill up and it's hard to find one just for the fall so some people are having to also rent the apartment during the summer even if they don't plan on living here. A little odd right? Well they rent it under their name and then they rent to someone else who only wants housing in the Summer. Well who could only want housing in the summer you may ask? People like sorority girls who may not have their house open during the summer so they are forced to live some where else until the fall.
Well I am just glad I don't have to deal with finding an apartment. I will be living at my sorority house in the fall, and I am going home in the summer. Well I am actually not sure because I am still debating the idea of summer school.
Good luck if you are trying to find an apartment!
Continue reading "Living next year!" »
---
Posted by Rola Abduljabar Rabah at 7:52 | Permalink
22 April 2007
Blessing or Curse!
So I only have one REAL final this semester and that's Organic Chemistry...EEEEK. Good thing? Well at first I thought it was. However, I still have an Arabic final to worry about...the only difference is that it is given over a two day period in class so before finals week which allows me more time to study o-chem.
Then I have a scrapbook...yeah a scrapbook about Strawberry creek due along with an expository essay and a poetry essay for English. I also have a book report (which obviously requires reading and then analysing the book). So....I only have one real final..but I have projects and essays that are not only time consuming but equivelant to finals. So is this a blessing or a curse?
I'll let you know May 17th =)
Continue reading "Blessing or Curse!" »
---
Posted by Rola Abduljabar Rabah at 7:43 | Permalink
25 April 2007
Summer here I come..
So I decided I wanted to take summer school after all. However, I don't want to take it at Berkeley because I want to spend the summer with my family and friends in Sacramento. Plus, a summer wouldn't feel like a summer if I didn't "travel" even if it is just go go home, lol.
I talked to a CNR advisor about summer school and she helped me a lot. Here is what I found out:
1. You can't take summer school at a UC like UC Davis because they run on a quarter system and UC Berkeley is a semester system so the dates won't line up.
2. In general, you can't take summer school at a State school like Sacramento State University because people don't usually transfer from State schools to UCs so the classes are not transferable (for the most part).
3. You CAN take classes at a community college as long as it is a UC Transferable course and the course you are taking must be equivalent to the UC course you want credit for. You can find what community college courses are equivilant through assist.org
4. The grade will not be counted into your Berkeley GPA but if you are applying to let's say medical school, you must send them ALL college transcripts and they will calculate another GPA. So you still have to take the JC class seriously...bohooo right?
5. YOU are responcible for sending Berkeley the official transcript at the end of the term if you want them to count for units.
8. Classes that satisfy a major requirnment will count towards your major so long as they are transferable/equivelant.
9. If you want to repeat a course you took at Berkeley you MUST repeat it AT Berkeley so if you take the same course (even if it is equivalent) it will not replace the course you want it to.
10. Don't stress. Keep up with the paper work and everything should work out fine.
If you have any questions about this you can contact your
CNR advisor
.
Hope this helps!
Continue reading "Summer here I come.." »
---
Posted by Rola Abduljabar Rabah at 7:19 | Permalink
You know what's worse than social isolation for an entire week just so you can bary yourself in organic chemistry in preperation for Tuesday's midterm?.....Going to the o-chem post midterm lecture Thursday and finding out that the 60 yearold French professor is "PISSED" (and no it doesn't sound less horrific with his cute little accent) at the 900 people class for having the average score at 40%. Yes ladies and gentlemen, we have 900 of the nation's smartest people with a 40% class average on an organic chemistry course....Ahhhhhhh....could you say pressure? Yeah, I definatly will NOT be looking forward to getting that test back Monday during lab. Bohooo...I'm going to go watch Grey's Anatomy..that always makes me feel better.
Hope midterms are going good for you!
---
Posted by Rola Abduljabar Rabah at 0:16 | Permalink
18 March 2007
Time is flying by!
Wow, I cannot believe it is already the middle of the second semester. Don't get me wrong, I am excited for summer but I am also a little scared. What happened to my first year at college? Where did all the time go? Has it really been close to two semesters? Well I can't say it hasn't been fun, tough, and interesting but I definatly now know what all the seniors mean when they say "before you know it, you'll be graduating in a month". What's the lesson here? Don't take things for granted, enjoy the DC foods, go to one more review session, and visit your professor in office hours.
Have a good week!
Continue reading "Time is flying by!" »
---
Posted by Rola Abduljabar Rabah at 0:21 | Permalink
28 February 2007
Even the chemistry in Berkeley is Organic and difficult.
I had my first midterm yesturday at 6:30 - O-CHEM. I studied non-stop for a good week, even though the professor still gave new material till the day of the midterm. I studied so much I even dreamt about chlorination cracking mechinisms and such AND I passed up on 3 parties that week, how sad. At the end of course, I got slapped with the test. It was very very tough and extremely challenging. Let's just hope the curve will save me somehow. Now I have to study for my Arabic and English midterms, good luck on miterms everyone!
Continue reading "Even the chemistry in Berkeley is Organic and difficult." »
---
Posted by Rola Abduljabar Rabah at 4:28 | Permalink
19 February 2007
SLC...what a concept!
I bet you've heard about the Student Learning Center. I did too. Yet, I refused to use their services which were publicized almost everywhere I went. "I don't need anyone's help!" I thought vainly. However, after suffering through Chem 1A last semester, I decided to give the SLC study groups a shot for Organic Chemistry and if I didn't like them, I could always drop out. I signed up for the MW 2-4 study group and ever since my first session I have fallen in love with the SLC completely. My study group leader is a genius. The first hour of the session he lectures us and goes over tough material from Professor Freche. The next hour we spend solving a worksheet together that he prepared for us. The beautiful part of the worksheet is that he compiles problems from past O-Chem tests from Freche, Pederson, etc and puts those that apply to the lecture on the worksheet so we can practice AND get used to their exam questions. GENUIS I TELL YOU! The study group has been keeping me on track and it's a great way to study. Plus, think of it this way, consider the SLC study group a class that you have to attend, and if you do, then you have 4 hours of chem studying guaranteed per week. So for those of you who go home after class and "forget" about o-chem, the 4 hours or outlines studying is a big help. IF you haven't visited the SLC, do so soon before you dig yourself in a hole too deep to dig out of!
Sincerely,
Once a stubborn "independent" Berkeley student!
Continue reading "SLC...what a concept!" »
---
Posted by Rola Abduljabar Rabah at 0:52 | Permalink
07 February 2007
One down, 7 more to go!
Ok so my second semester of college is officially in action. I feel like I totally own this semester, and by own it, I mean I knew how to pick my classes, how to get into full classes, how to plan out my breaks, how to get connected with my GSIs and professors right away, how to handle office hours, how to use SLC study groups, how to manage my free time, and how to get HW done without freaking out. Sounds all fancy and dandy right? WRONG!!!!
Continue reading "One down, 7 more to go!" »
---
Posted by Rola Abduljabar Rabah at 3:29 | Permalink
01 January 2007
Home Sweet Home
Being at home means more than delicious homemade food and a warm fireplace. It means relaxing, making a milk shake just because you can, staying up late only because you don't have class the next morning, fighting with your mom only because it reminds you of the good old days, driving to Starbucks because you can't do that at school, washing your car in the freezing cold because you HAVE a car, and taking 4 showers a day because you have your own bathroom and hot water is guaranteed.
Continue reading "Home Sweet Home" »
---
Posted by Rola Abduljabar Rabah at 8:21 | Permalink
06 December 2006
Hell Week
Ok, so finals are coming up. The first thing that comes to mind? AHHHHHHHHHHHHHHHHHHHHHHHHHHHHHHHHHHH!
Two of my biggest finals are on the first day of finals. I have my math and chem finals next Tuesday. Then I have a huge break and my next final is my upper div. Peace and Conflict final on Saturday from 5-8. Yeah, I know...on SATURDAY NIGHT! I am in that class right now actually, I'm bitter about the final date so I decided to rebel and blog during his class. Ok, I am just kidding we have a 5 minute break considering this is a two hour class. Anyhow, back to the subject...I then have my last final on Monday. The last two finals aren't too bad and I can handle them. Now it's just crunch time for my first two hell finals! Ahhhhhhhhh < once again!
Good luck on finals!
Continue reading "Hell Week" »
---
Posted by Rola Abduljabar Rabah at 4:28 | Permalink
02 November 2006
Running against time!
Ok, so I discovered that it was almost impossible for me to meet with my CNR advisor because her office hours are from 1:30-3 on Tue. Wed. Th. Yeah, great..except I have class everyday at 2:00 and no matter how early I get to 206 Mulford (as early as 12:45) I still couldn't get on the wait list early enough to meet with her before I had to run to my class in Barrows...
AHHH
..I was really frustrated because I needed my advisor code ASAP considering my appointment is on Tuesday and it is already later than a lot of people so my classes are filling up fast! Thankfully, I was reffered to Prof. Loy Volkman, an alternate advisor, and I had to schedule a seperate appointment that I am going to today at 11:30...YAY!!!!
If you haven't gotten to meet with your advisor, do so fast, so you don't have to stress like I did!
Continue reading "Running against time!" »
---
Posted by Rola Abduljabar Rabah at 0:50 | Permalink
11 October 2006
Spring Semester!
It's not even the end of the first semester and I already have to worry about my classes for next semester!
Continue reading "Spring Semester!" »
---
Posted by Rola Abduljabar Rabah at 3:43 | Permalink
25 September 2006
Busy Bee!!
Ok, so I've had my log in and password for a good 1-2 weeks now, and yet this is my first entry. The reason for that is Berkeley is no piece of cake. I've already slaved away two all nighters and forgot to eat breakfast for the past 2 weeks.
So let me back up a minute and introduce myself. My name is Rola and I am a freshmen at UC Berkeley. I am majoring in Nutritional Sciences and Middle Eastern Studies.
Continue reading "Busy Bee!!" »
---
Posted by Rola Abduljabar Rabah at 3:18 | Permalink
05 September 2006
Meetings, Socials, Dinners... and sometimes Classes
So far it's been two weeks at Cal and I'm surprised by how much time I spend talking to floormates, going to club meetings, and eating out at
Crossroads
or at an amazing reknown Berkeley restaurant. I keep thinking to myself that classes will always be going on, but now is the time to make friends and join organizations that will connect me with once-in-a-lifetime opportunities. This may or not be true, but it's my philosophy for now.
Tonight I went to a Circle K meeting in VLSB and was reminded of the extreme enthusiasm of all KIWANIS-related activities. In high school I was VP for my school's Key Club, and I searched out over a dozen service projects and recruited students to join in. I loved being in the excited frame of mind, shouting, cheering, and being dedicated to community service. Now, in college, I'm glad I can return to that through this club. Meetings are going to take an hour out of my homework time each week, but I have to admit I love Key Club (therefore, Circle K as well).
Classes are starting to smooth out... I attended Math 53's late afternoon lecture today and LOVED Professor Rezakhanlou's vector lesson! He's 10x better than my original Math 1B professor, and almost as good as my high school teacher :) I'm switching to that class, and solving my horrible "Friday morning chem lab" issue- which, by the way, totally destroys all opportunities to take MWF classes in the morning. Advice to incoming frosh: SIGN UP FOR CHEM 1A early in the summer and for the CORRECT lab that you want in your schedule. But life goes on with a Friday lab... I now have 4 days a week with my first class at noon.
Continue reading "Meetings, Socials, Dinners... and sometimes Classes" »
---
Posted by Rola Abduljabar Rabah at 2:18 | Permalink