25 August 2009
the night before school
Everyone's probably sneaking their last days of fun before the crunch starts. Many, including me, are panicking. Cable internet was installed in the wrong place and my father was unable to come through with a router, so dear readers, just for you- I am standing on my balcony, freezing my buns off in order to record my thoughts before the next day begins.
Profs are coming through with bspace, decal classes still haven't been joined, free stuff was had at Caltopia, iceblocks were ridden down a hill and all apartmates are accounted for. Free food fills my belly, a won raffle bag stands at my desk empty of spoils and a grim, light bank account sits---
Who the heck is vacuuming at 11 at night? Be quiet neighbors!!!!!!
Dang it.
Continue reading "the night before school" »
---
Posted by Josephine Wong at 3:01 | Permalink
18 August 2009
Summer 09 Recap: Part 1!
Long time no blog!
So besides taking classes for almost the entire duration of my summer "break," luckily I managed to have a few days off to visit the East Coast for the first time! (except I had to miss two classes on the second week of June).
I stayed over at my cousin and her family in Washington, D.C. and then toured around there. I finally saw the monuments, museums, and government buildings I always see on movies! The White House, Supreme Court, Washington Monument, National Archives... there's tons of places to visit there!
My favorite part was being a window away from millions of dollars when I visited the Bureau of Engraving and Printing. It was fascinating to see how money is printed--special type of paper, ink, security features, etc. I also found out that we still produce $2 bills and you can request a bank to get some for you (only if you ask for a huge amount). For souvenir I got an uncut sheet of 8x4 $2 bills (which are legally spendable if I cut them).
Continue reading "Summer 09 Recap: Part 1!" »
---
Posted by John Cortez at 3:38 | Permalink
12 July 2009
It's Sunday, I'm Bored
I just remembered that there was a cool Discovery Channel show on two and a half hours ago. This is one of the times I wish I had TiVo, instead we have TFC, The Filipino Channel. Their erratically scheduled programming includes such wonderful hits such as Wowowee where the male host sings the same song...everyday and further demeans the women (dancers, contestants, cohosts, etc) to:
a) crazy
b) hot pieces of asses (one time they had a beauty pageant, and every question in their Q&A section was about boyfriends)
c) glorified mike holders and question askers
Continue reading "It's Sunday, I'm Bored" »
---
Posted by Josephine Wong at 2:31 | Permalink
10 June 2009
Summer and Scheduling
For better or for worse, in college we are faced with the opportunity to plan our days, months, and years however we want. This means that if we so choose, we may not get a summer at all. In fact, I know very few people who have no summer plans other than hanging out with friends and having fun. Most are either working or taking summer classes. I am doing the latter.
This summer, I am taking Anthropology 1, French 4, French 35, Public Health 162A, and PE 1 with a total of 15.5 units, a load equivalent to a fall or spring semester. A part of the reason is that I receive tuition from Stanford University due to my mother's benefits, but another part is that I am genuinely interested in these classes and they are useful at least to some part of my academic plans (the useful part is how I explain things to my mother), which I will reveal later.
Continue reading "Summer and Scheduling" »
---
Posted by Jade Liu at 3:09 | Permalink
10 June 2009
summer, summer, SUMMER TIME!
For the first time ever in life, I'm blogging! I'm excited but also a little nervous, so bear with me; if I'm not good the first few times don't worry, I'll get better. promise.
Let's jump right into it...
Briefly, I'm an incoming senior this year and ofcourse I'm really excited to graduate! However, that's not what I'm writing about today. I wanna chat with you all about summer sessions. grrr. Although I am a senior this year, this is my first summer here in Berkeley and it's a little stressful. As someone who is a native of Los Angeles, used to clamor and crowds the serene environment here on campus was definitely alarming at first. Never did I think I would walk down Sproul and see virtually no one! I'm taking on eleven units this summer, and although it is below the campus minimum of 13 during the regular fall and spring semesters, it is no cakewalk. Classes are two hours minimum and for the most part, pretty small. I don't know about the rest of you, but I live for large lecture halls filled with people (it seems to make each lecture a little more special), quirky professors that encourage attendance just because they fill each day with a laugh. Also, I have the unfortunate opportunity of class everyday which makes me feel like I'm stuck in a language course; another thing that does not sit well with me is the gravity of the courses, missing a day in summer session is like missing a week and a half. However, I will say, you get the almost impossible luxury of experiencing the one-on-one attention from most classes aaaaaaaaaand you get to meet new students. For those of you who have not given up on your college romance, summer sessions lends the possibility to meet incoming freshman before they are consumed by the larger population in the fall, you also get to meet guest students who are taking classes at Cal for the summer only. I'm running late for class so I'll leave you all with this, summer sessions, from my viewpoint, SUCK! lol BUT THE POSSIBILITIES ARE ENDLESS!!
Continue reading "summer, summer, SUMMER TIME!" »
---
Posted by Jante' Pruitt at 3:49 | Permalink
31 May 2009
Apartment Freedom!
So a couple of weeks ago I was pretty sad about leaving the dorms, but then the realization of having my own apartment set in. YESSS!!! While the apartment has rules I feel like I have more freedom to do what I want in the apartment. I still live near campus so I will still enjoy having the opportunity to wake up at 8am and still make it to class…oh wait my earliest classes next semester are at 9:30 on Tuesday and Thursday. A much needed improvement from last semester where I had class 3 times a week at 8am and 2 days when class started at 9am. When I move into my apartment in a month or so for summer school my first order of business of having my own place is probably get a hamster…yes, for me, this is thinking big.
Continue reading "Apartment Freedom!" »
---
Posted by Fabian Collazo at 5:56 | Permalink
27 May 2009
Vacation, Or NOT!
Or is it?
During the past few days my friends and relatives have been asking when my vacation is. I always say something along this line, "no such thing, I'm doing summer school the entire 'break' ". I usually get responses like, "That sucks!". But is it really a bad thing to do summer classes? Not necessarily.
From my experience with breaks (winter break, spring break, summer vacation), I have an especially hard time bouncing back to studying when school starts again. I have to be very cautious with long vacations because once I start feeling lazy, I just don't want to do anything. It carries over during school and I end up not doing homework. Homework piles up. I then start feeling stressed and hopeless that I have too much to do. It traps me in this cycle, "there's too much to do, I can't catch up, it's hopeless I do not want to bother". Repeat.
It's a terrible feeling! This is why I make sure I have busy breaks to keep the good pace. Two days or three of not having to worry about school work is good enough for me; anything longer gives me a tendency to feel lazy. I also realized that thinking what to do for the day somewhat adds to stress. Summer school gives me a goal to work on. So does summer school sucks? Nope. At least not in my terms.
Continue reading "Vacation, Or NOT!" »
---
Posted by John Cortez at 8:19 | Permalink
About time I finally finalized my summer plans and accepted my summer financial aid! I signed up for Poli Sci 169a for Session A (first six weeks) and Psychology 162 for Session D (second six weeks, philosophy breadth requirement). Until yesterday I was waiting for a seat for Poli Sci 139 (Session D), but I decided to drop it. After I reviewed my academic plans, I found out I can still graduate on time without taking Poli Sci 139 this summer. I might as well take a fun class and practice Japanese before Fall 09—last year I underestimated Japanese and didn't bother studying beforehand… a terrible mistake! >_<
This summer, I will also work less at the library. I want more time to study and hang out with friends; unlike last summer where I just went to work, class, work, and then home. I will also go, for the first time, to the East Coast to visit my cousin in Washington, D.C. I will have to skip about three classes and hopefully this would force me to talk to the professor (and maybe try to get a close contact since I need a second professor for letters-of-recommendation)
Three more weeks! I'm excited to get this semester over with and start a different class!
Continue reading "Summer Plans" »
---
Posted by John Cortez at 8:38 | Permalink
26 February 2009
Summer school!
So I don't have to repeat myself, here's a link to my last year's blog about things you can do during summer... though it's a little too early to think about vacation (http://nature.berkeley.edu/blogs/freshfaces/2008/05/summer.php#more). But if you are thinking of doing summer classes, internships, or research you have to decide soon because spots fill out fast.
Anyways, I decided to take classes here at Berkeley this summer even though I don't really need to. I will take PoliSci 164 (Session A, which starts the week after the last final) and PoliSci 139a (Session D). I personally find it very difficult to bounce back to studying after long breaks (still recovering from winter break 08, sadly). Hopefully my summer classes would keep me busy and prepare me for Fall 09. As far as my college planning goes, it looks like Fall 09 is going to be my hardest semester.
Summer Telebears tip:
Don't be discouraged by waiting lists--talk to the department adviser and ask your chances of getting a class. Most of the time schedule.berkeley won't show the maximum seating until later. For example, when I signed up for PoliSci 164 the schedule says that max is 60 students. But when I visited the PoliSci adviser she showed me that there's actually 90 seating, although it was just set to 60 for the mean time.
Continue reading "Summer school!" »
---
Posted by John Cortez at 0:09 | Permalink
16 January 2009
My Winter Break
And as our winter break comes to a close, here's a recap of what I did.
First things done:
1. watched The Gods Must Be Crazy I & II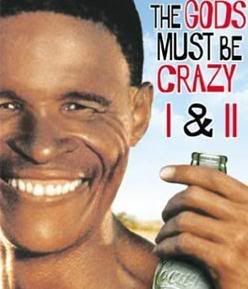 It's an awesome movie if you get the chance to watch it!
Continue reading "My Winter Break" »
---
Posted by Maria at 3:20 | Permalink
26 December 2008
Leaving the dorms and Break
Even though I have been done with school since last Wednesday, I did not leave for home until Saturday morning in order for my parent's pick-up of me to be more convenient. Well I don't regret leaving late because I had an awesome time with my friends who had their Math 1A final on Friday night. After they finished their final we all immediately went around Berkeley and hit up at least seven shops and feasted upon ice cream, burritos, frozen yogurt and plenty of doughnuts. Later that night we watched plenty of youtube until 3 am and it was all a blast. Early the next morning I packed and having a couple of hours went to the street fair on Telegraph and bought a fossil for my little brother and just toured around the place. Back at my dorm, I had to defrost the fridge and unplug all the appliances and just stared outside my window and glared at downtown Oakland and the Bay and felt an uneasy sadness about leaving behind Cal even though it was for only a month. My farewell was pretty somber since I was the last to leave my hall so I just left my dorm with the only noise being that of my ipod.
Continue reading "Leaving the dorms and Break" »
---
Posted by Fabian Collazo at 0:28 | Permalink
21 December 2008
Winter break plans
Few things I want to fix before Spring 09 semester starts.
1) Sleeping schedule from 11pm-7am. I was able to do this when I lived in the dorms last year, but when I started commuting everything has been shifted 2 hours later. I'm not sure if this has anything to do with me feeling sleepy and needing more naps this semester.
2) Eating schedule. No more 11-2pm classes, so now I can eat lunch at noon.
Now for my winter break plans.. nothing that much since it has been raining a lot recently. I might probably just stay at home and
1) Play World of Warcraft (sigh... why am I playing this game again.. anyways I am on Dunemaul (A) and Frostmane (H) )
2) Watch Rurouni Kenshin/Samurai X
3) Be a driver for my mom when she visits from my home country
4) Tennis.. but the rain!!!
Continue reading "Winter break plans" »
---
Posted by John Cortez at 8:44 | Permalink
01 December 2008
Gift Ideas
Happy December! It's pretty incredible that there's only about 10 days left of actual classes before Finals. Most of us have a lot to think about: school, family, friends, and the holidays. I was thinking about this last point today--more directly, about gift ideas. Many of us, though, being students, are short on cash. Given this, I started to think about what gifts have meant the most to me and what gifts I would most like to give this season. Sure, there are books, electronics, and video games that I
really
enjoy. In addition to these, however, there are gifts that I've enjoyed even more because they were meaningful to me.
Look into adopting an endangered animal, a plot of land, or tree, for example, in the name of someone you care about who cares about these issues. Some organizations include:
Defenders of Wildlife
(I adopted a Dolphin for my girlfriend here a couple of years ago and had someone adopt a Panther in my name last year!), the
World Wildlife Fund
(we adopted a Polar Bear for my girlfriend's sister), and
Adopt a Tree
.
Being socially conscious individuals at Berkeley (for the most part), another great idea is to gift in someone's name to a non-profit that works for a personally--from the perspective of the recipient--salient issue. One
local
non-profit I found is
Seva
. They're located in Berkeley and have programs in 10 countries
and
Tibet that range from sight restoration to women's empowerment. They also focus on healthcare and education--two particularly important areas in development. Check out Seva's
Gifts of Service
page.
So this holiday season, give a meaningful gift if you can! Your recipients will enjoy them. I know I did! If you have any other gift ideas, post them up. I'm always looking for useful, relevant, and purposeful ones.
Continue reading "Gift Ideas" »
---
Posted by Juan at 3:29 | Permalink
26 August 2008
Lake Tahoe
So if you've been reading my posts, you'll know that I've been volunteering at a Neuroscience Lab. I did that for about five weeks, but the last week before I went back to Berkeley, my family and I went camping in Lake Tahoe.
Lake Tahoe is about three hours northeast of Berkeley. It's on the border between California and Nevada. It was really awesome up there! This camping trip totally made me feel satisfied about my summer. It was just really relaxing and it felt nice just spending time with my family.
Continue reading "Lake Tahoe" »
---
Posted by Victoria Eng at 2:21 | Permalink
16 August 2008
Watching Live - a little break before school, again
(warning -- Tennis Olympics spoilers)
So I went to sleep at 1:15am and set my alarm to 3:00am.
More like a nap.
All this for Olympics tennis! Watching Djokovic and Blake right now fight over the Bronze medal. This is unusual for both because rarely in tennis players try to win for a consolation prize. Both have lost their semi's match against Nadal and Gonzales respectively.
For the Gold and Silver medals, Rafa Nadal of Spain goes against Fernando Gonzales of Chile. As far as tennis Olympics go, it's been rare for top 5 players to win Gold. It might be an exception for Nadal this time. Having beaten Federer in his homecourt (Wimbledon) and stealing away his #1 ranking in two days, can Nadal ...
----CUT--- (something happening with Venus and Serena Williams' doubles match)
Continue reading "Watching Live - a little break before school, again" »
---
Posted by John Cortez at 3:47 | Permalink
Hey! I haven't posted for a while...I've actually been busy volunteering at a Neuroscience Lab at the Research Institute of the Children's Hospital of Orange County. I haven't really done much. It's mostly just shadowing this lab technician guy and this other scientist.
So, enough about work. Summer's for fun! About one and a half weeks ago, I went to the Orange County fair with a few friends. The fair goes on til August 3rd, so go if you want! It only costs $2 to get in, but you have to buy tickets to go on the rides...each ride is about $4...so it's not really worth it for the rides. I'm really scared of heights, so roller coasters totally freak me
---
Posted by Victoria Eng at 9:57 | Permalink
28 May 2008
What to do over the summer...
Summer break!!! I'm not taking summer school or anything, so I'm trying to get some clinical experience down here in SoCal. ...not as easy as it sounds....I sent in volunteer applications in February or March to a number of hospitals, but none of them got back to me. So far, I've dropped by two hospitals to ask them in person about the volunteer opportunities. One of them gave me a phone number that no one answers and the other one gave me an application.
Continue reading "What to do over the summer..." »
---
Posted by Victoria Eng at 6:36 | Permalink
After studying for 8 months, now time has come to take a break! Or do something else studying, but in case you insist on studying then yes, you can do summer school. But for those who has no clue what to do this summer, here's a list of some things you can do.
Continue reading "Summer !!" »
---
Posted by John Cortez at 6:48 | Permalink
13 May 2008
Summer!......almost!
Yes, as I should be studying for finals now, I am thinking about summer. I find that taking intermittent breaks like now help me concentrate better. Anyway, as I ask many what they are doing in the summer, as I still don't have an actual plan, most of course, are going back home. Others are taking classes, and others, are getting summer jobs and volunteering activities to fill up their summer. Wow, for most, we're actually going to be back in our parents' homes for 3 whole months!! It's going to take a while to adapt back to my old life.haha. Well, for my summer, I plan to learn how to cook since I am going to live in an apartment next semester! yay! Other than that, I plan to relax, have fun, get a tan, exercise, and spend time with my family! Nothing like a homecooked meal and my OWN ROOM!!!! What are your plans? Get ahead and think about making your summer productive and worthwhile!
Continue reading "Summer!......almost!" »
---
Posted by Casey Wang at 1:02 | Permalink
05 April 2008
Spring Break
Can you believe that this will be the only break we have until the end of the semester!!?? It's ridiculous. Now, we have 5 more weeks until finals.... time sure does fly. Spring break was fun- I went to San Francisco and it was actually WARM! My friends and I went to City Light Bookstore and it was really cool because we got to read books written by the owner of the bookstore! I never knew I would love poetry so much until I went here. Then, I went to Pier 39 and walked around looking at all the shops there. Oh my gosh!!! There was this cute musical box store that had hand made italian made music boxes that were so lavish and intricate and beautiful!! but everything in it was like 800 to 1000 dollars!!!! It was mental anguish i tell you...:(
Continue reading "Spring Break" »
---
Posted by Casey Wang at 1:47 | Permalink
24 March 2008
Spring Break
YAAAAAAAAAAAAAAAAAAAAAAAAAY!!! Wait....except I have a paper due on Monday and two presentations due on Tuesday. That basically sums up what I'll be spending this week on. Well that's not too bad because I've decided to go visit family in Palm Springs because I need a break. Even if I'm doing homework at least I'll be by the pool! This semester has kept me extra busy, I don't recommend 17.5 units and 15-20 hours of work. Yes it's possible to do it, but it's really not that much fun. On a side note...I got my first C+ on something in college. I'm really annoyed because 1/3 of the class got D's and they get to re-write their papers but I don't and my grade is close to being just as bad. I plan on spending every waking hour of break working on my second paper...okay so maybe I'll spend some time in the pool, but I am determined to get an A on my next paper now.
Continue reading "Spring Break" »
---
Posted by Marissa Ponder at 8:53 | Permalink
05 February 2008
Summer Plans?!
I know it's a bit early to worry about my plans for this summer, but I just can't seem to decide what to do this summer. I've created two options for myself:
(1) Stay at Berkeley and take a summer course (maybe Chem 3B/L, Physics 8A, Bio 1A/L, or Bio 1B/L...any suggestions?), continue working at Moffitt Library, and maybe find a clinical positon...
OR
(2) Go home to SoCal, take Spanish somewhere, and find a clinical or volunteer position
Continue reading "Summer Plans?!" »
---
Posted by Victoria Eng at 0:00 | Permalink
03 February 2008
Bunnies at the Oakland Animal Shelter
Do you like bunnies? They're soft and fun to pet.
Well, even if you can't have one in your apartment, I know of a great place to go and visit them in the afternoons. The bunnies at the Oakland Animal Shelter will welcome your pets and affection, even if you do have to put them back in their cages and go home without them.
At the Oakland Animal Shelter, they take care of a couple dozen rabbits. With their no-kill policy, excellently trained volunteers, and plentiful healthy hay, they take great care of their rabbits. Unfortunately, they're trapped in little boxes in a back room for most of the day, with tons of hay and good sanitation - but still, not much room to hop or folks to cuddle with.
If you find some free time, you should definitely go to keep them company!
To get there from campus with your free bus pass, take the 1R line (#1lx/1) from Telegraph Ave. in the direction of the Bayfair BART station.
Here's a website that tells you all about the available dogs, cats, and rabbits in Oakland:
http://www.oaklandanimalservices.org/index.php?z=4
If you live anywhere in the United States, here's a great resource to help you find your new companion. With Petfinder, you can search all of the animal rescue centers nationwide, by zip code or city name:
http://www.petfinder.com/
Continue reading "Bunnies at the Oakland Animal Shelter" »
---
Posted by Christina at 0:56 | Permalink
The yuletide relaxations have been concluded and now our hero set forth to smite his final semester at UC Berkeley. Last semester was a mind bending decerebrational dropkick of sub-epic proportions. This semester he will surely be transformed into a photo-phobic corpse of the benevolently peering sort. Yay philosophical zombies!! Speaking of which you should all submit to Jonathan Coulton's
Re: Your Brains
.
---
Posted by Eric Thurston at 5:03 | Permalink
07 January 2008
Letters from Winter Vacation
I try hard to monopolize your attention. This time my new tactic is to write during vacation when I assume that nobody else is writing because their lives do not revolve around school like mine does. Yes. Today I am going out to buy lead for my pencils - this day is rife with excitement and pregnant with pungent anticipation. I am very picky about my pencil lead. I only use 0.7 mm 2B lead because it gives me the darkest line and the strength to hold up under my hard pressed hand.
Being on semester schedule is unusual. All my other UC friends are on the quarter schedule so their classes start today. This essentially leaves me with more reading and eating time. I wonder if this semester thing is a plot from Berkeley to deliberately isolate itself and its students from the rest of the system. The chess club in my high school did this too and it lead to two things: 1) Unparalleled chess genius-ry - I mean seriously. They'll win even if they give you their queen and let you continually beat them over the head with it. and 2) They danced with only themselves during the school dances.
My search for peace, purpose and good TV reception on CBS continues. I HAVE to watch the Patriots game on Saturday even if it means me wrapping myself in aluminum and sticking my arms out of a 2nd story window.
Continue reading "Letters from Winter Vacation" »
---
Posted by Jonathan Yu at 6:18 | Permalink
31 December 2007
New Year's Eve!
Happy New Year's Eve, everyone! To think that a whole year has already gone by...2007 is fast drawing to a close.
The celebration of the new year is rather low-key in my household. No big parties, no fancy dinners (in fact, our food is rather pedestrian in comparison to some of the feasts I've heard other people entertain), no drunken revelry. Usually we have a few families from our church gather together, chat, and eat before the New Year's Eve service.
In fact, we're having one of those dinners right now. This year, the gathering is at our house. The adults are talking in the sitting room, while we kids (yes, kids) are scattered in different parts of the house. My brother is working on AP Bio homework with some friends, and a couple other friends are here. Soon we will join the adults at the dinner table for some Dduk Guk (a Korean dish traditionally served to welcome the new year, the name means "Rice Cake Soup").
Again, it's not a very fancy or fanciful celebration, but it is what it is. I don't think I'd be able to handle a loud, raucous party, anyways.
Continue reading "New Year's Eve!" »
---
Posted by Joel Kim at 8:58 | Permalink
28 December 2007
Sand, Steel, and Swings: Christmas at the park with my brother
On Christmas day, my brother and I were alone in the house. My mother was still at work at the hospital, and my father had gone to the meditation center for his afternoon session. Dale was working on AP Bio homework, and I was just lounging around the house, looking for something to do.
Bored and a little edgy from spending so much time indoors, I decided to go for a walk. After a moment's thought, I took my brother with me. No sense in keeping him locked up indoors, you see, and I figured he would enjoy some fresh air.
We bundled up as best we could and soldiered into the night air. The Santa Ana winds were blowing something fierce, and the shrieking winds brought a strange eeriness to our friendly evening street. We headed for the park, my brother on rollerblades, myself on foot.
After a brief excursion onto the tennis courts, where we played tag and whacked each other with sticks, we arrived at our destination. The playground. A modest ensemble of plastic, metal, and sand, it had served us well in our youth in amusement and sport. Seeing it now, after such long years at college, brought some comfort. There was no one else around; no one else was foolish enough to come out at this time of night to a playground beset by such winds.
Continue reading "Sand, Steel, and Swings: Christmas at the park with my brother" »
---
Posted by Joel Kim at 2:35 | Permalink
27 December 2007
San Diego!
So I took my first trip to San Diego about three weeks ago. I'm originally from Miami and had never been down there even though I'd been living in California since 2003. It was a great trip! The flight only takes about an hour or hour and a half. Being used to flights back to Miami, this short trip was a very welcomed change. We actually went to meet my mom who I hadn't seen in almost a year. The only "bad" part was that the trip was the last week before finals began lol. Anyway, I wanted to share some pictures. Most of these are my girlfriend's pictures since my camera broke the first day we were out there.
Click to view larger


Flickr
Continue reading "San Diego!" »
---
Posted by Juan at 2:16 | Permalink
25 December 2007
Winter Break (In-N-Out)
Last Saturday my friend drove me down from Berkeley to LA. There were four of us in the car; Ezra (the driver), Milton, Danny, and myself. We had to leave early, because Milton had to be at a wedding at 5. Half an hour out from Berkeley, he realized he had forgot his suit, so we had to turn around and get it. So we left Berkeley around 10.
For those of you traveling by car from the Bay Area to Los Angeles, prepare for a long ride. Luckily we didn't have too much traffic, but I have heard some horror stories. One friend was driving up right after the Thanksgiving break. He left his home at 1 PM. By the time he had picked up everyone else and gotten to Berkeley, it was 1 AM. He resolved to never make the mistake of leaving so late again.
The car ride was uneventful. We talked, laughed, and joked around. These three guys are from my fellowship, which is the closest circle of friends I have at Berkeley, so we had a lot of in-jokes and fun memories to share.
We stopped at an In-N-Out for lunch. For those of you not familiar with it, In-N-Out is a popular fast food chain in California. They are known for their quality burgers and great customer service. In-N-Out is noteworthy in that it pays its employees $10.50/hour, as opposed to the California minimum wage of $8.00/hour (which is higher than the federal mandated rate of $5.85/hour). I really do enjoy their burgers, their fresh ingredients and their tasty fries.
Continue reading "Winter Break (In-N-Out)" »
---
Posted by Joel Kim at 7:48 | Permalink
07 December 2007
Provision of Gratitude
Over the Thanksgiving break, I went home to Granada Hills and relaxed with my family. I drove down with a few friends on Wednesday and got home around midnight. Some things had changed; my brother had put in a big mat in the middle of the living room to practice his break-dancing. My family greeted me with a hug and sent me off to bed. However, even though I was really tired, I stayed up until 3 AM playing Lumines on my brother's PSP. I guess some things don't change as much.
Continue reading "Provision of Gratitude" »
---
Posted by Joel Kim at 4:13 | Permalink