March 16, 2011 10:06 PM
Let's talk about Extracurriculars!
I'm sure that those of you who follow the blogs have seen many a post talking about academics. We have talks about Telebears, talks about majors and classes, and so on. But, say that you already know what you want to do with your academics, and you want to know more about what types of organizations you can get involved in.
You can find all types of organizations at our all-encompassing Students Affair Information Gateway for a list of every single club on campus. As listed, they have different categories ranging from academic to cultural, arts to service. If you start browsing through, it could definitely take you some time to go through all of them. Maybe even hours. Not that you should.
You want to know an easy way of talking to club members one on one to find out more about them? Easy (and you should all already know)! Sproul Plaza! While it can be considered a "death-by-flyering" area, if you're ever looking into ways that you can become active in the community, you should definitely look around Sproul Plaza (or, at the beginning of the year, attend Calapalooza) and talk to the people who are sitting, waiting and waiting for someone to inquire about them.
Trust me. I've been there.
To give you an example of a service organization and what type of activities you can do, I will be talking about the service organization that I'm highly involved in, called Cal Rotaract.
Cal Rotaract is a service organization that has been around since 2000. The Berkeley chapter is focused on 4 different pillars: service, fellowship, professional development, and committees.
Service
As a service organization, one of our highest priorities is having service projects for our members to participate in. Sometimes we partake in projects such as Berkeley Project and Relay for Life. Other times, we volunteer as a group at the Chaparral House, a non-profit intermediate care facility for the elderly. We've had so many projects dispersed throughout our club and under committees. You'll find more examples of our service projects under the Committees section.
One of our most recent projects, though, was participating in Water Writes Oakland hosted by the Estria Foundation. We essentially joined the Estria Foundation in creating a Water Mural on a 3000 square foot mural in dedication to local and global issues of water! Here are some pictures depicting the morning shift results:
Committees
It's natural to talk about committees right after service. Committees are smaller meetings that occur biweekly and offer members the chance to actively participate in a certain cause. We have three committees, each one dedicated to either local, national and international service.
In our local committee, our committee heads direct their members in helping aid the local community around us, tackling projects such as education (in the past, we've had tutoring for elementary school students, and more currently, we are focusing on youth programs and more.)
In our national committee, we participate in larger projects such as fundraising for Relay for Life and conducting an annual bone marrow drive.
In our international committee, we focus on sending useful tools overseas. We engage in different projects such as fundraising for Vitamin Angels (which provide vitamins for children overseas) and fundraising to eradicate Polio. Our semi-annual project-one that all of our members seem to love- is construction of the Water Pasteurization Indicators (WAPI). WAPI's are small and simple devices that allow the user to determine when water (amongst other liquids such as milk) has reached pasteurization without reaching boiling point. This allows them to not only conserve essential and necessary resources but also allows them to make sure that they do not contract water-transmitted diseases from WAPI-verified liquids. WAPI's cost only 42 cents yet have such high impact on people in third world countries. It is truly one of our most meaningful projects at Rotaract, and we may be hosting one in the coming month!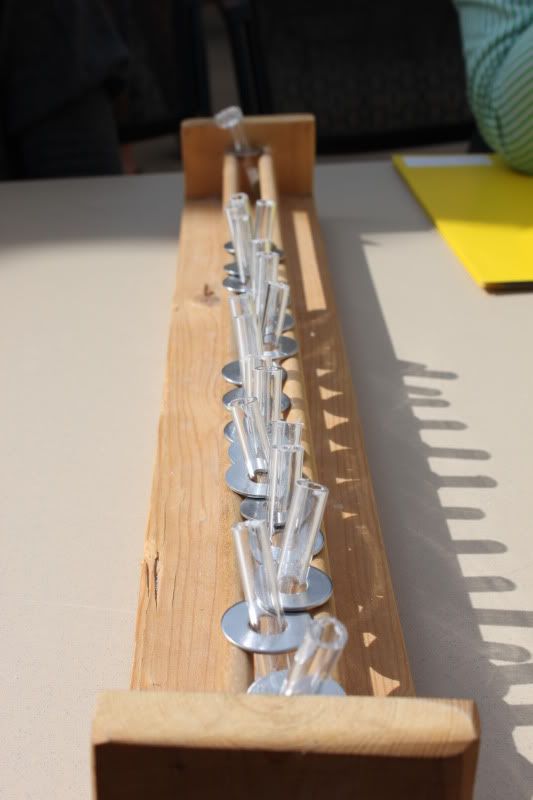 A line of WAPI's waiting to be sealed.
Forming the hook that prevents the WAPI from falling into heating water.
The final version of the WAPI.
Professional Development
If you've ever been in Interact (the high school version of Rotaract), then you would definitely know that Cal Rotaract is affiliated with Rotary, one of the largest service organizations in the world comprised of business and professional leaders. With their help, we've established professional development as one of our pillars.
You'll find that we not only provide resume and networking workshops, but we will actually host "Dinner with Rotarians" where you can interact with Rotarians and learn more about their path to where they are now today and their profession. You can also get career advice or learn about different career-paths, and the activities and classes that will get you to that final endpoint career.
Fellowship
Last, but not least, we have our fellowship. Our club is big but we try to make everyone feel welcome through families. The members are divided into families and are able to get to know other members during socials or friendly family competitions. We take our families to fun events such as karaoke or to cool places such as Fenton's!
In any case, this is but one example of a service organization that you can get involved in. Don't hesitate to ask and explore- there are so many things that you can participate in that can help to impact the world around you!
---
Elodie Tong-Lin | Permalink | Comment on this article | Comments (0)
Comments (0)
There are currently no comments.
---
Post a Comment