Green Chemistry Wins $3.4 Million Grant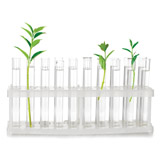 This summer the Berkeley Center for Green Chemistry was awarded $3.4 million to train Ph.D. students in the principles of green chemistry and the design of clean-energy technologies. The grant supports the Systems Approach to Green Energy program, which aims to develop a generation of scientists, engineers, toxicologists, policy makers, and business leaders well versed in the principles of green chemistry and clean energy. The program will use a systems approach to foster technology innovations in solar energy, biofuel, and energy storage systems.
"We will bring together disciplines that don't speak the same language and not only get them to talk, but also work together toward creative solutions to our pressing need for sustainable energy solutions," said Chris Vulpe, associate professor of nutritional science and toxicology and principal investigator (PI) for the grant.
Co-PIs are John Arnold, a professor in the Department of Chemistry; Alastair Iles, an assistant professor of environmental science, policy, and management; and Thomas McKone, a senior staff scientist in Lawrence Berkeley National Laboratory's Environmental Energy Technologies Division. The grant, from the Integrative Graduate Education and Research Traineeship, the National Science Foundation's "flagship" interdisciplinary training program, supports five to six Ph.D. students annually for five years.