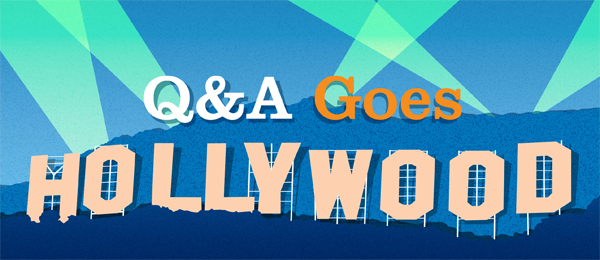 Big breaks, creative challenges, and projects spanning TV, film, and multimedia — alumni in the entertainment business talk to Breakthroughs
Richard Brandes
Conservation of Natural Resources '86
Independent Filmmaker
Current project: A documentary titled Divided State of America that focuses on current political, economic, cultural, and religious differences and divisions in the United States, as represented by the art of San Francisco muralist Chor Boogie. Chor was commissioned to do the work by Nirmal Mulye, an immigrant and very accomplished entrepreneur with an "only in America" success story of his own. The work will travel the United States this fall as part of a series of public events that are being staged with the goal of bringing America together and inspiring dialogue and action toward resolving the country's divisions.
CNR influence: I'm active in politics and various environmental causes personally, and professionally I look for opportunities in my productions to have as little adverse impact as possible on the environment and to "go green" whenever possible, including instilling these sensibilities into my fictional stories and characters.
Big break: Originally I came to LA to pursue a career in acting, but pretty quickly found myself drawn to the other side of the camera. I was fortunate to be in an acting class that encouraged my writing, and I performed a scene that I had written in a showcase for some talent agents. A few months later I bumped into one of those agents and it turned out he had started producing films. He remembered how much he enjoyed my scene, so when I told him I had written a script, he asked to read it. He liked it so much that his company ended up hiring me to write their next four films! The funny thing was that I was going to UCLA that afternoon to submit my application for their master's in film program, but ended up missing the deadline because of that chance encounter. Of course, the meeting made it unnecessary to go back to school; I was fortunate enough to learn the craft of filmmaking by observing and getting involved in making those first films, and from there I branched out into directing and producing as well. 
Name drop: I do have some celebrity stories I could tell, but the most interesting ones are usually the ones you don't, or can't, really talk about! Maybe it's best just to say that everything you hear about Hollywood is true and then some.
Best thing about the entertainment business: The opportunity to scratch that creative itch — something I've had in abundance since childhood. I suppose you could say in that respect it's allowed me the luxury of never having to grow up. To be able to use my imagination, put something down on paper, and then work to make it come to life is very satisfying and rewarding. And then to have people from all over the world see it and enjoy it and respond to it makes it that much better.
Worst thing: As an independent filmmaker, every day I pretty much start from scratch — I don't have the security of a 9-to-5 type of job and a steady paycheck. But then that's also one of the things I really enjoy about it! Every day, every story, and every project is unique, so there's always a new challenge, someone new to work with, somewhere new to visit or work. 
Favorite advice: It was something my father told me when I was a kid. He said no matter what you do in life, do something that puts a smile on your face, something that makes you excited to get out of bed in the morning. I've tried to follow that advice ever since!
Lauren Selman
Conservation Resource Studies
and Theater Performance Studies '07
Founder, Reel Green Media, Director of Production and Operations, Ecovations
CNR's impact: While attending Berkeley I blended my majors and wrote my senior honors thesis on the environmental impact of entertainment. I had the opportunity to interview industry professionals who later became my work network. After graduation I founded Reel Green Media, an environmental consulting company dedicated to helping "green" the entertainment industry both on and off screen. It has since generated a cottage industry where consultants are now hired on productions to assist them in being more sustainable. My thesis literally influenced an environmental shift in the entertainment industry. How cool is that?
Interesting projects: Since graduation I have had the opportunity to work on incredible projects, including the Golden Globes and Vancouver Olympics, and on hit productions like Fox's It's Always Sunny in Philadelphia and Ambush Entertainment's Every Day and The River Why. I had a blast making my documentary, Greenlit, with director Miranda Bailey in 2008. It was a great learning experience to have people watch me try to make a difference and capture the difficulties in the process. I was also very proud of two amazing events I did with Fox last year. For the Teen Choice Awards we produced an "energy playground" where visitors to the infamous Hollywood and Highland had the chance to ride bikes and run on a human hamster wheel to produce energy to offset the energy used at the awards. The other was working on the 63rd Annual Emmy Awards, where we had a comprehensive waste management system, sustainable signage, and the largest solar installation for a red carpet of its size! 
Big break: I was hired to green a feature film, La Mission, starring Benjamin Bratt, which was being filmed in San Francisco. I was brought on board to implement environmental initiatives like composting, sourcing sustainable products, and eliminating the use of bottled water. I was a one-woman show and would spend up to 14 hours digging through the trash and managing our programs. So one could say that I broke into this industry through garbage. 
Best thing about the entertainment biz: I find myself surrounded by creative people who are constantly busy. Also, this is a fast-moving industry where people like to get stuff done, which I love. You get to work with teams for a specific period of time. There is a clear beginning, middle, and end (kind of like a college paper). There are definitely moments when I feel that we are a bit like a nomadic or carnie culture, setting up a project and moving on. It definitely appeals to my nomadic and adventurous spirit. 
Worst thing: When you are an independent contractor, you are constantly working to work more. If you're on a production, it is difficult to establish a routine — you may start at 3 a.m. one day and work 14 hours, and another day start at 6 p.m. and work 12 hours. Six p.m. yoga classes go by the wayside when I'm on a show.
Favorite advice: Simply to take the risk and not be afraid to fall. The green industry is the Wild West — we are discovering and choosing how we want to live, work, and play into the future. The entertainment industry, similarly, is known to be risky and not certain. Whatever it is that you want to do, trust yourself and take the leap, and if it doesn't work out, choose again. 
Chelsea Congdon Brundige
M.A. Energy and Resources Group '86
Producer, First Light Films
Current project: I am helping to produce Wildways: Corridors of Life, a powerful and inspiring documentary on the global biodiversity crisis. Focused on cutting-edge solutions, the film explores how interconnected, protected corridors can allow wildlife migration and adaptation to climate changes. Stunning images of wildlife encounters and stories of passionate conservationists will engage audiences in crucial questions: How large must parks be for native species to survive? How can we offer safe room to roam in fragmented landscapes? The film illustrates a new vision of habitat preservation on a continental scale, known as connectivity conservation, and will be the keystone of an ambitious outreach effort to educate and galvanize public audiences, students, conservation philanthropists, and governments to confront the crisis of biodiversity loss.
ERG's influence: At ERG I focused on the complex issues of western water management and the competing needs of cities, agriculture, ecosystems, and Native Americans for water in the West. In my research and years of work at Environmental Defense Fund and other organizations, I was looking for opportunities to "re-set" the conversation — to negotiate about water in a way that reflects its limits in this arid land and a long-term vision for the region. That's a stretch, but 20 years of working on western water issues has helped me learn that real change on the ground depends on people learning new ways of looking at a problem, its solution, and their part in reaching that goal. So change is really about finding and adopting a new narrative, a new story. And film is a powerful way to tell a story.
Big break: I decided to try my luck at documentary filmmaking when a friend and fellow grad student asked if I wanted to help produce a film on sprawl. Now generally, if you think about a "good" film, you don't think about sitting down for an hour to watch a film about sprawl. But we were pretty creative, and quite lucky. Subdivide and Conquer: A Modern Western was broadcast on PBS in 2000-2001, when communities all over the country were voting on open-space funding. We took it to hearings on Capitol Hill and to smart-growth conferences everywhere.
Name drop: Robert Redford agreed to introduce and narrate our film Forever Wild: Celebrating America's Wilderness, which celebrates America's commitment to wilderness preservation. Redford is a long-time advocate for wilderness and public lands. When I told my children that we were going to his home to work with him on the introduction and narration, they just looked at me and asked, "Who's that?" New age, new idols.
Best thing about the entertainment biz: I don't know that I am really in the entertaining business. I am very much in the conservation business, trying to inspire people to take action to live more conscientiously and sustainably on the planet. For all of our time, people have passed their values and beliefs along to one another in stories and myths. That is why I make documentary films — to try to create change through fresh and thought-provoking treatments of contemporary environmental and social issues.
Worst thing: Fundraising is tough.
Favorite advice: On a trip down the Yampa River with a friend, I shared my impatience and deep frustration about how little change I seemed to be able to make in all my years in environmental work, though I have contributed to some. "We are all part of the tribe. It takes the tribe," he said. That helps.
Peter Hammersly
Conservation of Natural Resources
and Mass Communications '81
Senior Director of Content, NBC Entertainment Digital
Projects: Our group creates websites, Facebook pages, blogs, and other digital extensions of NBC prime-time and late-night shows. I work on everything from The Office to Saturday Night Live to The Voice, plus new shows as they get greenlighted. I also work on special programs and projects, like NBC's Green is Universal campaign. I am happy to report there are times when I actually get paid to watch TV.
Before jumping feet first into digital, I produced television for about 20 years. It's hard to pick out the most interesting project, but the eco-travel series I produced, Earth Journeys with Christopher Reeve, for the Travel Channel was certainly enjoyable, as were several programs I helped create and produce for TechTV, the technology-focused cable TV network that was headquartered in San Francisco's South of Market district. It was an amazing group of people working in a homegrown company that was years ahead of its time.
CNR influence: CNR's cross-disciplinary approach really prepared me to handle a wide variety of assignments. It may sound odd, but a curriculum that covered everything from ecosystemology to quantitative reasoning to public policy enabled me to talk to almost anyone in any situation and find common ground and understanding. I'm inherently a generalist and CNR fit my educational needs perfectly. It also didn't hurt that I worked a lot of oddball jobs in college, like fighting forest fires, fixing houses, and selling door to door.
Big break: I originally intended to work in environmental journalism but caught an early break on KRON-TV's local travel show, Bay Area Backroads, as a researcher. For a local boy who loves the outdoors and local history, there simply was no better job. I literally had carte blanche to research and visit any place I thought people might be interested in knowing about. From there I caught the producing bug bad and worked in the field for about 10 years, producing all sorts of TV all over the place.
Name drop: I'll skip the name-dropping, but I will say that telling terrible jokes to captive stars while we're waiting out technical delays is always fun.
Best thing about the entertainment biz: You literally work in a dream factory. If someone can imagine it, it can be done, as long as there's money.
Worst thing: It's tough being away from my native Bay Area. There are so many things I miss, including San Francisco, redwoods, Tahoe, fog, the Giants, and sourdough bread. And entertainment can be a pretty fickle mistress. Even if you find some success, the business continues to go through incredible changes, so it's like jumping into a new career every few years.
Favorite advice: Never stop learning. Do your best work always. Be nice to people. Enjoy the moment.
Want to share your own entertainment-related story? Find this article on the Facebook alumni page.