PHOTOS: Sarah Marquart
Glenda Humiston
2009 Ph.D. Environmental Science, Policy, and Management
Having already achieved several career high-water marks, including serving as deputy undersecretary for natural resources and the environment at the United States Department of Agriculture (USDA) under President Clinton, why would Glenda Humiston head back to school for a Ph.D.? After working on several farm bills, Humiston says, she was frustrated with the failure of U.S. agricultural policy to address sustainability.
"I had some ideas and opinions about what the U.S. farm bill ought to look like, but I needed to flesh them out. The Ph.D. program was a chance for me to really explore my ideas, as well as other policy proposals, then research and test them to develop something better."
Humiston's Berkeley experience turned her thinking around. She came into the program convinced that if she could just make the business case for moving away from commodity subsidies and shift agricultural policy to a framework based on ecosystem services, the result would be good policy. Now she sees that as a little naïve. "What I came to realize was that U.S. agricultural policy needs a massive paradigm shift. It's a change initiative that's needed, not simply an information campaign," she says. Her dissertation was an eight-point plan for how to pursue that shift.
The road to her realization had some high points. Keith Gilless, a forestry economics professor and dean of the College of Natural Resources, recommended that she spend two years taking classes across the entire campus. She soaked up topics in law, business, public policy, sociology — even city and regional planning. "Keith understood that I was trying to look at this notion of sustainability and find new ways to balance the economy, the environment, and social equity," she says. The cumulative experience allowed her to see the big picture in a new way. Humiston also credits energy and resources professor Richard Norgaard's class on ecological economics for new insights supporting her long-standing doubts about many of the assumptions that underlie modern economics.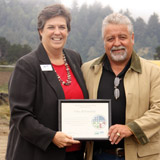 Appointed by President Obama in 2009 as California state director of the USDA's Rural Development office, Humiston is now pouring her 25 years of service and education into programs that serve Californians. Her Great Regions Initiative, for example, uses industry clusters to strengthen the connections between urban and rural regions, and to create jobs, economic opportunities, and, ultimately, healthy communities. "We're trying to get urban areas more closely integrated with their surrounding rural areas," she says. "We need to start making those linkages."
In the Fresno and Los Angeles/Orange County regions, for example — one of five regional partnerships in the initiative — the project is trying to create a sister city–type relationship focused on food. "For the Fresno region we're looking to get more value added on processing and handling of the food there, which will create jobs, and as we move some of that produce to the Los Angeles and Long Beach ports for export, we want to piggyback food going to the people of LA and Orange counties, so they get fresher, more locally grown food." Working with partners like the California Endowment, the project is also targeting food deserts, where people have no access to healthy food choices.
"We're trying to get urban areas more closely integrated with their surrounding rural areas. We need to start making those linkages."
Humiston has also organized a program to improve access to capital — everything from microfinance to bank loans for Main Street businesses to more creative mechanisms, like local stock exchanges. Two major drawbacks of the global economy and Wall Street's financial clout, she says, are that regional connections have become fragmented and much of our local capital has been siphoned away from local needs. "The more I've dug into these issues, the more I realize we really have to bring our capital back home," she says. With her just-published Access to Capital guidebook for local businesses, she took another step toward that end; reviewers say it could be a game-changer on this challenging issue.
While Humiston is a seasoned Washington veteran, she's no carpetbagger in rural America: she grew up on — and helped manage — a cattle farm in southwest Colorado. "I'm totally a farm kid," she says. "I've worked in rural communities my entire life." She was active in 4H and community service, and even won a national citizenship award as a teenager. But what she calls a "restless spirit" took her to the Peace Corps in Tunisia, where she became interested in policy and economic development, driving her to earn a master's in international agricultural development at UC Davis.
Sustainable agricultural policy, economic development, rural populations, and public service … Humiston says she feels fortunate that her passions are all converging professionally. "Right now I've got the perfect job to apply the disciplines and ideas that I've been involved with my whole life."