Disabling an Enzyme Cripples Cancer Cells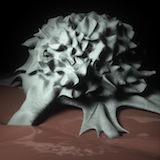 Knocking out a single enzyme dramatically cripples the ability of aggressive cancer cells to spread and grow tumors, offering a promising new target in the development of cancer treatments, according to a UC Berkeley study published August 26 in the journal Proceedings of the National Academy of Sciences. The research sheds new light on the importance of lipids, a group of molecules that includes fatty acids and cholesterol, in the development of cancer.
Researchers have long known that cancer cells metabolize lipids differently than normal cells. Levels of ether lipids — a class of lipids that are harder to break down — are particularly elevated in highly malignant tumors, although the nature of that correlation has been unclear for decades.
"Cancer cells make and use a lot of fat and lipids, and that makes sense because cancer cells divide and proliferate at an accelerated rate, and to do that, they need lipids, which make up the membranes of the cell," said the study principal investigator Daniel Nomura, assistant professor of nutritional sciences and toxicology. "Lipids have a variety of uses for cellular structure, but what we're showing with our study is that lipids can also send signals that fuel cancer growth."
In the study, Nomura and his team tested the effects of reducing ether lipids on human skin cancer cells and primary breast tumors. They targeted an enzyme, alkylglycerone phosphate synthase, or AGPS, known to be critical to the formation of ether lipids, and found that inactivating it substantially reduced the aggressiveness of the cancer cells. "The cancer cells were less able to move and invade," said Nomura.
The researchers also found that in mice injected with cancer cells, disabling AGPS resulted in no tumor growth, whereas mice with the enzyme intact rapidly developed tumors.
Future steps include the development of AGPS inhibitors for use in cancer therapy, Nomura said. The study co-authors also include Kunxin Luo, professor of molecular and cell biology and faculty scientist at Lawrence Berkeley National Laboratory.
— Adapted from an article by Sarah Yang