Sensing Distant Storms, Birds Flew the Coop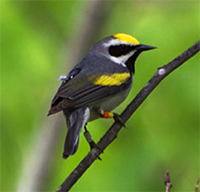 When birds unexpectedly flee their nesting grounds, it may be an indication from Mother Nature's early-warning system that a massive storm is approaching.
While tracking the migratory patterns of a group of golden-winged warblers, a research team led by ecologist Henry Streby discovered that birds in the eastern Tennessee mountains fled their breeding grounds one to two days ahead of the arrival of powerful supercell storms. One such storm swept through the central and southern United States in April 2014, generating 84 tornadoes and killing 35 people.
"It is the first time we've documented this type of storm-avoidance behavior in birds during breeding season," said Streby, who conducted the work while he was a National Science Foundation postdoctoral fellow and a visiting research scholar in the Department of Environmental Science, Policy, and Management (ESPM). Other members of the team are from the University of Minnesota, the University of Tennessee, and the U.S. Geological Survey.
"We know that birds can alter their route to avoid things during regular migration, but it hadn't been shown until our study that they would leave once the migration was over and they'd established their breeding territory to escape severe weather," Streby said. The warblers flew a total of 932 miles to avoid a severe weather system, then came right back to their nests after the storm passed. Notably, the birds fled while the storm was still 250 to 560 miles away, and local signs of inclement weather—changes in atmospheric pressure, temperature, and wind speed—were largely absent.
"At the same time that meteorologists on the Weather Channel were telling us this storm was headed in our direction, the birds were already packing their bags and evacuating the area," said Streby, who led a paper describing the "evacuation migration" that was published December 18, 2014, in Current Biology.
After an analysis of the flight-pattern anomaly, infrasound— sound below the normal limits of human hearing—emerged as the most logical explanation. Scientists have known for decades that tornadoes produce very strong infrasound, and that birds can hear and respond to infrasound frequencies. But this paper presents the first evidence that birds use infrasound to remotely detect storms.