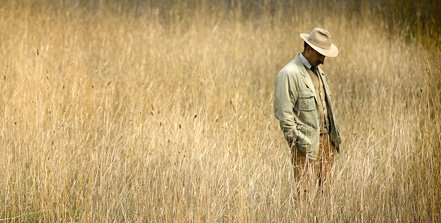 Kaush Arha
1996 M.S. Agricultural and Resource Economics
1997 Ph.D. Wildland Resource Science
Assuming the turbulence this spring does not alter the United States' long-standing strategy, NATO troops will end their combat role in Afghanistan in 2014, and the Afghan government will take over responsibility for the country's security. International aid — which currently comprises the bulk of Afghanistan's public spending — is likely to be scaled back significantly. The transition will be challenging, but if handled well, it could lay the foundation for greater stability and prosperity in Afghanistan and the surrounding region. Kaush Arha's job is to try to make sure that happens.
As senior advisor for the transition and senior coordinator for agriculture at the U.S. Embassy in Afghanistan, Arha is responsible for devising and coordinating economic development strategies, with a particular emphasis on the agricultural sector, which is the mainstay of Afghanistan's economy. Approximately 8 out of 10 Afghans are employed in agriculture, and it accounts for more than a third of the country's GDP.
Historically, Afghanistan was known throughout the Indian subcontinent for the quality of its fruit — from grapes and raisins to melons, apricots, and pomegranates — and nuts, primarily almonds. Much as American children once listened for the bells of the Good Humor truck announcing the arrival of ice cream treats, Arha says, residents of India listened for the bicycle bell of the "Kabuliwala," an Afghan vendor bearing bags of dried fruits and nuts.
That reputation should give Afghanistan an advantage in exporting these high-value commodities, but first it must overcome some daunting obstacles. Decades of turmoil have constrained economic development and damaged infrastructure, including irrigation systems and the roads needed to transport goods to market. There is no rail system, and Afghanistan is landlocked. Farm practices have fallen behind and most farming is at the subsistence level.
One of Arha's key goals is to help build the elements required for commercial agriculture, from processing, packaging, and storage facilities to regional market connections. "When you have that up and going, it will mean great job growth, and in the remunerative sense, far more than just subsistence," he says.
Arha is leading an interagency effort involving the U.S. Agency for International Development, U.S. Department of Agriculture field advisors, National Guard agribusiness development teams — "they call themselves 'citizen soldier farmers,'" he says — and the State Department's International Narcotics and Law Enforcement Bureau, which supports the Afghan government's efforts to provide alternative livelihoods to opium poppy production.
He describes the agriculture strategy as "soup to nuts. We do food security, irrigation, extension services to improve farm practices, and farm-to-market connections for improving commercial agriculture. In natural resources we're working on the livestock side and on some agroforestry projects" to provide firewood and home construction materials. His group also helped create Afghanistan's first national park, Band-e-Amir, and is trying to establish a conservation area in the Wakhan Corridor, a remote and beautiful area of the Pamir Mountains that is home to snow leopards, Eurasian lynx, and four species of wild sheep.
"We do food security, irrigation, extension services to improve farm practices, and farm-to-market connections for improving commercial agriculture."
Arha, who received a master's in agricultural and resource economics in 1996 and a Ph.D. in wildland resource science (from the Department of Environmental Science, Policy, and Management) in 1997, as well as a law degree from Stanford, credits the richness of his interdisciplinary work at Cal for giving him a knowledge of resource management, policy, and economics that is both broad and deep — knowledge crucial to navigating the complexities he encounters in his current work. "The key in interdisciplinary work is the different paradigms, the different prisms through which a particular discipline looks at a problem or a given situation," he says. "It's more important to understand how an economist would look at an issue, or a biologist or ecologist or lawyer … if you understand how to talk that language, that's much more important than what the law says. To accomplish that, you really have to know the discipline inside out, because one or two courses doesn't get you there."

Arha's career has been an eclectic and challenging one. At the Department of the Interior, where he was the deputy assistant secretary for Fish, Wildlife and Parks, he oversaw policy direction for the U.S. Fish and Wildlife Service and the National Park Service. He worked to improve wildlife conservation on private lands in the American West and developed policies on threatened endangered species. He also served as the associate solicitor for Indian affairs at the Department of the Interior, and advised the government of Mongolia on resource conservation and development, among other things. His work in Afghanistan, however, will likely prove the most difficult, and potentially the most rewarding, of all.
"The transition is, I think, one of the most important — if not the most important — engagements of our nation at the moment," he says.