Anthrax-Killing Virus Holds Promise for Treatment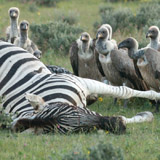 From a zebra carcass on the plains of Namibia in Southern Africa, an international team of researchers has isolated a new, giant bacteriophage—a type of virus that invades and kills a bacterial host—that specifically infects the bacterium that causes anthrax. The discovery could open up new ways to detect, treat, or decontaminate the anthrax bacterium, Bacillus anthracis, and its relatives that cause food poisoning.
The anthrax bacterium forms spores that survive in soil for long periods of time. Zebras are infected when they pick up the spores while grazing. The bacteria multiply, and when the animal dies, they form spores that return to the soil as the carcass decomposes.
The first thing the team noticed was that the bacteriophage, or phage, was a voracious predator of B. anthracis, said Holly Ganz, a research scientist at the UC Davis Genome Center and first author on the study. She began the work as a postdoctoral scientist on a team led by Wayne Getz, professor of environmental science, policy, and management (ESPM).
Bacteriophages are often highly specific to a particular strain of bacteria. When they were first discovered in the early 20th century, there was strong interest in using them as antimicrobial agents. But the discovery of penicillin and other antibiotics eclipsed phage treatments in most of the world. "With growing concerns about antibiotic resistance and superbugs, people are coming back to look at phages," Ganz said.
Christina Law '10 and molecular and cell biology professor Richard Calendar contributed to the National Institutes of Health–sponsored study, which was published on January 27 in PLOS One.
— Adapted from a story by Andy Fell on Egghead, a UC Davis research blog