OTHER CAUSES OF COLOR IN MINERALS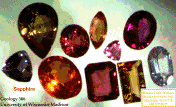 ---
Band gap processes cause color in gems!
---
This topic is not required for students of EPS2.
---
relevant to metals and semiconductors:
delocalized electrons -> energy band:
If this energy difference is within the range of visibl e light, it can produce color in gems...
E band gap >> E visible light :- colorless (insulators)
E band gap << E visible light :- all light promotes transitions, all l ight absorbed, thus black. If all light released again, -> metallic luster !!
E band gap is approx. E blue light -> red mineral
E band gap is approx. E red light -> blue mineral
Impurities: may introduce alternatives, additional destinations within the band gap:
---
PHYSICAL SUBDIVISION CAUSES COLOR IN GEMS!
---
This topic will be touched on briefly later in the course. It is not required, e xcept as it is relevant later to feldspars and opal
---
iridescence: in thin films: due to differences in R.I. for differ ent wavelengths of light (recall, dispersion is also attributed to the same effect). Some wavelengths exit out of phase and cancel -> color

pearls, color in cracks, tarnish films

Opal is made of spheres of amorphous (non-crystal line) material. The regularly arrange d spheres have a size comparable to the wavelength of visible light. The color is caused by diffraction of light by the pattern of spheres. The resul t is a very pure color (mostly blues and greens) in each patch with specific siz ed spheres.