Alumni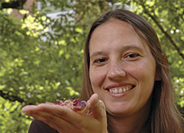 Lab Position: Postdoctoral Fellow 2010
Current Position: Assistant Professor, Scripps Marine Institute
Research interests: Impact mechanics of mantis shrimp telsons and crab acoustics.
Lab Position: Research Specialist 2012
Current Position: Post-doctoral Fellow, University British Columbia
His research interests include Neotropical rainforest birds, predator-induced physiological and behavioral plasticity and predator-driven natural selection. He also studies bioacoustics of Neotropical birds, focusing on information transfer and geographic variation.