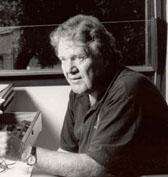 Public Memorial Planned for Don Dahlsten
The Don Dahlsten memorial service is scheduled for Sunday, October 12, 2003, at noon on the east lawn of Giannini Hall on the UC Berkeley campus. A Giant sequoia will be planted in his honor following the ceremony on the northwest lawn of Giannini Hall facing Tolman Hall.
RSVP is requested to
memorial@nature.berkeley.edu
.
On-street parking is free and generally available on Sundays in Berkeley. In addition, fee parking is available in many campus parking lots. If you need special accommodations, please contact Kathryn Moriarty Baldwin at (510) 643-6641.
Donations can be made in Dahlsten's memory to fund outreach programs benefiting K-12 students. Checks can be sent to the Donald Dahlsten Outreach Fund, c/o the College of Natural Resources, University of California, Berkeley, 101 Giannini Hall, #3100, Berkeley, CA 94720-3100.
For a story about Don's career, visit
http://www.cnr.berkeley.edu/site/news_item_detail.php?id=58