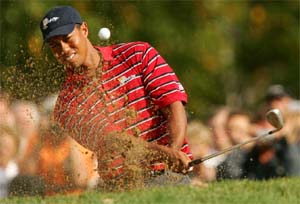 This week, Slate.com's Joel Waldfogel considers "The Tiger Woods Effect -- How Tiger throws off golf's incentive structure:

"Strong competitors are generally thought to bring out the best in everyone, but what if the competition is so strong it makes the top prize feel out of reach? Can strong competition actually undermine a reward structure? A new study by Jennifer Brown of UC Berkeley provides an answer to this question by looking at the world of professional golf, with Tiger Woods playing the role of the strong competitor."

Zubin Jelveh's Odd Numbers blog on Conde Nast Portfolio.com first noted the work on the "(Adverse) Effect of Competing with Superstars."

Read Portfolio's full take on Brown's work here...

Read the Slate.com article here.