By Ann Brody Guy
The College of Natural Resources held its annual
CNR Awards Ceremony
on Monday, April 18 in Morgan Hall, presenting the CNR Citation, the CNR Staff Award, the Career Achievement Award and the CNR Young Faculty/CE Specialist Award to honor four outstanding individuals who have had a meaningful impact on various aspects of the College community.
"These awards are an important way for the College to publicly acknowledge the outstanding contributions of our colleagues," said Dean Keith Gilless. "From up and coming faculty to lifelong contributors, and from external supporters to staff members, this is a moment for us to stop and say 'thank you, your contributions make us who we are,'" said Gilless.
---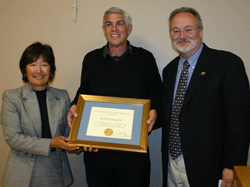 Left to right:
Stacy Baba, John Casazza, and Keith Gilless
The
CNR Citation
recognizes an external supporter who has made extraordinary contributions to the College and has demonstrated an exceptional commitment to CNR and its mission.
The 2011 CNR Citation was presented to
John Casazza,
Soil Science and Plant Nutrition, '77. As the inaugural president of the CNR Alumni Association (CNRAA), Casazza, an agribusiness management consultant based in San Francisco, "provided the insight, vision, and passion to build an enduring CNR community of supporters," said Stacey Baba, current CNRAA president, in her nomination letter, which was coauthored by alumni director Donna Chan.
Casazza's many accomplishments include actively leading a team of 17 board members to charter bylaws and develop subcommittees; conducting both an alumni survey and a student survey; developing the first CNRAA homecoming picnic and career panel events; and recruiting nine board members to ensure a full board for his successor. Additionally, Cassaza's 2009 Thank-a-thon initiated a new and positive climate around board fundraising and resulted in an increase to board giving of 21 percent.
"As a soil scientist, John has augmented the soil, planted the seeds, and nurtured their growth," said Baba and Chan. "We are just beginning to see those seeds sprout into wonderful alumni initiatives and programs."
The
Young Faculty/CE Specialist Award
honors a young assistant professor or Cooperative Extension specialist for their outstanding contributions in research, teaching, and service or outreach.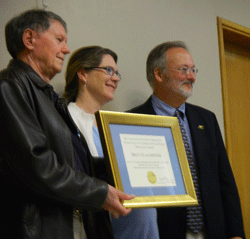 Left to right:
Andy Jackson, Britt Glaunsinger, Keith Gilless
The 2011 Young Faculty/CE Specialist Award was presented to
Britt Glaunsinger,
assistant professor of Plant and Microbial Biology. In her nominating remarks, postdoctoral fellow Marta Maria Gaglia highlighted Glaunsinger's combined abilities to obtain grants, produce publications, and attract students. "Britt is a brilliant scientist who has many ideas, as well as an impressive command of the literature, and can suggest a never-ending stream of great experiments," said Gaglia.
Glaunsinger is a "rare example of a great scientist who also takes her mentoring responsibilities to heart," wrote Gaglia, citing her ability to provide a supportive work environment in which students and staff are encouraged to set goals, present work at conferences, teach, and give feedback on the management of the lab. Her lectures inspire undergraduates with her "authentic passion for virology," and she is often sought out by undergrads seeking lab experience.
As Andy Jackson noted in presenting the award, Glaunsinger has "excelled in every aspect of achievement being evaluated for this award," and has been recognized with honors and awards every year she's been at Berkeley, most recently earning the Prytanean Faculty Award, honoring outstanding junior faculty.
The
Staff Recognition Award
honors staff for outstanding and noteworthy service.
The 2011 Staff Recognition Award was presented to
Leslie Ross,
Manager of Faculty Research Administration/Accounting. Throughout multiple changes to the organization and her duties, Ross has maintained an approach to her work that has been "graceful and creative, focused on both a service and team orientation," wrote Babs Lane, who submitted the nomination.
Left to right:
Babs Lane, Leslie Ross, Keith Gilless
"In the face of the worst budget cuts the college has ever experienced and the stress of a potentially changing administrative landscape, Leslie proactively volunteered to take a leadership role in implementing a new administrative support structure for the college," said Lane.
Lane cited several major initiatives Ross led or supported: developing a structure to balance administrative workload across departments; managing the 2010 BFS v9 financial system implementation; conducting a systematic review of business processes and setting goals to create standards in multiple areas, including accounting, payroll, research administration, purchasing, and receiving. "This was a complex exercise that included assessing staff capacity and identifying best practices across divergent units," wrote Lane, noting that Ross continued to manage her NST departmental responsibilities, and kept morale as high as possible under the difficult circumstances of organizational change.
The ceremony culminated with the
Career Achievement Award,
which honors a CNR professor or specialist who has provided distinguished service as an educator and scholar over the course of their career.
The 2011 Career Achievement Award was presented to
David Zilberman,
professor of Agriculture and Resource Economics. "David has been an extraordinarily productive member of the CNR community," said fellow ARE professor David Sunding in his nomination.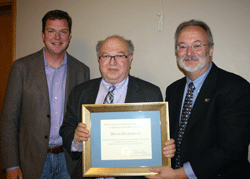 Left to right:
David Sunding, David Zilberman, Keith Gilless
Leadership roles Zilberman has taken on include chair of his department for two consecutive terms, member of the campus Budget Committee, and founding director of the College's Center for Sustainable Resource Development and its Beahrs Environmental Leadership Program. His efforts also led to the creation of the new sustainability-focused Master's Degree in Development Practice, including securing support from a prestigious MacArthur Foundation grant.
Regarding Zilberman's academic accomplishments, Sunding wrote, "David is a gifted scholar with a towering international reputation in agricultural and resource economics. He has made fundamental contributions to the study of pesticides, GMOs, biofuels, water resources, technology adoption, and risk, and has successfully bridged the gap between economic analysis and public policy."
Zilberman's career-long and seminal contributions represent an "unmatched combination of intellectual and institutional innovations that are in substantial measure responsible for the quality, the visibility, and the reputation of CNR today," Sunding said.
The CNR Awards are held annually. Nominations are reviewed by a committee of faculty members, except the staff award, which is selected by the Staff Climate Committee.
Photographs by Pinar Aybar and Ann Brody Guy