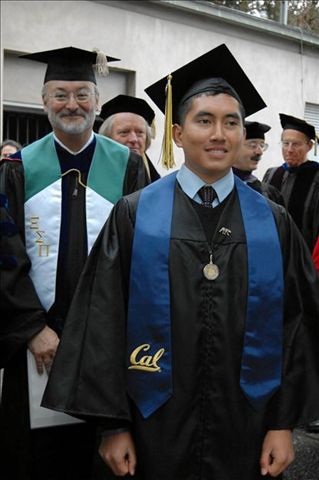 CNR's student Commencement speaker Nicholas Garcia-Guerrero received his bachelor's of science degree in two majors: Environmental Economics and Policy from the Department of Agricultural and Resource Economics and Environmental Sciences.
Garcia-Guerrero's excellent academic record - he graduated with a GPA of 3.6 - defies his rigorous course load. But CNR is about more than just outstanding scholarship; it is also about engagement with society and the world that surrounds us. In addition to his academic pursuits, Garcia-Guerrero has found a multitude of ways to engage with the campus, with local community groups, and with students.
As a Chancellor's Public fellow, Garcia-Guerrero helped shape curriculum with his work on the community-engagement component of the course, "Introduction to Culture and Natural Resource Management."
As a member of the campus leadership team and as a campus ambassador for almost three years, he has served as a public spokesperson for CNR and for the campus as well as assisting in creating a Speakers Bureau for the campus. He has also served as a member of the College of Natural Resource's Board.
---
Garcia-Guerrero's research experiences working in faculty laboratories and offices spanned economic analyses with Professor Boettiger's research group on microcredit loans and technology access by the poor to his other interests in biology in the laboratory of Professor Claire Kremen, looking at land-use change decisions by small farmers in Madagascar.
Garcia-Guerrero's breadth of interests reflects the broad scope of study areas pursued by CNR faculty and by our students. He is an exemplary model of the quality and breadth of our students here in CNR who, we are confident, will discover and implement solutions for the issues facing our world.
Listen to Nick's Speech here as introduced by Stephen Welter, associate dean of instruction and student affairs: