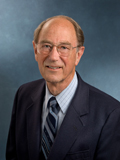 Helms is professor emeritus of silviculture at the University of California-Berkeley, where he has taught approximately 3,500 undergraduate and graduate students and supervised numerous master's and doctoral candidates during his career. His research has focused on regeneration, stand structure control, silvicultural systems, and tree physiology, particularly in regard to carbon dioxide exchange and water use of trees experiencing stress from competition, drought, and air pollution.
---
His publications include 117 articles on forestry, silviculture, and tree physiology in scientific and technical journals; chapters in
Tree Physiology and Yield Improvements and Regional Silviculture of the United States
; coauthorship of
Principles of Silviculture and Silviculture in the Sierra
; and SAF's
Dictionary of Forestry
, for which he served as editor.
His administrative service to the University of California includes appointments as association dean of the School of Forestry and Conservation (1972-1974), vice chair of the Department of Forestry and Resources Management (1974-1975, 1977-1978), and department chair (1989-1993). He has provided congressional testimony on SAF's behalf regarding several subjects, including forest health (2003), the US Forest Service Centennial (2005), the Forest Emergency Recovery and Research Act (2006), and forests, climate change, and wildfire (2007).
In addition to providing congressional testimony, his service to SAF includes numerous positions on the local, state, and regional levels, such as chair of the Bay Area Chapter (1972-1972), chair of the Silviculture Working Group (1986-1990), associate editor of the
Western Journal of Applied Forestry
(1985-1992), program chair of the San Francisco SAF National Convention (1991), chair of the Forest and Technology Board (two terms, 1995-1998), SAF Council member for Distric III (2001-2003), and , of course, SAF President (2005).
Currently, Helms is a co-coordinator of the International Union of Forest Research Organization's Working Party on Forest Terminology (2001-present), a member of California's The Forest Foundation's board of directors (2009-present), and a member of the Sustainable Forestry Initiative External Review Panel (2008-2011).
Helms, who joined SAF in 1969 and was named Fellow in 1997, has received many honors and awards during his career, including SAF's John Beale Memorial Award (1999), the C. Eugene Farnsworth Distinguished Lecturer award from the State University of New York College of Environmental Science and Forestry (2004), the S.J. Hall Distinguished Lecturer award from the University of California-Berkeley (2005), and the Lifetime Achievement Award from the University of Washington Forest Resources Alumni Association (2010).
The Gifford Pinchot Medal recognizes outstanding contributions by a forestry professional in the administration, practice, and professional development of North American forestry. The award, presented biennially (odd-numbered years), consists of an engraved medallion and a $500 honorarium.
Read it at the source