Semester Honors
What is this "Honors to [Date]" on My Transcript?
"Honors to [Date]" is a notation on your transcript that indicates you are currently on track to earn Distinction in General Scholarship. It appears after every semester's grades are reported; should you cease to qualify, Honors to [Date] will not appear on the following semester's grade report, although you will still see it noted for the semesters in which you already earned it.
You will see Honors to [Date] if you are meeting the following two criteria:
At least 12 units completed at Berkeley for that semester and taken for a letter grade.
Overall GPA (all semesters cumulative) equal to or higher than the GPA needed to earn Distinction in General Scholarship.
CNR Honors Program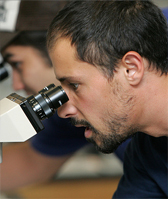 CNR students get lab research experience.
The College of Natural Resources Honors Program is designed to support undergraduate students interested in developing, executing, and evaluating a year-long independent research project under the guidance of a faculty mentor.
Students who successfully complete the Honors Program will earn recognition at graduation and will also receive a notation of Honors in their major on their diploma. The Honors Symposium, held once each semester, gives all Honors students the opportunity to present their research to fellow students, faculty, Deans, friends, and family.
Learn more about the CNR Honors Program