Academic Intervention Program
The aim of this Academic Intervention Program referral plan is to include instructors in the ability to refer and identify a student who is demonstrating behaviors that lead to academic failure.
With the help of Instructors and GSIs, CNR advising staff will be able to begin a conversation with a student as a preemptive before the end of a semester and final grades are submitted.
This program is designed to raise the level of student retention and persistence to graduation.
A basic assumption of the Academic Intervention Program is that the instructor will have made multiple attempts to help a poor-performing student before making a referral. These attempts include:
Meetings before or after class to ascertain what is blocking the studentís progress.
Email or phone communications to reach the student who is not attending class.
Messages on quizzes, tests, assignments, etc. inviting the student in for consultation.
Upon consent of the student, via his /her signature on the Academic Intervention Program Follow-up Form, the advisor will report back to the faculty the outcome of the meeting with the student and/or support services the student has received.
Note: In some instances, such as the University Counseling Center, the follow up form may not contain certain information due to confidentiality reasons.
Please only refer CNR students as the other colleges do not have a similar system in place. If there are very serious concerns we will refer the name to the appropriate person but cannot guarantee a non-CNR advisor will respond.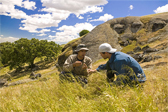 At CNR you can save the world and see it at the same time!