Elizabeth Chan, Associate Vice President, CNRAA
Environmental Economics and Policy, and a Minor in Chinese Language '12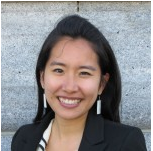 A proud immigrant from southern China, Elizabeth graduated from Cal in 2012 with a B.S. in Environmental Economics and Policy, and a Minor in Chinese Language. She was extremely fortunate to have received the UC Berkeley Regents' and Chancellor's Scholarship, which provided a full tuition to fund her education at Cal. The scholarship not only afforded her a world class education at no cost, but also gave her the freedom to concentrate on her interests in and outside of the classroom. As such, Elizabeth is excited about giving back to the university that has given her so much.
The common thread in her work over the last four and a half years has been to help accelerate a low carbon economy both in the US and China through environmental education and outreach, energy policy and regulation, and implementing the sustainability development agenda through different avenues: the university, start-ups, non-profits, a think tank, and most recently the local and state governments.
For example, she had the opportunity to study abroad in China and eventually got involved in the early stages of the China Dream Project (http://juccce.org/chinadream) with a 2008 Time Magazine Environmental Hero. The project seeks to reimagine prosperity and reshape consumerism in China, with the goal of catalyzing a new aspirational lifestyle that is innately sustainable for the emerging middle class in China. At Cal, she received the Chancellor's Green Fund Grant and an internship grant from the Chancellor's Advisory Committee on Sustainability to fund her own sustainable lifestyle marketing campaign: "The Little Green Book," a wikipedia guide for everything a Cal student needs to know about living green in Berkeley (littlegb.berkeley.edu).
Currently, she is a City Hall Fellow with the City and County of San Francisco, helping to advance the City's sustainability goals. Additionally, she has had the pleasure to project manage a pro-bono consulting project to improve the District-wide energy savings program at the San Francisco Unified School District.