Courtesy
We expect all students and guests to be courteous to the presenters as well as other audience members. Remember:
Turn off cell phones and other sound bearing devices for the duration of the ceremony
Remain in your seats until the emcee announces the end of the ceremony to ensure an enjoyable experience for all guests.
Congratulations!
UCPD has mandated that there will be bag searches conducted at all 2014 commencement ceremonies.
There is NO bag or coat check available at the Greek Theatre.
The following items are PROHIBITED inside the Greek Theatre:
Large Bags or Backpacks
Glass Bottles/Aluminum Cans
Alcoholic Beverages
Coolers/Ice Chests
Baby Strollers (designated parking is available inside)
Skateboards/Bicycles/Scooters
Musical Instruments
Fireworks
Nose-Makers/Airhorns
Rolls of Toilet Paper
Balloons (may be tied-off at the entrance gates at own discretion)
Umbrellas
Signs/Banners/Flags
Tripods for Cameras
Animals (with the exception of documented service animals)
Lawn Furniture or Chairs (small blankets, cushions, and low-backed stadium seats are OK)
Any Items That Can Be Perceived as Weapons
Registration for Commencement
Registration is closed, the deadline was April 11, 2014.
Instructions for Participants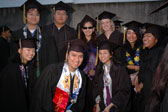 Congratulations, CNR Graduates!
Commencement will be held at the Hearst Greek Theater.


Arrive promptly at 6:00pm to the backstage area of the Greek Theater so that we can line you up, by major (graduate students will line up as Masters and Doctors) before the ceremony begins. The program will begin promptly at 7:00pm.


Please remember to bring your name announcement card you received when you picked up your tickets. You will hand this to the staff or faculty reading names


Line up single file according to major. Look for your major or department signs. Graduate students will line up as Masters and Doctoral students.


The College of Natural Resources will have a professional photographer taking your photo with the Dean as you receive your scroll.


Ceremonial scrolls will be presented when your name is read by the staff or faculty person. Doctorates will be presented first, followed by Masters scrolls, and finishing with Bachelor scrolls. Actual degrees are not awarded at Commencement.


A staff member will let you know when it is time to rise and approach the stage. When it is your turn, cross the stage to the individual calling names for your major and hand him/her your card. Cross the stage to the Dean who will shake your hand and present you with a ceremonial scroll.


The ceremony will last approximately 2 hours.


There will not be a reception.
Announcements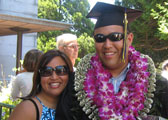 Commencement is a fantastic celebration of achievement at CNR
Commencement is a fantastic celebration of achievement at CNR. Graduation Announcements are formal notices to send to family and friends announcing your graduation.
CNR does not require that students purchase announcements. You can purchase them through the Cal Student Store, 510-642-7028.
If you have any questions, please contact the Office of Instruction and Student Affairs.
More information is available from the Cal Student Store.
Diplomas
High-achieving doctoral candidates receive awards at the annual Student Awards Ceremony
Diplomas are not awarded at CNR Commencement.
For more information, contact the Cal Student Central
Cap & Gown
Commencement is a fantastic celebration of achievement at CNR
All graduates must be in cap and gown to participate in the processional. Caps and gowns may be purchased through the Cal Student Store. For more details, see the Graduation Department of the Cal Student Store or call 510-642-7028. You may also refer to this informational flyer (pdf)
Distinction Cords:
Students who are graduating with Distinction may choose to wear a distinction cord with their commencement robe. The distinction cord is a double gold rope that hangs from the back of the neck and dangles in front.
Students on the spring degree list who will graduate with Distinction are automatically eligible to buy these cords. Bring your student ID with you to the Cal Student Store. Summer and Fall graduates who earned Distinction must speak to the Office of Instruction and Student Affairs so that we can inform the Cal Student Store of the your eligibility.
College Honors Program Cords:
This is a blue, gold, and green cord. This special cord is presented to those students who participate in a year-long honors thesis program and present their thesis at the College of Natural Resources Honors Symposium.
Tickets
Commencement is a ticketed event. Each attendee must have a ticket to be admitted to commencement. (Graduates and children under the age of two do not need tickets).
CNR Graduates: Each CNR graduate will be allotted a total of 4 free tickets for the Spring CNR Commencement Ceremony. Additional tickets may be purchased at the Zellerbach Hall ticket office at $2.00 per ticket: Zellerbach box office hours. Tickets will go on sale at Cal Performances, Zellerbach Hall on April 14, 2014. Look out for announcements from your advisor mid-April.
CNR Undergraduates: CNR will begin distribution of the 4 free tickets on April 14, 2014. Ticket distribution will be in 260 Mulford Hall, M-F, 8am - 11:45 and 1:00 - 4:45pm. Students must present identification to pick up tickets. Only those students who listed themselves on the CNR Commencement Program by the April 11, 2014 deadline will receive free tickets.
Masters and Ph.D candidates: Please pick up your 4 free tickets from your department advisor located in these buildings: ESPM 133 Mulford, PMB 111C Koshland, NST 129 Morgan, ARE 203 Giannini. Distribution of the 4 free tickets will begin on April 14, 2014.
If the extra ticket cost proposes a hardship, please come to 260 Mulford Hall and complete the "Hardship Ticket Application" by May 2, 2014. A limited number of tickets will be released to families in financial hardship. We will do our best to meet requests.
Special Seating
Special seating can be arranged for disabled guests and guests who cannot manage stairs. You may send requests to by May 2, 2014.
Based on availability, students who submitted hardship appeals for extra tickets, will be notified in early May to pick up your tickets.