Standard Grading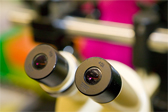 CNR students get lab research experience.
Students at Berkeley take most courses for a standard letter grade. Some courses are only offered as pass/no pass or satisfactory/unsatisfactory.
| | |
| --- | --- |
| A | Excellent |
| B | Good |
| C | Fair |
| D | Barely Passed |
| F | Failed |
| P | Passed at a minimum level of C- |
| NP | Not Passed |
| S | Satisfactory or passed at a minimum level of B- |
| U | Unsatisfactory |
| I | Work incomplete, due to circumstances beyond the student's control, but of passing quality; not included in grade-point computation after Fall 1973. |
| IP | Work in progress; final grade to be assigned upon completion of entire course sequence. |
| NR | Temporary administrative grade; not included in grade-point computation |
The grades A, B, C, and D may be modified by plus (+) or minus (-) suffixes.
Passed/Not Passed
The Passed/Not Passed grading option is intended to encourage students to take challenging electives without worrying about their grades. P/NP grades are not figured into your cumulative GPA, although they can affect your ability to win awards such as getting on the Dean's List.
One third of your total units may be taken P/NP, but if you receive more than 12 units of NP grades, your future registration may be blocked. A P grade corresponds to a C- or better.
You cannot take any of your requirements or H196 for P/NP.
You may change your grading options from letter grade to P/NP until the tenth week of classes. You may change your options from P/NP to a letter grade until the fifth week of classes.
Incomplete Grades
Should circumstances beyond your control prevent you from being able to finish your work in a course, a grade of incomplete may be assigned by the instructor. Your work in the class up to that point must be at least of a 2.0 average in order to receive an incomplete grade. If the instructor agrees to give you an I grade, you must make arrangements with the instructor for completion of the required course work at least 30 days prior to the deadlines noted below.
Faculty (or department chairs) are under no obligation to accept and grade work submitted after the deadline. All undergraduates must observe the deadlines for replacement of an incomplete. You are expected to meet these deadlines even if you are not enrolled in classes or if you are studying abroad. If you are unable to finish a course by the deadline, you may request an extension of time from the Associate Dean of Instruction and Student Affairs by completing a general Student's Petition.

All requests for extension must be made prior to the deadline date. Ultimately, if you do not meet the deadline to complete your course work, your grade will lapse into an F grade for the course. For details on freezing your grade (i.e., you will not attempt completion of course work to replace the grade), please see the Registrar's policy on freezing grades.
To file an incomplete petition, you must complete the Petition to Remove an Incomplete Grade

and pay the $5.00 fee (except Summer Session incompletes). When you have finished the course work, submit the petition to the instructor, who will then submit the petition to the Office of the Registrar. Be sure to keep a copy of the petition for your own records.
Deadlines for Completing I Grades
| | |
| --- | --- |
| Receive Incomplete | Deadline |
| Fall Semester | First day of instruction of the following fall semester |
| Sping Semester or Summer Session | First day of instruction of the following spring semester |