The CNR Dean's List is a mark of achievement granted at the end of each semester to students ranked in the top percentage of all CNR students by GPA. It is not related to Distinction in General Scholarship and will not appear on your transcript.
The Dean's List is posted in the Student Resource Center at the start of each new semester.
---
Qualifying for the Dean's List
Complete 13 or more units for a letter grade during the previous semester.
Possess a cumulative GPA ranking you in the top 4% of all CNR undergraduates.
Have no Incomplete, No Report, Not Passed, or missing grades from the previous semester.
---
Spring 2011 Dean's List
Congratulations to all of you on the Spring 2011 CNR Dean's List! You have demonstrated an outstanding level of work to achieve this honor, and we are proud of your accomplishments. Your distinction reflects the student body of high caliber that makes CNR a home to excellence in undergraduate education.

Sincerely,
J. Keith Gilless
Skip to a Major:
Conservation and Resource Studies
Environmental Economics and Policy
Environmental Sciences
Forestry and Natural Resources
Genetics and Plant Biology
Microbial Biology
Molecular Envirnomental Biology
Molecular Toxicology
Nutritional Sciences
Nutritional Sciences - Dietetics
Nutritional Sciences - Physiology & Metabolism
Society and Environment
Undeclared
± 4.0 GPA
* Double Major
** Triple Major
Conservation and Resource Studies
Claudia Lee Allen
Alison Nicole Amberg *
Amelia Suzanne Appell
Lisa K Bauer
Rebecca Sarah Blake ±
Erika Michelle Blomdahl ±
Sebastien Hugh Burgess
Jenna Cavelle ±
Nancy Chan ±
Alexandra Lian Christensen
Jaclyn Anne Clark ±
Christine Coit ±
Nikhil Alan Crain
Blaze Elation ±
Angela Entzel ±
Sierra Michelle Flynn *
Kristopher Paul Harmon
Kelsey Hudson ±
Alexander Michael Javier ± *
Michal Karmi
Caitlin Kelly-Garrick
Grace Kennedy
Kelsey Drew Killoran
Samuel Koch *
Emma Rose Kohlsmith
Melissa Angela Lee *
Quynh Nhu Diep Mai *
Kathryn Ann Mascovich
Caitlin Bradley Morgan ±
Emily Katherine Morse ±
Eric Ryan Olliff ± *
Sofia Pechner
Ildiko Katalin Polony ±
Alessandra Rivera ±
Carl Eric Segerstrom
Malissa Smith ±
Rainbow Snavely ±
Heather Ruth Sparks ±
Julian Sproul ±
Lydia Stevenson
Danielle Stewart
Sara Rose Tannenbaum *
Lesley Thayer ±
Tracy Piper
Van Vuong ±
Lacey Darlene Ward
Amy Winzer ±
Lauren Woodfill
Thomas Yamashita
Sarah Hassan Yazouri
Laralyn Marie Yee ±
Environmental Economics and Policy
Marpessa Arnoult
Corinna Breitinger
Julie Anna Brown
Brynna Bunnag ± *
Nicole Manafi Campbell *
Lucia Chacon
Elizabeth Chan ± *
Wai Ming Chan
Kaela Margaret Colwell ±
Charles Paul Diamond ±
Jessica Eng
Farah Ahmad Ereiqat
Ami Fujimoto
Dana Evelyn Goin
Jonathan Adam Guy
David Herschorn ± *
Koji Higashi
Sabine Johnson-Reiser ± *
Evan Takeshi Kamei
Melissa Lynn Katow ±
Colin Richard Kerrigan
Samuel Koch *
Chun Yin Alessandro Ku
Chun Yu Kuo
Melissa Angela Lee *
Tiffant Hwei-Ru lee
Martin Li
Corliss Livingston
Bianca Perez Llarena ±
Ignacio Mendez Nunez
Kimitaka Nakazawa
Steven Gregory Otto
Shiva Vasudev Patel ±
Brita Lisa Priest
Hillary Sanders
Daniel Arthur Stroud ±
Xiao Su
Luke Stephen Tillmann
Anastasiya Trizno
Jingwen Yang ±
Alexandria Lee Yuan *
Mihir Ameet Zaveri *
Environmental Sciences
Anna Elizabeth Bischoff
Lian Marie Boos
Genevieve Boykins
Amanda Carlson ± *
Robert Cash
Aruna Cherukumilli
Isabelle Anne Chow
Rachel Emma Connolly
Danika Lee Desai
Kelley Doyle ±
Sage Farrell
Zhongxiang Gao
Cynthia Gaw
Katherine He ± *
Charlotte Hryse
Jae Yun Kim
Artin Laleian
Kimberly Lam
Katarina Ichen Makmuri
Ryan McCarter
Melanie Montes ±
Taichi Natake
Lan Hoang Ngo
Zane Wolfe Rankin
Eric Peterson Rubin
Rebecca Samuel
Sung Won Shin
Melissa Christine Steele-Ogus
Lev Stefanovich
Nicholas W Tang ± *
Kathleen Caroline Tom
Emma Lawrence Tome *
Amanda Wolf
Hayden Wong *
Jeffrey Ja Wong
Michael Young
Diana Zheng
Forestry and Natural Resources
Tammy Mao Qi Dong
Natalie Holt
Meredith Jacobson
Alexander Michael Javier ± *
Allegra Justine Mautner
Jamie Rose Richards
Sara Rose Tannenbaum *
Ariel Claire Thomson
Dominic Ziegler
Genetics and Plant Biology
Wallace Chan
Gilberto Garcia *
Maya Mileck
Jacob Moe-Lange
Anabel Rivas
Shayla Marie Salzman
Ruixuan Zhang
Microbial Biology
Katherine Amberg-Johnson
Patrick Jeffrey Browne ±
Bai Yi Chen
Trevor Cline
Teodor Duro
Victoria Eng
Julia Heaton
Rakesh Jambusaria
Han Suk Kim ± *
Jinyong Kim
Ted Kim *
Eddie Phuoc Lam
Mark Russell Mullan
Elise Marie Peauroi ±
Annalise Petriello ±
Jaskaran Saggu ± *
Haoyu Sun
Dustin Eric Tao ±
Wesley Wong
Diane Wu
Molecular Environmental Biology
Omid Amidi
Sara Brenner
Candace Sarah Britton
Brett Oliver Butler
Philip Cerda
Karen Chong
Francesca Tan Chua
Annie Davis
Danielle Nicole Desmet
Jonathan Dreyer
Jonathan Flournoy
Gabriel Fregoso ±
Samuel Garcia Islas
Arta Gharib Parsa ±
Amelia Glazier ±
Spencer Adam Gordon
Stephenie Anne Hinds
Victor Hoang
Devin Hollister
Katrina Hong
Rebecca Horn ±
Siu-Wei Huang
David Hubbard
Ayane Itamura
Ted Kim *
Erin Lam *
Lena Lau ±
Eileen Libove ±
Qi Liew
Claire Liivoja
Si Yuan Liu ±
Daniel Lopez ±
Erick Mahood
Courtney Maloney
Kelly McCarter
Kyle Mcevoy
Stephanie Nguyen
Jeffrey Noon
Timothy O'Neal
Jaclyn Oppenheim
Jason Park ±
Elizabeth Pierson
Evan Portier *
Laura Rodriguez-Adjunta
Lisa Rosenthal
Nozomi Sakai
Victor Saunders
Aayush Singh ±
Audrey Smith
Woojung Sul ±
Loc Bao Tran
Julien Vollering
Amanda Wong
Hayden Wong *
Furui Xie
Gabriela Yao-Cohen
Lauren Zeidler
Alex Zhao
Molecular Toxicology
Paulina Altshuler
Grace Anderson ±
Austin Gregory Bell
Larry Mangee Cai ±
Anita Chanana ±
Kit Wun Kathy Cheung ±
Liyan Feng ±
Sharareh Firouzbakht ±
Yuanchi He ±
Yuki Eric Iizuka ±
Yelena Ionova
Nichole Johnston ±
Cassandra Lei
Xiaomin Liang ±
Jerry Lin
Stephanie Shiao-Lin Ng *
Shawn Pan
Dominic King Cha Siu ±
Crystal Teng ±
Sue Xue Wang ±
Tina Shan Wang
Nutritional Sciences
Ana Carolina Blanco Cortes ±
Erika Chan
Anna Beatrice Dimitruk ±
Mckenna Taylor Green
Jessica Jew ±
Ellen Frances Key ±
Yeh Jee Kim ±
Meira Prescher
Lucy Chen Sun ±
Elizabeth Rochelle Werner
Nutritional Sciences - Dietetics
Yu Li Chen
Cecilia Ching ±
Alexandra Marie Holke ±
Clarice Wai Ying Kam
Chialin Lee
Brittany Nicole Mellen
Eri Setsuda
Ayumi Tsurushita ±
Jensine Yang ±
Qianxiong Zheng ±
Nutritional Sciences - Physiology & Metabolism
Lindsea Burns
Karen Chan ±
Brenda May Cheah
Sophia Chiu
Taylor Suzanne Christensen
Cassie Deann Cook
Preeya Desai
Angela Hsu
Megumi Elyse Ito
Seung Hui Kang
Han Suk Kim ± *
Hoan Ngoc Le *
Si Yuan Liu ± *
Kelly Nguyen
Michelle Ovanesian
Jina Park **
Kelly Schermer ±
Elizabeth Scott
Ashley Souza ±
Chynna Rachel Tang
Stephanie Lim Yan ±
Karen Yang
Morgan Ye *
Society and Environment
Chloe Marie Beaupre
Adam Gerald Berger
Noah Daniel Beyeler ±
Derek Aaron Branch
Anthony Dibiase ±
Lindsay Fae Dreizler
Lia Zoe Economos
Claire Evans *
Rebecca Fisher-McGinty
Rica Victoria Garcia *
Meldan Heaslip
Maggie Quinn Karoff
Rachel Whitney Keynton *
Kristen Klein
Melissa Ann Kobetsky
Victoria King Lai *
Diana Fonyi Lee
Katherine Ann Lockwood *
Annelisa Luong
Megan Majd
Melanie Paige McCorkle
Ilana Jennifer Nevins
Nicholas Ricardo Oliver *
Elizabeth Phillips
Molly Breen Quinlan ±
Emiliya Rasheva ±
Devin Regis
Byron Habiger Ruby ± *
Melineh Sarkis-Kelly ±
Jonathan Schwindt
Brett Theodore Shears ± *
Jannika Sjostrand ±
Hilary Beth Soldati
Anne Kelley Spevack ±
Shilpa Sure ±
Alison Katarina Toivola ±
Nora Traughber
Jessica Van Der Riet
Tatyana Vashcenko
Lindsay Walter *
Rebecka Christine Watson *
Elaine West ±
Beth Rose Williams ±
Brittany Allison Williams
Zoe Wong-Weissman ±
Undeclared
Stephanie Byun
Flora Julie Champenois
Jacklyn Nicole Chan
Ariel Cherbowsky
Peter Conner
Caitlin Courtney Desmet
Mark William Glicksteen
Alisha Howell
Michelle Hsieh
Cameron Justin Irmas ±
Bianca Wenman Lee
Judy Joyce Li
GuoZhou Liang
Benjamin Lurie
Shirley Ma
Alexandra Mooney
Gretta Noe
Nathanael Park
Candace Mary Rankin
Sikai Song
Katherine Trinh
Michelle Tsui
Sabrina Wu ±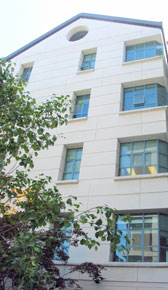 Koshland Hall, home of Plant and Microbial Biology