List Organization
CNR's email lists for faculty are built on a pyramid structure based on the individual's appointment and department.
Individual email addresses are subscribed to the smallest subset -- for example, specialists in PMB.
The sublists are then subscribed to blanket lists which cover more individuals -- for example, all specialists, or all PMB faculty.
The largest blanket list is all_faculty, which combines the all_faculty lists for each department.
Visual Schema for Email Lists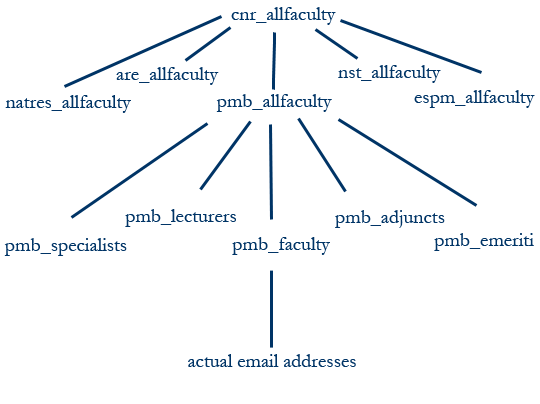 CNR Email Lists
Lists made of lists
cnr_allfaculty
are_allfaculty
espm_allfaculty
nst_allfaculty
pmb_allfaculty
natres_allfaculty
cnr_faculty
are_faculty
espm_faculty
nst_faculty
pmb_faculty
natres_faculty
cnr_specialists
are_specialists
espm_specialists
nst_specialists
pmb_specialists
natres_specialists
cnr_adjuncts
are_adjuncts
espm_adjuncts
nst_adjuncts
pmb_adjuncts
natres_adjuncts
cnr_lecturers
are_lecturers
espm_lecturers
nst_lecturers
pmb_lecturers
natres_lecturers
cnr_emeriti
are_emeriti
espm_emeriti
nst_emeriti
pmb_emeriti
natres_emeriti
are_allfaculty
are_faculty
are_specialists
are_adjuncts
are_lecturers
are_emeriti

espm_allfaculty
espm_faculty
espm_specialists
espm_adjuncts
espm_lecturers
espm_emeriti

nst_allfaculty
nst_faculty
nst_specialists
nst_adjuncts
nst_lecturers
nst_emeriti
pmb_allfaculty
pmb_faculty
pmb_specialists
pmb_adjuncts
pmb_lecturers
pmb_emeriti
natres_allfaculty
natres_faculty
natres_specialists
natres_adjuncts
natres_lecturers
natres_emeriti