A student who works may be eligible for a reduced study list. All work must be PAID employment; work-study is acceptable. Volunteer work is not considered for a reduced study load. By the fifth week of classes, regardless if you are reducing your study list or not, the Office of Instruction and Student Affairs requires a completed Employment Verification for Reduced Study List form.
We must verify your employment with your employer, and will make only two attempts to do so.
Even if the College of Natural Resources gives you permission to take fewer than 13 units, you may not be considered a full-time student by other departments and units on campus. If you are a recipient of financial aid or a scholarship award, check with the Financial Aid Office as well as with the administrators for your scholarships for further details on the impact it may cause to current and/or future financial aid packages and other monetary awards.
| | |
| --- | --- |
| Hours worked per week | Reduced Load (Units) |
| 15-19 | 10 |
| 20-29 | 8 |
| 30 or more | 6 |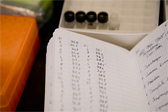 CNR students get lab research experience.