Forestry and Natural Resources (FNR) focuses on the conservation and restoration of the earth's natural resources through hands-on study of the ecology, stewardship, and management of forest, woodland, and grassland ecosystems. The program offers concentrations in natural sciences or in human dimensions of natural resources, and if the student chooses, can qualify the student for taking the Registered Professional Forester's licensing exam in California.
Sample Classes
Forestry Field Camp
Terrestrial Resource Ecology
Geography and Physical Landscapes
The Biosphere
Forest Ecology
American Wildlife
Biology, Mathematics, Economics, Chemistry
---
Careers for FNR Majors
US Forest Service
Forest fire service
Teaching and forest research
Conservation and resource management
Environmental consulting
Timber, real estate, or other business consulting
Undergraduate Advising
Eva Wong
(510) 642-6730 260 Mulford Hall
University of California
Berkeley, CA 94720-3100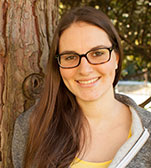 Read about the CNR student experience in the Peer Advisor blog!
Read the blog!
The Forestry Club hosts bean feeds, competes in logging sports, attends national forestry conferences, and organizes many other excellent campus events.