The Center for Fire Research and Outreach

The
Center for Fire Research and Outreach
develops and disseminates science-based solutions to wildfire-related challenges. It helps provide the tools both to protect the Earth's natural resources and ensure economic and ecological sustainability for future generations.
The Center's primary goals are to:
Facilitate collaboration on innovative solutions to wildfire challenges
Support education and training efforts focused on interdisciplinary approaches to wildfire research and management
Cooperate with stakeholders to fill their need for information and resources before, during, and after wildfires.
Visit The Center for Fire Research and Outreach for more information.
All gifts to CNR are tax-deductible to the extent of the law.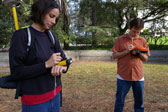 Fire Center staff use GPS equipment to collect fire hazard data.