Campus Requirement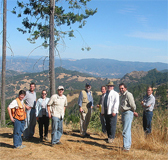 At CNR you can save the world and see it at the same time!
American Cultures
You fulfill this requirement by passing, with a grade not lower than C- or P, an American cultures course. You may take an American cultures course any time during your undergraduate career at Berkeley. International students must satisfy the requirement.
Departments all across campus offer American cultures courses, but all courses share a common framework: they focus on themes or issues in United States history, society, or culture; address theoretical or analytical issues relevant to understanding race, culture, and ethnicity in our society; take substantial account of groups drawn from at least three of the following: African Americans, indigenous peoples of the United States, Asian Americans, Chicano/Latino Americans, and European Americans; and are integrative and comparative in that students study each group in the larger context of U.S. society, history, or culture.
For further information including details on how the American Cultures requirement might be satisfied by taking a course at a community college, please go to the American Cultures website.
College Requirements
Reading and Composition Requirement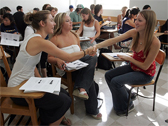 Students enjoy a stimulating learning environment at CNR.
In addition to the university-wide Entry-Level Writing requirement, the College of Natural Resources requires two semesters of lower division work in composition. All CNR undergraduates must complete the Reading and Composition (R&C) requirement before reaching junior status, or your registration will be blocked for the following semester.
Satisfying R&C
The R&C requirement can be satisfied by any course listed with an "R" before its course number in the Schedule of Classes. Many departments offer R&C courses – not just the English Department – so be sure to review the wide range of course choices. You must take R&C courses for a letter grade. We do not allow waivers for this requirement.
If you opt to fulfill your R&C requirement by completing equivalent coursework from a California community college, please check with the Office of Instruction and Student Affairs for recommendations on courses.
Newly admitted transfer students will be notified by the Office of Instruction and Student Affairs by mail as to whether or not your previous coursework has satisfied any or all of the R&C requirement. Transfer work will not post to your Berkeley transcript until the 11th week of your first fall term at Berkeley. Students who transfer into CNR from other colleges on the Berkeley campus will also be notified by mail as to whether you have completed the R&C requirement. CNR will honor the fully completed IGETC plan for transfer students, and any variances that have been granted by the College of Letters & Science regarding the R&C requirement.
You may satisfy both halves of the R&C requirement with one of the following scores or grades:
Advanced Placement Exam in English Literature and Composition: 5
International Baccalaureate Examination in English Language, A credential: 5
General Certificate of Education "A" Level English Exam: A, B, or C
You may satisfy the first half of the R&C requirement with one of the following scores:
AP Exam in English Literature and Composition: 4
AP Exam in English Language and Composition: 4 or 5
---
Unit Requirements
Unit Totals
You must complete at least 120 semester units of courses.
You must complete at least 36 upper division units, and 15 of these 36 units must be taken in the College of Natural Resources (EEP, ESPM, ERG, NST, and PMB). Note: Environmental Economics and Policy majors are not held to this requirement; consult with the EEP undergraduate major advisor.
Distribution of Units
Only 16 units of Independent Study (97, 98, 99, 197, 198, or 199) may count toward graduation.
No more than one third of the total units attempted at UC Berkeley may be taken Passed/Not Passed. This includes units in the Education Abroad Program and UC Intercampus Visitor or Exchange Programs.
Only 4 units of Independent Study may be taken per semester.
Only 4 units of Physical Education (PE) will count toward graduation.
---
GPA Requirements
At least a C average (2.0) is required on all courses taken at UC Berkeley. Check with your undergraduate staff advisor for specific details on requirements for your major.
---
Senior Residency Requirement
After you have completed 90 units toward the bachelor's degree, you must complete at least 24 of the remaining units in residence in no fewer than two semesters in the college or school at UC Berkeley in which you will take your degree. You must begin these final 24 units in the semester in which you exceed 90 units. Special provisions are made for students in the campus Education Abroad Program (EAP).
---
Major Declaration Requirement
All students in the College of Natural Resources must declare a major by the end of their fourth semester of enrollment at UC Berkeley. Failure to do so will result in the student's registration being blocked and the student will be unable to enroll in any courses until the student declares a major.
Major Requirements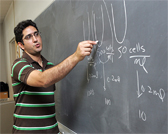 Students enjoy a stimulating learning environment at CNR.
You must complete the requirements of your major. All major requirements must be taken for a letter grade. You must contact your major department for exceptions to this requirement.