Establish a CNR Faculty Endowed Chair
Retaining excellent faculty is key to the success of a university. You can help retain faculty at CNR by contributing to the Hewlett Challenge.
The Hewlett Foundation has established $110 million in matching funds to endow faculty chairs.
CNR has successfully filled two Hewlett endowed chairs
Chairs may be named for the donors who endow them.
CNR Faculty Chair Testimonials
Peter Berck
S.J. Hall Chair in Forest Economics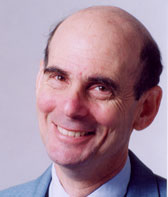 "The SJ Hall Chair in Forest Economics has enabled me to take on a completely new line of research in the financial aspects of private versus public forest ownership. I was able to bring an expert on privatization and finance to the campus for a month this summer.
"Ultimately, when I finish all the things that I have promised to editors and agencies, the chair will allow me to put all of my effort into this new research program and at least very temporarily be free from the constant need to raise additional funds. The Chair has also been a very important source of funding for students who want to go into the field of forest economics, providing funding for their Ph. D. research. Without this type of kind and thoughtful assistance from our donor community, Berkeley would be a much duller and poorer place."