Alumni Profiles
NS-PM Alumni go on to a wide variety of careers. Here is just a sample of what our alums are doing now.
---
Alex Lau, Class of 2008
Medical Student, USC

As a medical student at USC's Keck School of Medicine, Lau has had the privilege to interact with the diversity of patients at the LA County + USC Hospital. As with many public hospitals in urban communities, we primarily care for indigent patients who have had poor access to healthcare throughout their lives and arrive with serious, acute medical conditions.
"The stories of every patient I have encountered are remarkable, and while I do not yet possess the full skill set to effectively treat patients, I have learned so much from simply taking patient histories from the bedside. I have had many superb professors at USC, but the best teachers are the patients themselves, who teach us students to be more understanding, caring and empathetic," notes Lau.
Read about Alex's experiences at CNR in
Read about Alex's experiences in Med School in the Alumni blog.
---
James C. Pagan, Class of 2008
Pharmaceutical Company Employee, Genentech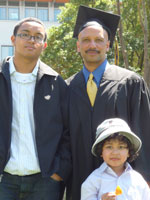 "Returning to Cal to finish my degree has opened doors that were previously closed," notes Pagan. Pagan is currently employed at Genentech in the late-stage manufacturing of injectable biologics. The hiring manager specifically pointed out that obtaining his degree at U.C. Berkeley while working and being a student-parent was a factor in getting hired. "My degree in NST-PM has provided the background necessary to understand the science behind the development of biologics and their mechanisms of action in the body. As the father and provider of two sons, my degree has allowed me to expand my skill set and remain competitive in a changing economy," he says.
---
Laura Brainin-Rodriguez, Class of 1978
Coordinator, Feeling Good Project, San Francisco Department of Public Health
Brainin-Rodriguez received her MPH in 1981 and her MS in 1982, all in Nutrition. She is currently the coordinator of the Feeling Good Project at Nutrition Services in the San Francisco Department of Public Health. This project promotes fruit and vegetable intake and regular physical activity to low-income SF residents and provides technical assistance, training and resources to agencies, community-based organizations and staff in San Francisco, the Bay Area and Statewide
Resources for NS-PM Majors
Printable Information (PDFs)