Research and Honors Program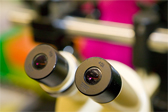 Students can enroll in a NST 99 or 199 independent study course to obtain academic credit during the fall, spring, or summer semester for the research you complete under the guidance of a faculty sponsor. NST 199 requires upper division standing. The number of units you earn depends on the amount of research you conduct on a weekly basis (3 hours/week=1 unit). The grading option is P/NP only.
If you've identified a research project with an organization off-campus (such as the United States Department of Agriculture (UDSA), or Children's Hospital Research Institute Oakland (CHORI)) you can also receive academic credit for your work by enrolling in NST 99 or 199.
To enroll in NST 99/199:
See also:
Sample Projects
Characterizing the mode of action of naturally occurring cancer protective agents in food.
Foodborne illness and the microbiological safety of our food and water supply.
Environmental and cellular toxins and DNA damage.
Metabolism and modes of action of vitamins.
Molecular biology of fat cell differentiation.
Factors controlling glucose and fat production by the liver in healthy individuals, as well as diabetic and obese patients.
Identifying the antimicrobial activity of natural products.
Iron and copper metabolism and the role of these minerals in human health and disease states.
Honors Program
To obtain honors, you must apply for the CNR Honors Program, administered at the college level.