Campus Information
Visit the Cal Parents website for general campus information. Whether you only visit periodically or choose to become an active member, Cal Parents can help you effectively partner with UC Berkeley in the educational experience of your student.
College Information
The College of Natural Resources is one of the 14 schools and colleges on the UC Berkeley campus. If you cannot find the answer to your question about the College of Natural Resources below, please feel free to email us directly at: cnrparent@berkeley.edu.
Why CNR?
High-achieving doctoral candidates receive awards at the annual Student Awards Ceremony
We are a small, student-oriented college within a large, research university. We think of ourselves as the college of "short lines."
We offer smaller classes and majors than many other colleges. But students have the opportunity to take courses with faculty throughout the campus at the same time, taking advantage of the vast resources of the Cal campus.
Students are encouraged to gain research experience in the laboratory or field by working directly with faculty. This helps them define their interests and increases their competetiveness for advanced degrees or the work force. CNR alumni have contributed special funding to support undergraduate research with our faculty.
Learn more about CNR
Undergraduate Majors
The CNR Student Experience
Biological Sciences
CNR offers 6 biology-based majors - more than any other college or school at UC Berkeley. Students can choose from a broad-based major such as Molecular Environmental Biology or focus their studies. Here are a just a few examples:
genetics
plant biology
microbes
nutrition
toxicology
ecosystems
animal health and behavior
Ecosystem Management and Interdisciplinary Studies
These majors focus on large-scale environmental issues such as managing forests and wildlands or the interconnectedness of environmental problems. Students have the flexibility to tailor their major to their interests. Students majoring in Forestry and Natural Resources have the option of studying to become a professional forester.
Interdisciplinary Studies and Social Sciences
These majors are often flexible and allow students to create their own interdisciplinary major with an environmental orientation. The student must be able to develop and justify an independent program, and will work closely with faculty in designing it. Students have pursued themes such as
Environmental History
Environmental Film and Communications
Environmental Justice.
Careers for CNR Grads
Doctors, lawyers, scientists, academics, economists, and a myriad of other professionals graduate from the CNR. Our students gain a solid science and math education in the context of real-world applications. This well-rounded, rigorous program prepares students for medical or veterinary school, law school, graduate school, or professional work in virtually any environmental field.
Career options for CNR grads
Pre-professional programs
Medical School and Health Professions
Studying at CNR offers graduates many advantages to applying to medical school.
Because students have many opportunities to interact with faculty, they are often able to get the detailed recommendation letters that are most effective in helping applicants get into good programs.
Several of our majors are excellent preparation for medical school, yet because they are different from the generic majors that most applicants are from, CNR students stand out from the crowd.
Our individualized advising and supportive environment helps students excel.
More about Medical School
Academics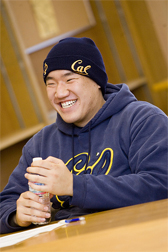 Students enjoy a stimulating learning environment at CNR.
CNR students undergo rigorous academic training. CNR sets general requirements that all students majoring in the college must fulfill in addition to university requirements.
Students have many opportunities to participate in the life of the college, from conducting their own research to joining a student group to helping others as a Peer Advisor.
Enrolling in Classes
Undergraduate advisors help students select and enroll in classes. Students attending the Cal Student Orientation (CALSO) enroll in classes during its two-day program. Student advisors, staff, and faculty walk them through the process and help them find the classes they need.
Students may email the Office of Instruction & Student Affairs at any time with questions and they will get a quick answer or referral. Undergraduate advisors for majors and the college are always available to students, as well as Peer Advising.
We work with students to find alternatives to full classes and to put together a workable schedule that will help them to accomplish their goals.
Study Abroad
CNR offers a semester-long environmental studies course at the Richard B. Gump South Pacific Field Research Station on Moorea Island. Students design and carry out a research project under faculty supervision. Many of our faculty work abroad on a wide variety of projects, and opportunities for undergraduate students to work on those projects are periodically available.
Forestry Field Camp is another popular option for students, not only forestry majors but in all CNR majors. Completion of camp (a six-week summer program) earns the participant a minor in Forestry and Natural Resources.
CNR students may also participate in any of the University of California Education Abroad Programs.
Your Student's Progress
We understand how much parents want to know everything about their son or daughter's progress. To find out how your son or daughter is doing, you will need to ask them. It might be something you want to talk about with them before classes start.
All Cal students are treated as adults, with rights of privacy and the responsibility for knowing campus and major rules and requirements. Student records at UC Berkeley are confidential according to the terms of the Federal Family Educational Rights and Privacy Act of 1974 and provisions of state law relating to public records disclosure.
Specific information can be released to parents, spouses, and other third parties only upon specific written request by the student. More information on record disclosure is available from the Registrar.