Law and Business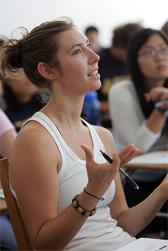 Students enjoy a stimulating learning environment at CNR.
When you apply to law or business school, your resume must include the following skills:
Analyze problems using multiple approaches
Read and write clearly, critically and analytically
Work well in small groups
Strong public speaking
And if you care about helping the environment by going into business or law, you will need:
Knowledge of environmental issues
Background in environmental law, public planning, and sustainable business practices
So you should major in:
All three of these majors will prepare you to begin your career in business or law.
Professional Dietetics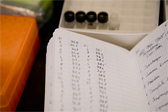 CNR students get lab research experience.
You don't need graduate school to become a dietician - you can get the courses and training as an undergrad at CNR.
Get a background in biology and chemistry.
Learn about how culture and economics affect human diet and chronic disease.
Research programs and policies that address health and safety - on your own or with faculty one-on-one.
Focus on the application of nutritional knowledge to dietetic practice.
Intern in the community during your senior year.
Earn a Bachelor of Science degree.
Take (and pass!) the national examination to become a Registered Dietician (RD).
Sound like a plan?
So you should major in:
CNR's Nutritional Science - Didactic Training Program in Dietetics.
Professional Forestry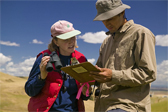 At CNR you can save the world and see it at the same time!
Prepare to become a professional forester:
Learn ecosystem management.
Study biology, ecosystem restoration, GIS, fire science, and environmental justice.
Go to Forestry Field Camp for the best summer of your life.
Conduct your own research with CNR faculty.
Earn a Bachelor of Science degree.
Take (and pass!) the California professional forester's licensing exam.
So you should major in: