Facilities and Amenities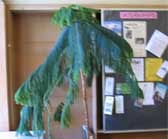 Computer Lab
Computing: Ten Dell PCs with internet capability and standard software: MSOffice, Adobe Acrobat Reader, standard web browsers.
AirBears: The Resource Center is wired for AirBears.
Printing: Printing is free - as a CNR undergraduate student, you are allowed 10 pages of free printing every day. Students accounts are automatically renewed a the beginning of each semester. If your account does not work please see the front desk assistant in 260 Mulford Hall to set up a printing account.
Office Supplies
Office Supplies: Paper cutter, hole puncher, push pins, tape, scissors, etc.
Study Space and Lounge Area
The lounge area: New comfy couches for everyone's enjoyment.
Study tables and desks: Huge study tables and chairs dominate half the center, offering a large amount of workspace.
Melvin the Tree: Had a bad day in class? Come tell Melvin, the Resource Center's happy tree. He adds life and a little greenery to our already pleasant atmosphere.
Information Center
Bulletin Boards:Wide range of information on everything available for students at CNR: Student Groups, Internships & Scholarships, Career Info, Grad School Info, various academic publications, etc.
Information Racks: Includes specific handouts pertaining to majors/minors at CNR, organized by department.
Publications Rack: Check out all the latest issues of both the CNR Forum and the CNR Breakthroughs magazine.
Want to know what's going on at CNR? Check out the online calendar and stay up-to-date with the various programs and events.
Academic Support
Television and VCR: Many professors offer course reserve videos and films on VHS - the Student Resource Center not only houses them, but also provides a television with built-in VCR for you to view them. There are headphones attached so that you can watch in the computer lab without disturbing others.
Course Reserves and Reference Collection: The Student Resource Center offers a selection of books and videos for help in getting background information on projects or just providing some needed afternoon amusement. We keep some professors' course reserves as well.