Education Abroad Programs
Studying abroad is an invaluable college experience, so we suggest you plan your academic program in order to include a semester, or even a year, in another country. Berkeley Programs for Study Abroad is the UC Berkeley resource center for the University of California Education Abroad Program (EAP). They have information about UC sponsored Education Abroad Programs and Non-EAP Programs. They can connect you with programs specific to social, environmental, and biological sciences. Remember to check early with your academic advisor to make sure your plan fits with your major requirements.
Student Testimonials
---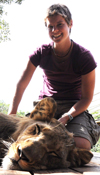 Caroline Snijder van Wissenkerke, Molecular Environmental Biology
EAP Program, Pietermaritzburg, South Africa
Berkeley has such a fantastic biology program and provides so many resources and opportunities for its students, but as reluctant as I was to leave it all behind for five months, I am really glad I did. By taking classes in another country, I was able to continue studying in my area of interest while learning from the different perspectives of my South African teachers. My favorite class was Advanced Grassland Ecology. Some of the class work we did included measuring thorns of acacia trees, chasing down a herd of cows so we could analyze their grazing behavior, and measuring rangeland degradation around a nearby rural community.
While I was in South Africa, I tried to explore as much as I could, I joined various clubs on campus, and I volunteered. This helped me become a part of student life and connect with the people around me. Study abroad is a great, once-in-a-lifetime opportunity to learn from people of different backgrounds and experience different cultures. It is the perfect way to immerse yourself in a different way of life, try new things, and get familiar with another part of the world.
---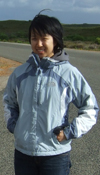 Daphne Szutu, Environmental Sciences
EAP Australia Fall Immersion, University of Western Australia
The semester I spent in Perth has been one of the highlights of my time at Cal. I took 2 marine science classes (Biological Oceanography, Field Studies in Marine/Environmental Sciences) and 2 other classes (Environmental Planning/Management, Australian Society). Even though I was in the immersion program, I still had a chance to do field work in my two marine classes, an opportunity I was really happy about. My classes there were such a great introduction to marine science that I am currently writing my senior thesis about phytoplankton!.
To all students interested in studying abroad, no matter what field you're in: DO IT. All you need is a little planning and a willingness to try new things and to be immersed in a new culture. You are exposed to non-American-centric viewpoints and can make deep connections with a different group of people, even if it's only for a semester. Everybodyís abroad experience is different, so donít be disappointed if you donít get into the best/most popular/most beautiful university, but just go and enjoy yourself, and it will be a remarkable and wondrous experience regardless!
---
Stephanie Panlasigui, Environmental Sciences
EAP, Costa Rica Tropical Biology and Conservation Program
Ask any student who has studied abroad, and they will tell you that their semester abroad was the time of their life. It's a fact! My experience in Costa Rica was no different. When I began college, I didn't know what opportunities there were to study abroad, or even if I had time to do so. With some careful academic and financial planning, I applied for and was accepted into the program in Monteverde.
We began as a group of 34 like-minded students with five instructors, all of whom we know on a first name basis. Little did I know, that our teachers, Frank, Eric, Pati, Fede, and Sofia, would prove to be the most caring, knowledgeable, and dedicated teachers I could ask for. Through our shared experiences of staying in Tico homes, orientation hikes at various research stations, an entire day of snorkeling, day-long research projects, five days on a lovely island, Spanish lessons, nights out dancing salsa, and long and sometimes arduous hikes, we supported each other and grew together like a family. This program offers something I don't normally see: It brings together students from all over California who are enthusiastic, optimistic, tree-hugging biology lovers just like you! The program culminated in a 2-week independent research project, which resulted in a paper and a presentation at a symposium at the Monteverde Institute.
I can personally say that my semester abroad contributed to my growth as a student, a biologist, and as a global citizen. I miss the atmosphere of the program and my classmates. Fortunately, we have already had several reunions, and I sincerely hope that many of us will remain friends for life.
---

Michelle Conklin, Molecular Environmental Biology
EAP Program, Pietermaritzburg, South Africa
I travelled far and wide, studied virology, cooked curries with my dorm mates, rowed with the school rowing team, volunteered in community health care, and made some lifelong friends :-) Not only was it an excellent chance to try out other methods of learning - at my campus we referred to labs as "practicals" - appropriate, right?!
Studying abroad was instrumental in helping me develop perspective about where I fit in the greater scheme of things. Upon returning to Cal, I really identified unnecessary (mostly self-imposed!) pressure. I realized the importance of setting honest, reasonable goals and being able to consciously adapt them as you learn more about relevant topics and about your own interests.
Also, there are a whole lot of study/work/volunteer abroad programs that are out there, not just through UC, so if people are ever curious, there are those options, too.
---
Rebecca Ruebsamen, Nutritional Sciences Major
EAP program at Hebrew University in Jerusalem
From my freshman year at Cal I knew I wanted to study abroad, there was no doubt in my mind. However, being a science major and being pre-med, I knew I would have to plan ahead in order to so.
Studying abroad in Israel was one of my favorite things about college and by planning my course load in advance and visiting my advisor often I was able to have an amazing time. I loved studying abroad, I met so many people from all over the world, I learned a new language, and I made lifelong friends. I did not take any classes relevant to my major while I was abroad which was okay since I had already planned out what I was going to need to take when I returned to UC Berkeley.
Being a science major and studying abroad may seem very difficult but I was able to do it, by preparing early and keeping on top of my schedule. I truly recommend studying abroad- it is an AMAZING experience!
---

Samantha Stevens, Conservation and Resource Studies
School for Field Studies, Center for Marine Resource Studies, South Caicos (a Non-EAP Program)
I spent the past semester studying at the Center for Marine Resource Studies on the island of South Caicos through the School for Field Studies. Since the Center is located right on the edge of a marine reserve, we were able to directly apply what we were learning in the classroom to the field.
Ecology identification tests and research projects were conducted using various snorkeling and SCUBA diving methods, which meant that much of our day was spent in the water directly interacting with the species and ecosystems we were studying. This program also focuses on the socioeconomic realities of South Caicos (a small, arid, fishing-based island) and what they mean in terms of challenges and opportunities for marine conservation.
While there are a lot of study abroad programs out there to choose from, I would definitely recommend this particular program for anyone who wants to be immersed in hands-on marine research that integrates the socio-economic, cultural, and ecological aspects of conservation.
---

Tessa Verhoef, Molecular Environmental Biology
EAP, Santiago de Chile
When I first got to Berkeley I knew I wanted study abroad, but being a science major I felt kind of discouraged since I wasnít sure if anything from abroad would transfer and whether or not I was going to graduate on time. Turned out none of these things I was so worried about where even a big issue (warning: you should still plan out your college career with some care).
While abroad I took mostly environmental classes and got two of them to count for my area of concentration! I made sure to bring my syllabi from abroad back, so donít throw those away because you want those classes to match up with something that could work here. Also make sure to talk to your advisor before going abroad so that you can make sure youíre on track and everything, and just email them while you are abroad if you have questions.
Going abroad was definitely the best experience I have had here in college. I learned so much about a different culture and it really allowed me to experience living in a big city. I learned Ďchileaní or Spanish and even did an internship at the Santiago zoo where I worked at the animal clinic and did some animal management. I also played tennis at my university, travel and learn about some of the politics of Chile (they just got out of a dictatorship a while back so there is a lot of history there).
I know I was really doubtful about going abroad but in the end it was worth it and I canít believe what college would have been like without having done it. Who knows when else youíll have the opportunity to live in another country for 6 months?!? Do it while you can, itís definitely possible with just a little bit of planning!
Moorea Island, Tahiti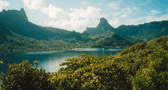 The Richard B. Gump South Pacific Research Station is located on Moorea Island in French Polynesia. Students attending classes on Moorea study subjects ranging from biology to archaeology with UC Berkeley professors.
CNR Students are highly encouraged to study for a semester at Moorea, adding great field experience to their undergraduate career. Please see Biology and Geomorphology of Tropical Islands (ESPM C107 = IB 158LF) for more information.
Forestry Field Camp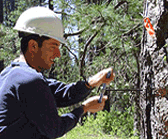 UC Berkeley Forestry Field Camp is offered by CNR's Department of Environmental Science, Policy, and Management. The field camp is a summer program open to all interested, qualified students.
Forestry Field Camp is an eight-week program consisting of five courses. The camp is located in the California Sierra Nevada. Please see Forestry Field Camp for more information.