Moorea Island, Tahiti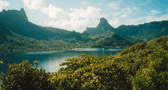 The Richard B. Gump South Pacific Research Station is located on Moorea Island in French Polynesia. Students attending classes on Moorea study subjects ranging from biology to archaeology with UC Berkeley professors.
CNR Students are highly encouraged to study for a semester at Moorea, adding great field experience to their undergraduate career. Please see Biology and Geomorphology of Tropical Islands (ESPM C107 = IB 158LF) for more information.
Forestry Field Camp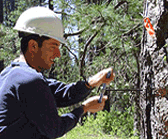 UC Berkeley Forestry Field Camp is offered by CNR's Department of Environmental Science, Policy, and Management. The field camp is a summer program open to all interested, qualified students.
Forestry Field Camp is an eight-week program consisting of five courses. The camp is located in the California Sierra Nevada. Please see Forestry Field Camp for more information.