Admissions Criteria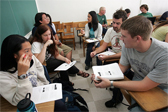 Students enjoy a stimulating learning environment at CNR.
If you are applying to the College of Natural Resources as a transfer student, you must directly apply to one of our undergraduate majors. The UC Berkeley Office of Undergraduate Admissions directs the overall application process, but CNR faculty and staff from your intended major will review your application as well.
As you prepare for transfer admission, you will want to complete the lower-division articulated courses for the particular CNR major in which you are interested. The ASSIST website has all of the information on transferable course credit for California community colleges and other schools in the UC and CSU systems. If you earned credit at another college or university, those courses will be evaluated after you apply.
Transfer applicants are evaluated based on the strength of their academic preparation, including the number of fulfilled requirements, the grade point average in required courses, and the cumulative grade point average. Applicants' personal statements and supplementary information on the application are also strongly considered and a very important aspect of the application. Students applying to CNR programs should have a solid understanding of the major.
Important information for applicants
Students who do not complete the lower-division courses for their intended major are less likely to be offered admission. Students who have not met minimum requirements are rarely considered for extensions to complete coursework in summer. Students who need to complete key lower division courses (eg. Chemistry, Calculus, or Biology) when they begin at Berkeley are not considered for admission and should wait to apply for the following year. Students who are admitted but do not fulfill the lower division minimum requirements may have their admissions cancelled. It is imperative for transfers to fulfill lower division course requirements.
Select a major to review the lower division minimum requirements on assist.org
IGETC - Intersegmental General Education Transfer Curriculum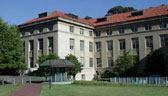 Mulford Hall, home of Environmental Science, Policy, and Management
IGETC does not fully satisfy lower-division requirements for CNR majors, nor is it used as an admissions criterion. For some majors, IGETC does satisfy certain breadth requirements. You may find that you have to take fewer courses overall if you just focus on fulfilling a specific major's lower-division requirements. For information on the requirements, please see ASSIST and the list of specific major requirements.