At ESPM's Graduation Festival on May 8th, Professor Brashares was awarded the department's Faculty Mentor Award, given each year to a faculty member who demonstrates outstanding commitment to mentoring and helping graduate and undergraduate students succeed.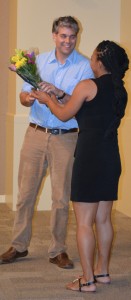 Brashares was nominated by students from across the department, including those with whom he works through the Berkeley Connect program. He is widely recognized for his dedication to helping students develop academically, professionally, and personally.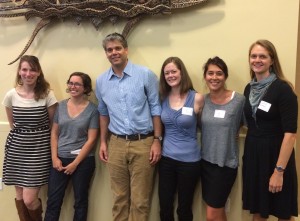 The nominations included the following glimpse into Brashares' strength: "What sets Justin apart as a mentor is not simply his generosity and dedication with his time, but the quality of his interactions with students. Justin approaches all of his relationships with incredible energy, incisive advice, and heartfelt empathy. When walking out of a meeting with Justin, we feel buoyed by the exciting academic ideas we pursue together and by the humanity of his support and friendship."
Patrick O'Grady, the department's Head Graduate Advisor, shared the following in his tribute: "Words to describe Professor Brashares' style of mentoring include self-effacing, kindhearted, reliable, humane, intelligent, humorous when needed, and real. But perhaps the greatest attribute of Professor Brashares' mentoring is that he always remains approachable and welcoming not only to his students, but to the broader community."
Congratulations on this well-deserved award, Professor Brashares! See more about the award and the other outcomes of the department's annual Graduate Festival on the ESPM website.